Reuters has reported that analysts at the banking conglomerate JP Morgan believe that institutional investors may now be turning from Bitcoin back to gold as the flagship cryptocurrency is in a sea of red and tanked below $40,000 earlier today.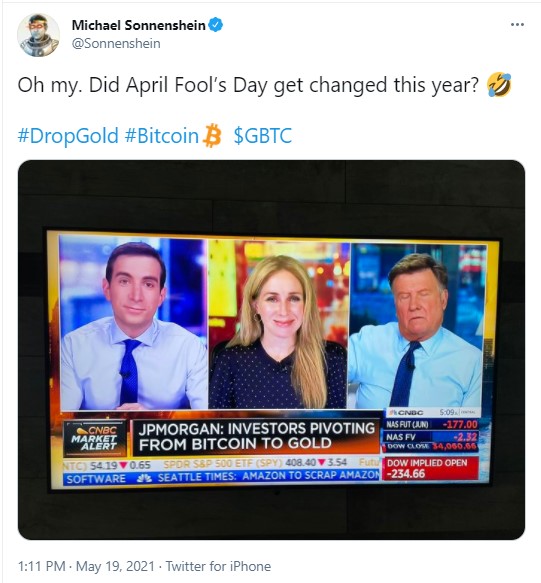 Back to gold from Bitcoin, they say at JP Morgan
Now that Bitcoin has plummeted below the crucial $40,000 level earlier today, and Ethereum along with the rest of the crypto market followed suit, JP Morgan analysts believe that institutions are now panic-selling their Bitcoin holdings to grab gold—the habitual store of value.
JP Morgan experts have referred to data compiled based on open interest in Bitcoin futures on CME.
They have called the current crypto massacre the biggest liquidation since October 2020.
Now, as gold has shown a six percent rise since the start of May, investors seem to be pivoting to XAU, turning their back on Bitcoin and no longer seeing an inflation hedge in it.
The overall decline of cryptocurrencies (not just Bitcoin) has pushed the total market capitalization from the record $2.5 trillion down to $1.82 trillion after a drop of almost 15 percent in the past day.
"Bitcoin likely to remain headwind to gold's upside"
On May 18, the chief commodity strategist at Bloomberg, Mike McGlone, shared his take on Bitcoin and gold, which is different from that of the JP Morgan analysts.
He believes that the current 20 percent drop from the August 2020 peak of gold will allow the precious metal to start a bull run again.
However, McGlone pointed out that the "store-of-value newcomer Bitcoin" will continue to snag gold's further rise.