ImmutableX (IMX), the Ethereum Layer-2 protocol dedicated to Non-Fungible Tokens (NFT) and gaming, is championing growth in the gaming sector today. The cryptocurrency is leading the growth charge for gaming tokens with its price trading at $1.16, up 20.87% over the past 24 hours.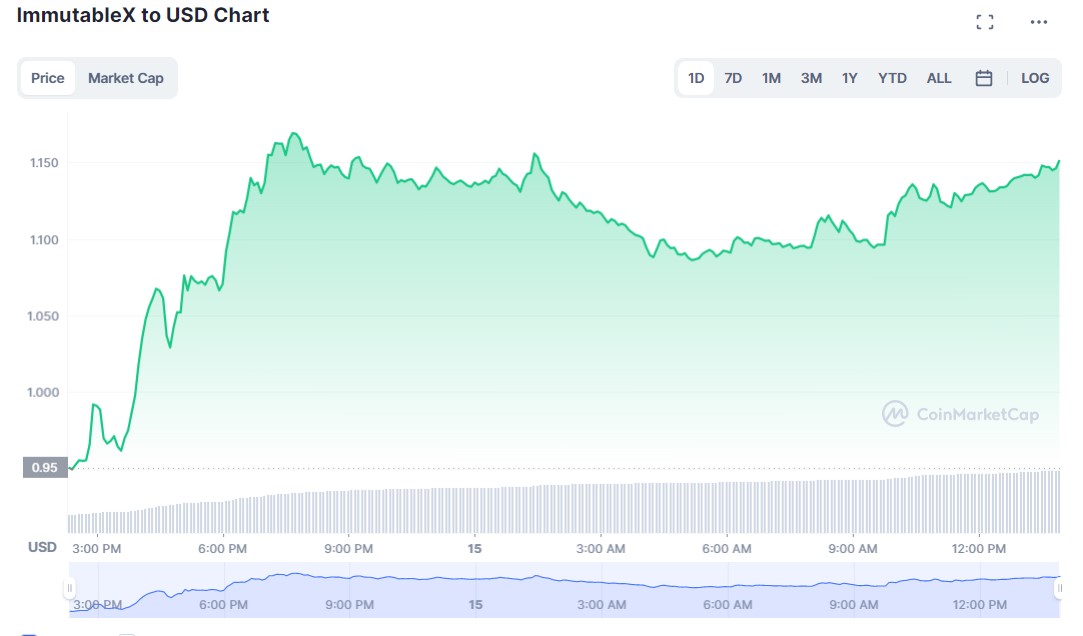 The attractiveness of Immutable X as it relates to its potential as a major building substrate for NFTs and games has taken new shape in recent times. The protocol is working on unique enhancements that can keep gas fees at zero, a better advantage for minting new NFTs and deploying games as compared to direct hosting on Ethereum.
As a mark of its superior tech for gaming, Ember Group switched from Polygon to ImmutableX back in 2021 as a show of a very strategic partnership. In just this week alone, at least two gaming protocols were deployed on ImmutableX, namely Rooniverse and the collectible card game, Cross The Ages.
These integrations show how popular the ImmutableX protocol is becoming, among the most functional and growth-oriented protocols in today's NFT and broader Web3.0 ecosystem. These growing ecosystem activities might account for the latest bout of accumulation that has sent IMX to its one-month high.
Leveraging zk-Rollups tech
The goal for every blockchain protocol is to be as scalable, as fast and as cheap as possible. ImmutableX is championing this course in a bid to make NFTs and play-to-earn (P2E) gaming much more accessible for users across the board.
To fulfill its core missions, the protocol was designed with the Stark Network zk-Rollups technology and is constantly upgrading its capabilities. With the emphasis on zk-Rollups growing in traction from key industry players, ImmutableX is positioned to be one of the biggest beneficiaries of tech in the near future.
The IMX token is still a low-cap altcoin and is down 87.89% from its all-time high (ATH) price of $9.50.