According to a recent report, the SHIB army has sent another lump of Shiba Inu meme coins to "inferno" addresses, thus reducing the circulating supply of this popular dog-themed cryptocurrency by slightly over 15 million SHIB. This made the burn rate jump by over 100%.
In the meantime, the second largest meme coin, Shiba Inu, has reached a new milestone with top Ethereum whales and the lead developer of SHIB has announced that Shibarium is finally ready.
Burn rate soars 140% but it is not enough
Shibburn tracker of dead wallet transfers has spread the word that during the period of the past 24 hours, the Shiba Inu community has succeeded in burning a total of 15,864,944 SHIB.
This raised the burn rate by almost 140% compared to the previous few days, when the rate of burning remained negative for two consecutive days.
Last week, the SHIB army managed to send only 102,145,155 meme coins, locking them up in unspendable wallets for good. This, however, is a poor result compared to previous burns, when hundreds of millions of SHIB were removed within a period of only 24 hours.
Shib burns have begun declining since last September, falling from 100 million or 200 million of burned SHIB to 20 million — 8 million SHIB per day.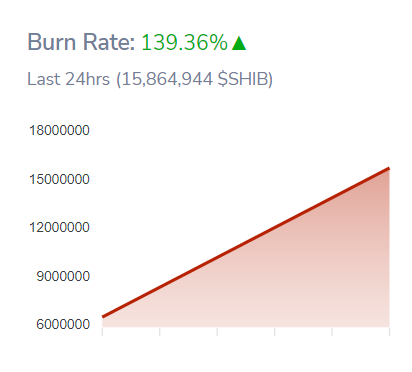 SHIB flips HFT for most-traded token
WhaleStats wallet tracker has spread the word about the Shiba Inu token pushing the HFT token from the position of the most-traded crypto asset for the 100 largest whales on Ethereum.
These whales now own $660,137,596 worth of SHIB in all. This equals 50,162,431,306,990 Shiba Inu tokens. That is 13.72% of their combined portfolio, where SHIB follows USDC stablecoin.
"Shibarium is ready": Shytoshi Kusama
On Tuesday, lead Shiba Inu developer Shytoshi Kusama spread the word on the Shibarium Telegram channel (which has now become active) about the Layer-2 solution being ready.
"Shibarium is ready," he wrote. "Can't wait to show you beta." However, the launch is going to be delayed, as the top developer recently lost his father, and Kusama urged the community to show respect and let the man mourn his loss. Before the release of the beta, the lead SHIB developer will publish a few Medium articles to tell the world about Shibarium.
Kusama also stated that he is under a targeted and coordinated FUD attack.