A popular crypto tracking service has spread the word about two large XRP transactions made by Ripple fintech company as it moved more than half a billion tokens.
Ripple moves 510 million XRP
Whale Alert has spotted two large XRP transfers made over the last 24 hours. In total, nearly 510 million XRP tokens were moved — 244,500,000 XRP and 264,500,000 XRP worth $94,379,527 and $102,098,859, respectively.
Details revealed by XRP-focused analytics website Bithomp have shown that the sender of both XRP chunks was crypto behemoth Ripple Labs. The destination was reserve wallets of the same crypto company as Ripple redistributed part of its XRP wealth, most likely to send these tokens further to a crypto exchange to sell them.
Once a month, on the first day of the month, Ripple releases a whopping billion XRP from escrow. Around 800 million XRP then get locked back until the next programmed release, and 200 million are injected onto the crypto market to support XRP liquidity on exchanges or simply get sold to provide fiat cash for Ripple to cover its operational expenses or is sent to its clients, remittance platforms or financial institutions, that use ODL (On-Demand Liquidity).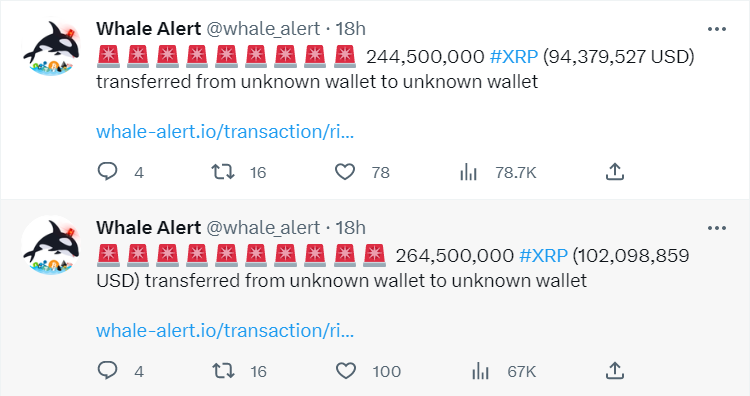 XRP on top 10 list of BSC whales
WhaleStats BSC data shows that the 100 biggest investors on the Binance Smart Chain (BSC) are still holding a great amount of XRP tokens in their wallets.
Per the recently shared data, these top 100 wallets contain $27,706,198 worth of XRP. This stash is 2.4% of their combined portfolio.
XRP also holds seventh place on the list of the top 10 assets most popular with these crypto investors.
As of this writing, the sixth largest token by market cap, XRP, is going for $0.3988, according to data provided by CoinMarketCap. The growth over the last week is more than 8%. In the past hour, XRP has added nearly 2% to its price.