Ripple tech company has sent 80% of the funds released yesterday back into escrow, according to multiple sources.
After that, prominent crypto tracking platform Whale Alert detected several major XRP transactions from anonymous wallets, two of which carried more than 400 million tokens. In total, these wallets moved more than half a billion XRP.
These two biggest transfers were made by cryptocurrency platforms Ripple and Binance.
602 million XRP shoveled, Ripple and Binance involved
According to the above-mentioned Whale Alert tracker, over the past 24 hours, six large crypto transfers took place, moving 602 million Ripple-related XRP tokens in all.
Two of these transfers were made by two major crypto players in the space – Binance exchange and Ripple Labs. Ripple shoveled 206,581,145 XRP into one of its extra wallets. Binance moved the same amount of crypto to a Ripple address, according to data provided by XRP explorer Bithomp. Each of these XRP chunks was the equivalent of $83,765,019.
Previously, Bithomp also noticed cases in which Binance sent XRP tokens (much smaller lumps than this) to Ripple. One of possible explanations expressed by members of the crypto community on Twitter was that the crypto trading giant was acquiring XRP directly from Ripple as, back then, it was adding a new XRP pair.
The rest of the 602 million XRP was moved by anonymous whales and their wallets linked to the Bitso and Bitstamp exchanges. A total of 83,067,084 XRP worth $33,599,237 USD was moved from Binance to a wallet that Whale Alert tagged as "unknown."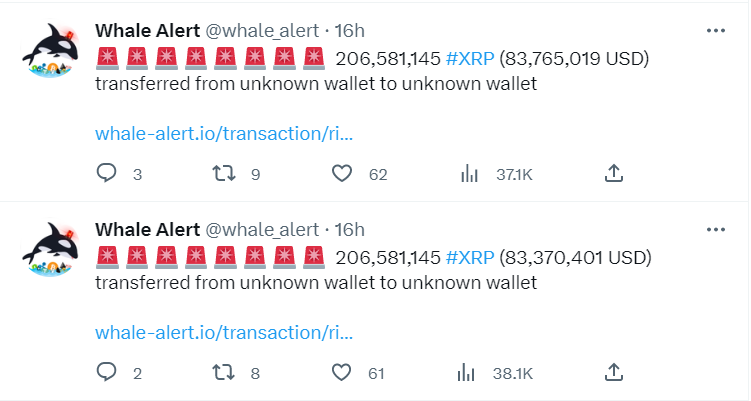 Ripple locks 700 million back until next month
On Feb. 1, Ripple, following its programmed schedule, made an automatic release of a billion XRP from escrow as it had done for several years now, since January 2018.
According to @XRP_EscrowBot, 700 million XRP were sent back in three chunks and locked in escrow until a later release. Thus, 300 million tokens will eventually be injected into the market – either through sales on exchanges or by distributing those tokens to the company's customers, financial institutions, banks and Ripple's multiple ODL platforms that use XRP for fast and low-cost cross-border transactions.
By now, according to XRParcade, Ripple has withdrawn a total of 62,000,000,000 XRP from escrow and put back 50,100,000,000 tokens. A total of 43,100,000,000 XRP currently remain in the company's escrow addresses.
500,000,000 XRP just locked back up into escrow as part of Ripple's monthly escrow process.

Hash: 80B47BC2A4ADDB262F6BF15C272EC1A367E5C100FBE0C841B07DC6B99C1C912B

Learn about Ripple's XRP escrow process here: https://t.co/6WPmhRS6Qm

— XRP Escrow Bot (@XRP_EscrowBot) February 1, 2023