Prominent cryptocurrency tracking website Whale Alert spreads the word about yet another regular withdrawal of XRP tokens made by Ripple fintech giant from one of its escrow addresses.
Traditionally, on the first day of a new month, a staggering billion XRP is released — for more than five years already. After such a long time, Ripple still has plenty of tokens left in escrow.
Hundreds of millions of XRP to land on crypto market
According to the above-mentioned source, Ripple tech behemoth conducted withdrawals from three of its escrow addresses, moving 300,000,000; 200,000,000, and 500,000,000 XRP tokens worth $405.3 million in fiat in total around 10 hours ago.
The same data was also shared by the @XRP_EscrowBot Twitter handle.
These regular programmed releases started in January 2018, when XRP surged to its all-time high of $3.84 on Jan. 4. This record peak has not yet been recaptured.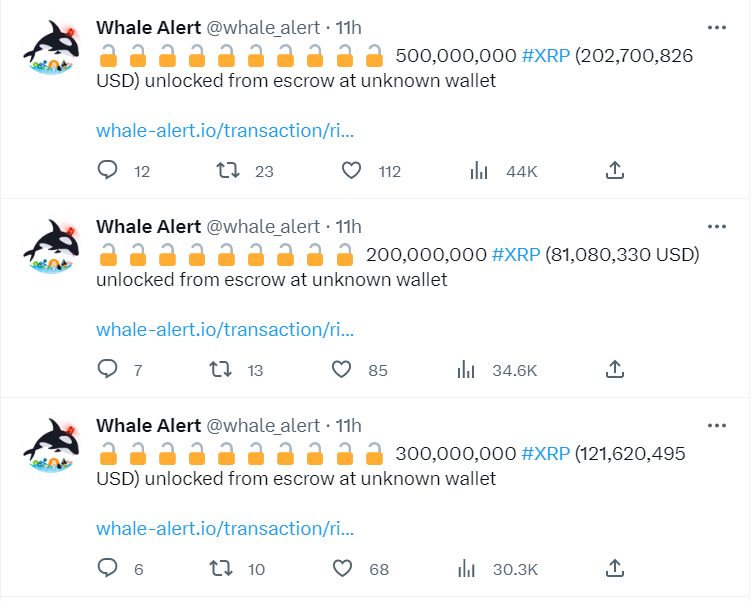 Here's how much XRP remains locked now
After the first release, 54 billion XRP remained in escrow with the intention to withdraw all of those funds gradually, unlocking one billion every month. However, after the second release, the company began to put nearly all of the unlocked tokens back in escrow.
The sums that were locked back started with 900 million, once it was 1 billion, and currently, Ripple locks back about 800 million XRP, according to XRParcade platform. Thus, the amount of XRP that remains in escrow has seen only a small decline since 2018.
At the moment, according to the aforementioned source, there are still 43,400,000,000 XRP remaining in escrow.
Here's how high XRP could surge should SEC lose
As reported by U.Today earlier, some members of the XRP community believe that should Ripple win its long-running case against the U.S. securities regulator, the price of the token may surge significantly.
These thoughts had been shared before as well by many XRP lovers and crypto influencers, such as David Gokhshtein, founder of Gokhshtein Media. However, for the first time, a specific example was provided — a token of a company that the SEC acknowledged to not be an unregistered security.
We are talking, of course, about the case of LBRY Credits blockchain platform. The SEC previously accused it of selling its LBC tokens as unregistered securities to investors. The court ruled that sales of LBC on the secondary market did not qualify as sales of securities.
Over the past 24 hours, that news made the token's price surge a whopping 140%.