The world is being transformed by non-fungible tokens (NFTs) through their capacity to digitize nearly everything. Indeed, NFTs enable us to transact with anyone, anywhere, and at any time of the day. This includes representing shares in real-world art and proving ownership of assets, as well as tokenizing documentation. Although the technology began with relatively limited applications, it has rapidly grown in popularity over the past few years. A key part of this has been the fact that NFTs allow us to prove ownership through the blockchain, not just digitize assets.
NFTs gained first recognition from the masses in 2017 as alternatives to profile pictures. Now, the technology is widespread and offers innovative use cases, for example granting citizenship to TWS, the first digital State. This has started a new era of the global economy, solving issues of regional barriers whilst adding the benefits of decentralized property verification.
The History of NFTs
The idea behind NFTs can be traced back to the creation of their first prototype called "Colored Coins" in 2012-2013. These were essentially denominations of a Bitcoin with an added "token" element that could determine use and prove ownership, making each Bitcoin unit unique.
The Colored Coins concept had several potential use cases, including the purchase of property, precious metals, government bonds, and shares of a company, as well as the issuance or acquisition of subscriptions, access to digital channels, other cryptocurrencies, and digital collectibles. However, due to the limitations of Bitcoin's scripting language capabilities, trading and transferring ownership proved to be overwhelmingly difficult. Thus, the Colored Coins concept could not find a permanent home in the world of crypto.
Despite these challenges, the technology behind Colored Coins served as the foundation for further experiments that eventually led to the groundbreaking development of NFTs. Different projects adeptly utilized and adapted NFT technology in the following years, with Spells of Genesis, the first-ever blockchain-based game, standing out as one of the most famous examples of that time.
Revolution of NFT Technology
For the everyday consumer, NFTs became mainstream with the first collections launched on Ethereum in 2017. The Ethereum blockchain offered built-in functionality for creating, programming, storing, and trading tokens via smart contracts. These features made the process smoother and helped to accelerate NFT adoption. Since then, NFTs have rapidly grown in popularity, and their potential uses continue to expand into the wider world.
The era of NFTs on the Ethereum blockchain continued to grow, initially driven by unique pieces of art from CryptoPunks, inspired by punk culture. Also, the CryptoKitties virtual game created a buzz during the world's largest hackathon for the Ethereum ecosystem. It went viral and brought financial success to the company while promoting blockchain gaming.
NFTs soon found a place in the metaverse, especially within the decentralized VR platform Decentraland, where users can build, explore, and earn money from their creations. In addition, Online marketplaces, such as OpenSea.io, contributed significantly to the rapid growth and rising demand for NFTs, providing users with the opportunity to mint, sell, trade, and buy digital assets.
Top Companies Contribution to NFT Renaissance
Today, the NFT technology is experiencing a revival. Many top brands, beyond the crypto world, are adopting this technology to gain even more market share and increase their revenues. For example, worldwide companies selling goods, food, and clothes are routinely launching their own NFT projects to capitalize on this trend.
For instance, Coca-Cola and Taco Bell have created NFTs featuring popular food and beverage products. Some brands, such as Hot Wheels and Adidas, sell NFTs that are connected to their physical products. Luxury brands like Gucci have also released NFT collections that are in high demand, with prices commonly exceeding those of their flagship products sold at their stores.
The NFT ecosystem not only has a strong backbone of stable and respected projects but is also being filled with new high-tech market players, such as The World State.
The First Decentralized State Is Using NFT Technology
The World State, or TWS, is one of the most promising projects that utilize the initial utility of non-fungible tokens (NFTs). Indeed, it is the First Decentralized State to employ NFT technology for all regulations, ensuring equal opportunities for all its citizens.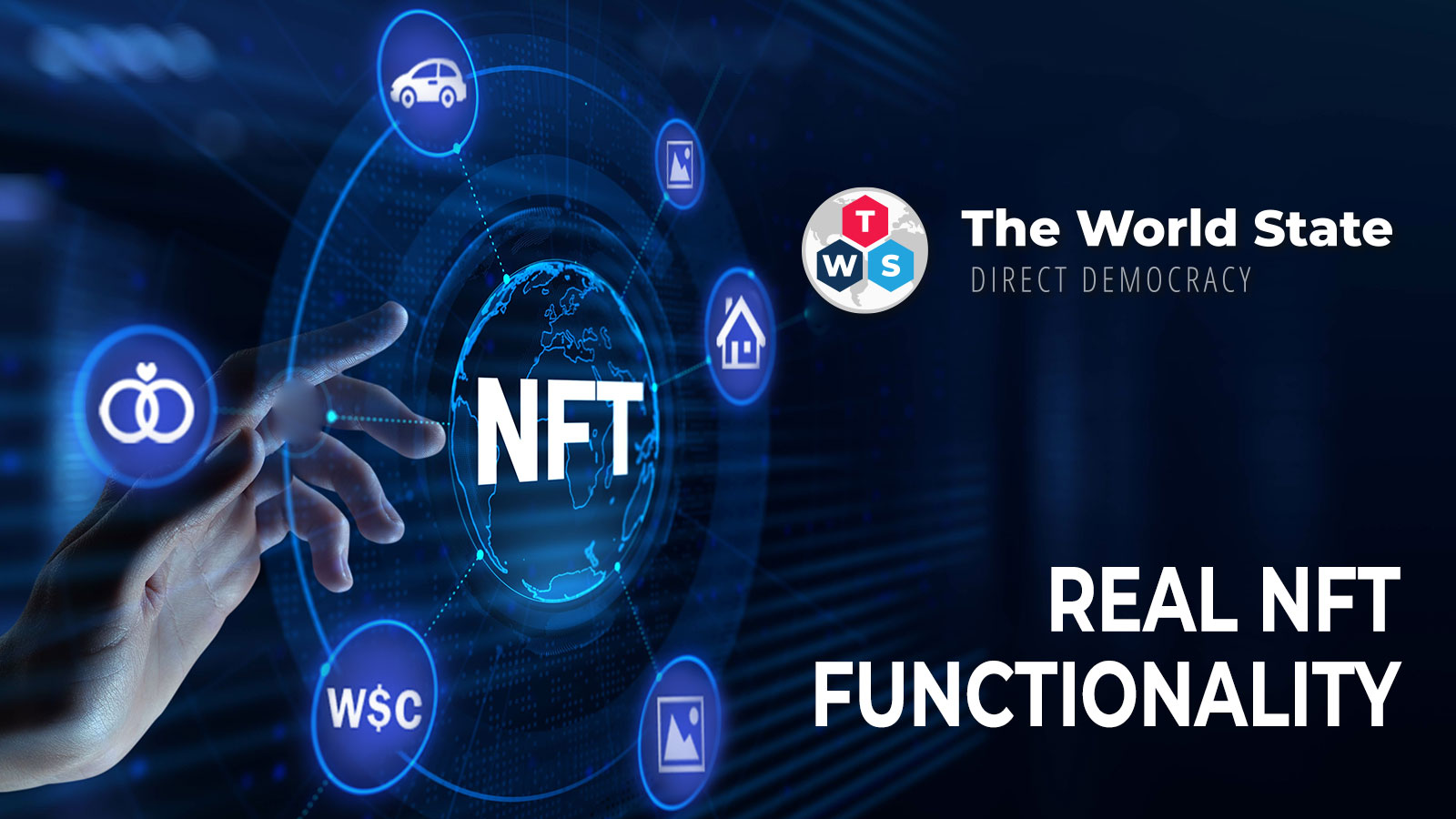 Thanks to NFTs, TWS citizens have the power to create and support world-changing initiatives, become and choose leaders, found and join parties. For example, to become a TWS citizen, one must mint an NFT Passport. This is the first NFT that grants access to the ecosystem. To propose an initiative for voting, an NFT must also be minted. If the proposal is successfully supported by citizens and receives enough "Yea" votes, the idea receives real-world funding from the treasury.
Every TWS citizen has the right to become the State's President. A President has a representative function and helps to share TWS ideas within the real world. Candidates must mint an NFT to take part in the presidential election procedure. For other roles, such as founding a party, becoming a party member, or a candidate for party leader, TWS citizens must also mint the relevant NFTs. Each is produced with a special NFT certificate confirming their rights.
As of now, TWS is the first and only decentralized crypto-state that has built its ecosystem on the blockchain to use smart contracts and NFT technology in such a fundamental way.
NFT Economic Impact on the World Market
Despite experiencing ups and downs in its history, the NFT market continues to develop and quickly respond to economic and social challenges. It offers new opportunities for global market participants by transforming the approach to art, property, and asset management during the pandemic. NFTs have opened the potential for shifting from limited and centralized traditional instruments to accessing the benefits of decentralized ones.
The growth of the NFT ecosystem will encourage more people and companies to use, develop, and implement this technology. Developers will continue to create innovative use cases, and game-changing companies will implement them. In the upcoming years, NFTs have a chance to grow rapidly and become a common part of most operations related to ownership around the globe, including within The World State.