HBAR, the native crypto asset of the Hedera blockchain, remains a surprise winner while the entire crypto market experienced a sell-off near the conclusion of the week.
On Friday, the crypto market saw a downturn, sparking a broad decline across the board, resulting in more than $1 billion in liquidations. Bitcoin, the leading cryptocurrency, fell more than 8% in a few hours to a two-month low of $25,610, putting the crypto asset on track for its worst week since November and the collapse of crypto exchange FTX.
Surprisingly, HBAR has been in the green since the beginning of the market meltdown and continues to be an outlier. While most cryptos ended the day in the red, as seen on its daily chart, Hedera closed the day in the green.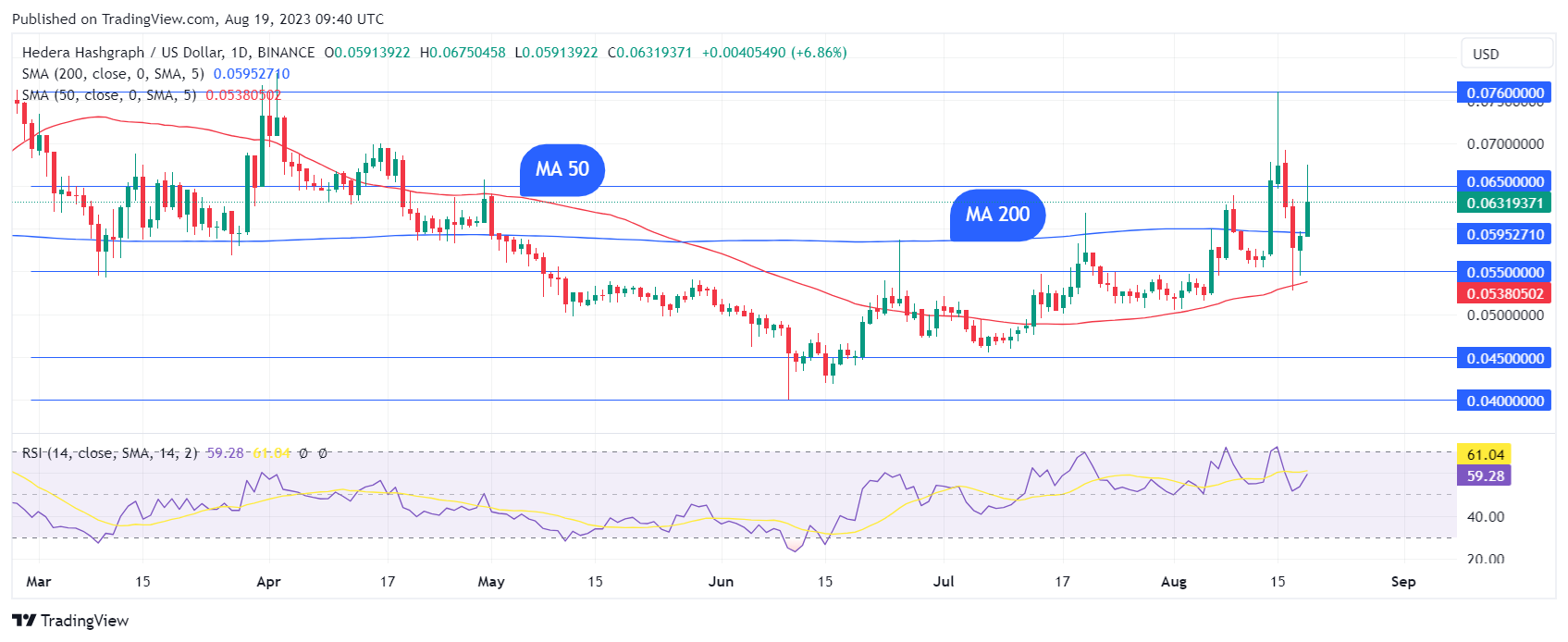 The upward trend continued until press time, when Hedera printed a gigantic green candle stick on Aug. 19. In the process, Hedera broke through the crucial barrier at the MA 200 of $0.059, reaching intraday highs of $0.067.
At the time of writing, HBAR had increased 17.44% in the last 24 hours to $0.065. In the last seven days, the cryptocurrency has gained 16%. This is crucial because most cryptocurrencies suffered weekly losses, exacerbated by the recent market sell-off.
Presently, Hedera's HBAR token leads as the biggest daily gainer among the top 100 cryptocurrencies.
Hedera sees surge in institutional adoption
The key reason for HBAR's recent price climb might be the positive sentiment surrounding the Hedera network, given a recent uptick in institutional adoption.
On Aug. 14, when word of the Federal Reserve's FedNow adding Dropp, a Hedera-based micropayments platform, as a service provider spread, HBAR experienced a significant increase.
Hyundai and Kia, two major automakers, have embraced the Hedera network, marking yet another significant adoption milestone for the platform.
Notably, optimism was bolstered by the news that the automakers Hyundai and Kia had established an AI-enabled supply chain carbon emissions tracking system on the Hedera network.