Although it appeared recently in September 2017, Cardano quickly made waves and even got to the top 20 world cryptocurrencies with a considerable market cap.
Of course, the coin has attracted the attention of investors from all over the world, and if you're planning to join their rows, you need to be aware of Cardano price prediction. This is the right place to get such information.
Let's clear up what Cardano is, and what specialists say about the perspectives of this coin.
What is Cardano?
Just like Ethereum, Cardano is exploited for the development of decentralized applications and use of smart tokens. However, this is where the list of common features ends: in fact, Cardano is an improved version of Ethereum that belongs to the third generation of the Blockchain, more scalable, and more interoperable.
| | |
| --- | --- |
| Ethereum | Cardano |
| Market capitalization- $92 bln | Market capitalization- $4.8 bln |
| Uses single-level smart contracts | Uses multi-level smart contracts |
| Uses Proof-of-Work (Proof-of-Stake is being developed) | Uses Proof-of-Stake |
| Second Blockchain generation | Third Blockchain generation |
Being the native cryptocurrency of Cardano Blockchain platform, ADA coin is used to perform transactions. The technologies underlying this cryptocurrency are open source, which means that the development of this platform was made very simple. Being based on a peer review procedure, Cardano Blockchain is developed by the community together with its founders.
Was Cardano ADA prediction justified in 2017?
Right from the moment of its appearance on the market, Cardano was ranked high by investors. Starting at the price of $0.02, it gradually made its way to $0.1 by the end of autumn and managed to reach $0.5 in December, when all major cryptocurrencies soared in price. Therefore, in the last year, ADA Cardano price prediction was even exceeded.
But it's not the end– on Jan. 4, 2018, Cardano reached the cost of $1.22, which means the return of about 6,000 percent within three months! During this short time, the market capitalization has also grown from the initial $0.56 mln to $31 bln. But just like all other cryptocurrencies, ADA went through a significant crash in the first quarter of 2018.
Investors still buy Cardano thanks to its technological superiority over other cryptocurrencies. Besides, the team developing it is highly credible.


Cardano price prediction 2018
If we take a look at the first quarter of this year, Cardano coin price prediction 2018 was justified– a lot of specialists predicted a significant surge of all cryptocurrencies, and ADA wasn't an exception.
After experiencing enormous growth in January, it started falling in price. Cardano 2018 prediction for Spring was about $0.2 – that's close to the reality that happened. At the beginning of April, ADA was worth $1.4, then experienced a minor growth to $0.3, and got back to its current level of $0.15.
If we perform technical analysis to make Cardano price prediction for 2018 using the price trends and trading volume trends, the average price by the end of the year will be $0.42. This is what most websites for investors predict.
However, while WalletInvestor gave pretty much the same forecast in April, now the website says that ADA is not a good investment, because it will lose its price completely (it's not clear what this forecast is based on).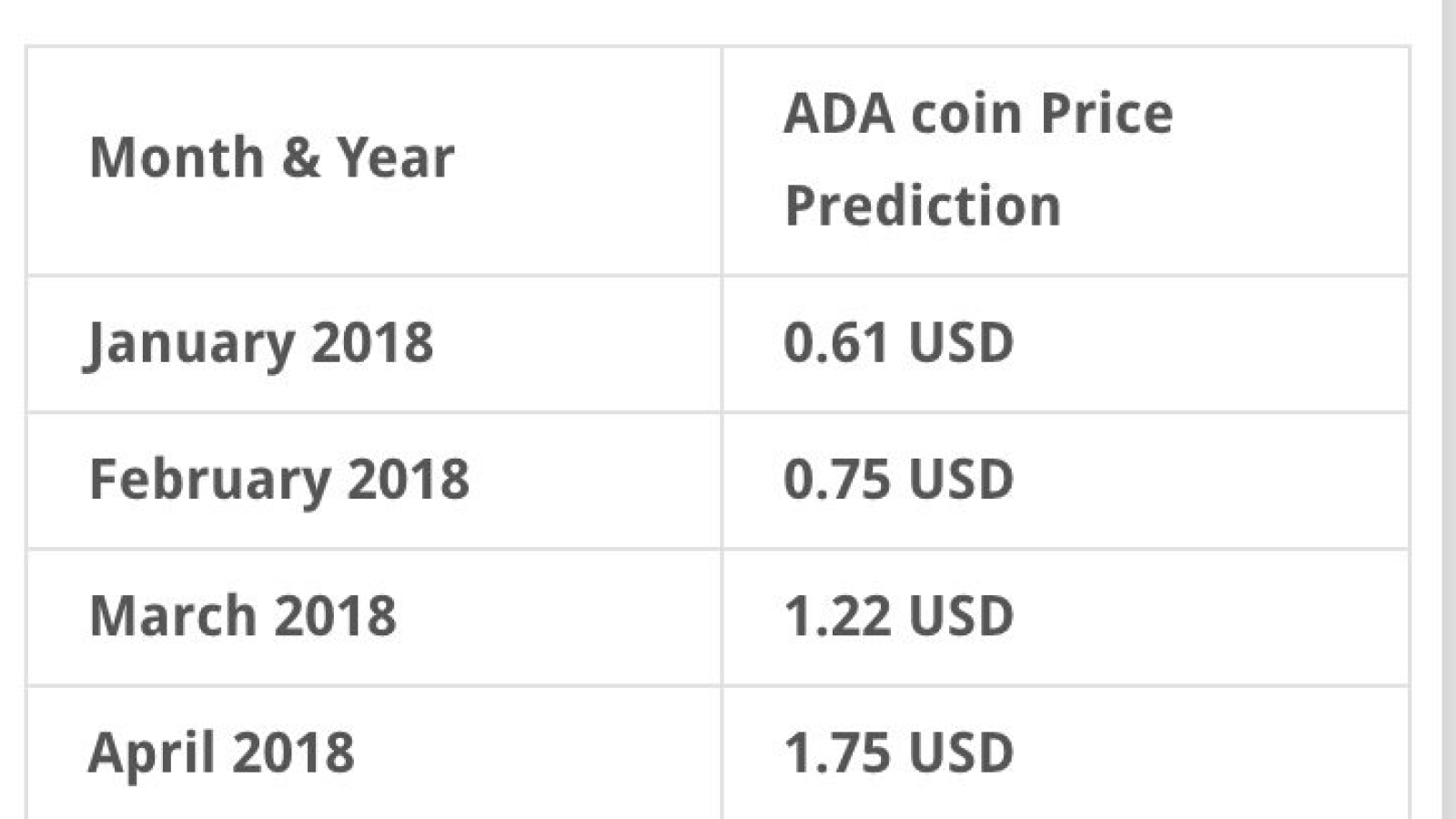 Relying on technical analysis, Cardano prediction 2018 is that the investment will bring you a 35 percent return, which is also a positive tendency. Considering the rising of the coin in January 2018, the maximum price which ADA can reach is $2.1 (if the market cap reaches $50 bln).
What is clear now is that Cardano is becoming a more and more competitive player on the market of crypto, but its success will depend on the level of adoption– since the coin is supported by a broad community, its value will continue growing.
Another Cardano 2018 price prediction is based on the supposition that ADA will be widely used in Japan and the Eastern Pacific, which will give it a boost to rise to the threshold of $0.22. The market cap can reach $40 bln by December 2018.

card
Cardano price prediction 2019
According to experts, in 2018 Cardano price prediction isn't as optimistic as in the upcoming years due to the fact that it needs to be popularized further and get enough support from the crypto community. 2019 can be a turning point in the history of ADA.
According to different websites, the average price of ADA can rise from about $0.6 in January to $2.5 in December 2019. This is quite an optimistic Cardano prediction. The superiority of the coin in the following year is defined by the following factors:
It's an open-source platform developed by a broad community

It is based on superior technologies
Cardano price prediction 2020
When it comes to a more long-term Cardano coin price prediction, opinions of specialists differ. According to the technical analysis of longforecast.com, the Cardano coin prediction for December 2020 is $1.89, which correlates with realistic forecasts.
As for its place on the market, there's another prediction for Cardano:
funds will be replaced by cryptocurrency investments, which will drive the further development of the coin

Cardano can even get to the Top-5 cryptocurrencies giving a tough competition to LTC, Ripple, and other cryptocurrencies

The coin will be widely introduced in Eastern Pacific
Making Cardano ADA price prediction for 2023 and 2025 would speculation because a lot of other, more superior Blockchains and cryptocurrencies keep appearing– they can outperform this one within a few years.
Should I invest in Cardano?
Generally, Cardano coin prediction is positive. Although it isn't expected to make a significant leap in 2018, it can start growing faster in 2019.
Cardano Blockchain is more technologically advanced than Ethereum and can be successfully used for making online payments.
Therefore, if you want to invest, it's time to do it in July– the cost of ADA has already started climbing slowly.