Bitcoin is the first cryptocurrency ever, which attracts many traders and investors nowadays. This coin appeared in 2009 and was a kind of a miracle for that period. However, traders and investors paid almost no attention to it.
Nowadays, Bitcoin trading is very popular due to the opportunities that it gives to investors. The price for a coin has reached almost $20,000 by the end of 2017 as a huge number of investors have bought this cryptocurrency. Later, the price declined below $10,000. However, the interest for Bitcoin is high in the moment of writing and this tendency is likely to grow in future.
With this huge uptrend, many beginner traders and investors want to buy the first cryptocurrency, but they make many mistakes that result in losses. We are going to describe Bitcoin trading for beginners in this article.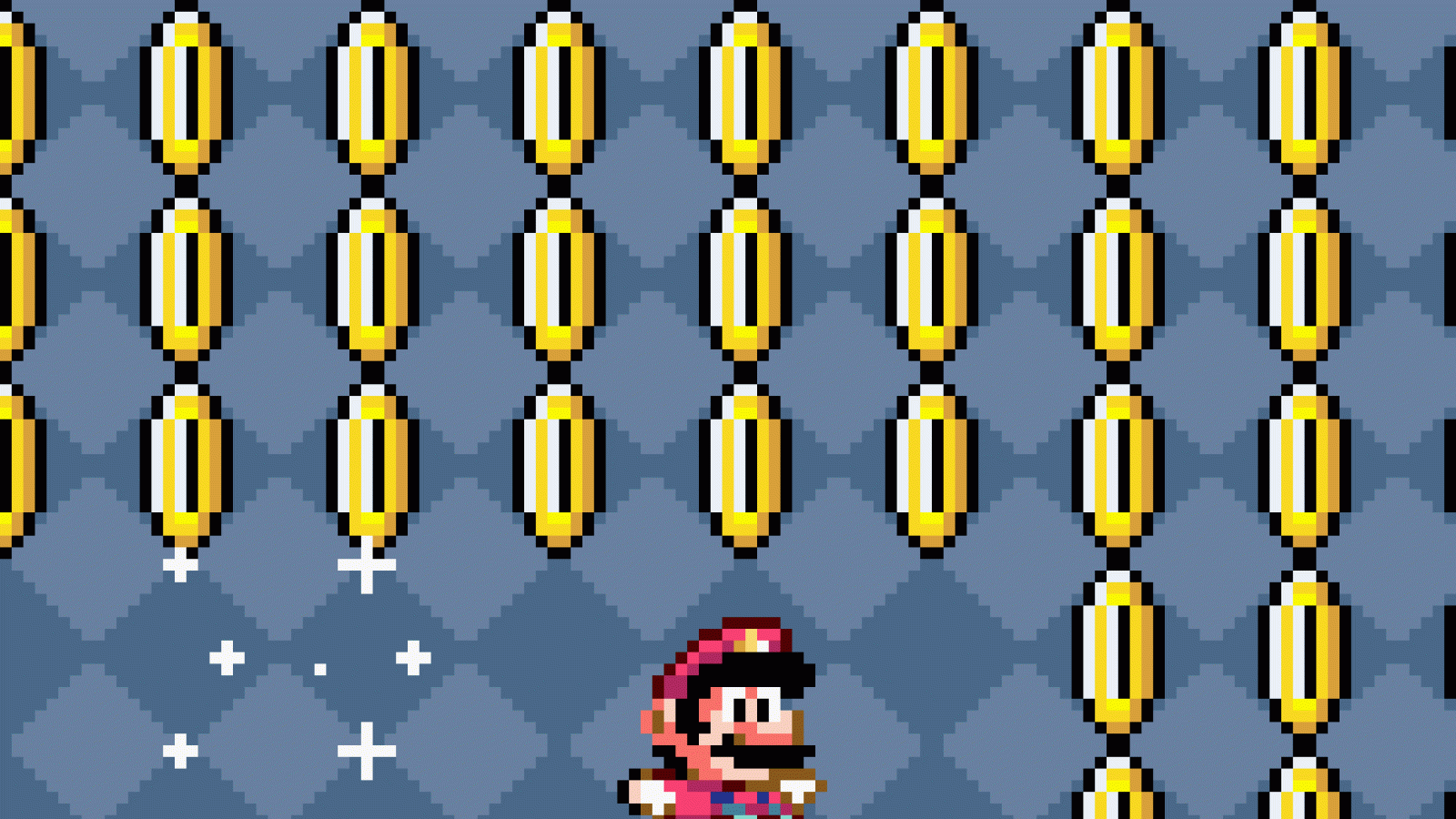 What are the main factors that influence Bitcoin price
In order to buy BTC, you need first to learn the main factors that may affect its price. However, before you do this, you have to understand that cryptocurrencies have some specifics that distinguish them from traditional fiat money.
The main difference is that they are all decentralized. Traditional currency price depends on central banks' policies meaning those financial institutions may affect quotes by simply changing their decisions on interest rates, for example.
As for cryptocurrencies, there is no a single body nor issuing them neither controlling their volume. The good news here is that you need no traditional analysis tools to predict Bitcoin's price. There is no central bank's meeting to follow or economic data to monitor. The bad news is that you need to pay attention to demand and supply in order to forecast Bitcoin's price which is not sometimes an easy task to complete.
As for the supply, it is limited by the nature of this system. The total volume of Bitcoins is 21 mln units. It is to mention also that new coins appear by means of a so-called mining (when miners solve several math problems in order to validate transactions and support systems integrity and safety).
This is a clear advantage of Bitcoin as its price is likely to grow in future due to the fact that the supply is limited. Once the total volume will be reached, there will be no further emission of coins.
The demand for Bitcoins depends on several factors including the possibility of using coins to conduct transactions between individuals and legal entities and cryptocurrency's investment attractiveness.
Key factors that affect Bitcoin's demand
Let's have a closer look at what can influence cryptocurrency's demand. The first aspect is its effectiveness as a mean of payment. In other words, you need to understand what are the advantages of Bitcoin as compared to traditional currencies.
It is to mention that BTC has met several problems during the past year. The rise of its popularity resulted in a decrease of transactions' speed and time and increase of its costs. This lack of scalability has made several users to pay attention to other coins such as Ethereum for example, which have no such issues.
Traders and investors need to know that Bitcoins transactions may cost above $5-10. However, even if you pay this amount to miners, there is no guarantee, that your transaction will be executed in the nearest future as other users may offer even higher rates.
Transactions' privacy
This is one of the most significant Bitcoin's advantages. There is no financial monitoring of such transfers meaning nobody except you and sender/recipient know all the details of a transaction. The good news here is that you can use it for different purposes including commercial operations. The bad news is that this privacy prevents Bitcoin from being widely officially accepted by governments.
There are countries that allow their citizens to use cryptos, but their number is limited. In addition, there is no general idea how to regulate Bitcoin and altcoins as means of payment and how to describe them. This prevents coins from being easily integrated into an international financial system.
The number of legal entities ready to accept Bitcoin
In 2009, Bitcoin was a kind of a game as there was no a single shop ready to accept Bitcoin as a mean of payment. However, things have changed and nowadays, some companies offer an opportunity for buyers to use Bitcoin and even several altcoin to pay for goods and services.
However, Bitcoin still loses the competition to traditional money because of many factors including high transaction fees, low operational speed etc. There is one more thing to pay attention to. Bitcoin's price is volatile meaning it may grow or fall for a couple of thousands of USD in several days.
Why this aspect is negative for adoption of cryptos as payment mean? Let's suppose one online shop has sold some goods for one BTC (the price of Bitcoin was $9,000). In the next couple of days, BTC's quotes went downwards and reached $7,000 level meaning this online business has lost around $2,000. In order to prevent those losses, businesses have to stay in direct contact with exchanges in order to convert Bitcoins into fiat money.
Places to change cryptocurrencies
There are several exchanges that offer opportunities to sell Bitcoins and buy US dollars (euros) for example meaning users may easily convert cryptos into traditional currencies and vice versa. This fact increases Bitcoin's popularity as traders and investors may profit from simply buying coins cheaper and selling them when they become more expensive.
Bitcoin trading and news
Apart from all the above-mentioned aspect that you need to consider in order to profitably trade BTC, there are also some other important things to pay attention to. Almost every day there are news that may have either positive or negative influence on this industry.
Events are very important as they help investors and traders to understand whether this or that coin is promising. When we hear, for example, that China is going to impose new bans, we need to be prepared for the rise of volatility as China is a very big player in this industry.
However, when a country promises to adopt cryptos or make any steps to facilitate cryptocurrencies' circulation, we may suppose that this event will have a positive impact on the whole industry.
Bitcoin regulation
Bitcoin's traders and investors pay much attention to cryptos' regulation in different countries. There is no general approach to it as every country has its own opinion on Bitcoin in particular and this industry in general.
In Japan, for example, Bitcoin is adopted as a payment mean. As for the US, cryptocurrency here is regulated as a commodity. Bitcoin's regulation has a significant impact on the whole market. There are several exchanges in Japan for example. As for China, such companies had to leave the country as there were no conditions for them to continue their activities.
Community's opinion
When trading Bitcoin, you need to pay attention to everything that happens within the community. To do this, you may sign up for different forums and social media in order to get actual news. Community opinion may have a significant impact on price.
Let's say Bitcoin developers prepare a huge update that is likely to increase transactions' speed and minimize fees. This news will have a positive influence on Bitcoin as this coin has serious scalability issues in the moment of writing.
Sometimes it is useful to listen to some experts who make their forecasts on Bitcoin. Famous Winklevoss brothers, founders of Gemini exchange, think that Bitcoin is promising and this cryptocurrency may be treated as gold in future.
Such comments may positively influence Bitcoin as those persons have some weight within the cryptocurrency community. Investors are likely to increase volumes, which will affect Bitcoin in future.
Bitcoin trading and technical analysis
All traders and investors nowadays try to use a technical method to forecast Bitcoin's price. This is another way to predict prices even without paying attention to fundamental factors. However, it is strongly recommended to combine both methods in order to make trading and investing more effective.
There is no difference between stocks, Forex or cryptos technical analysis. You have the same tools such as technical indicators, candlesticks, levels and the others. However, before you start Bitcoin trading, you need to understand that this cryptocurrency is volatile meaning it has a wide range of fluctuations even within a day.
This allows traders to gain more as BTC/USD's fluctuations for example, may reach more than $200 per 24 hours and even more. However, high volatility increases risks as well.
Main steps to start Bitcoin trading
Before we make a point, we would like to give you a brief guide on the main steps for every trader or investor to start Bitcoin trading: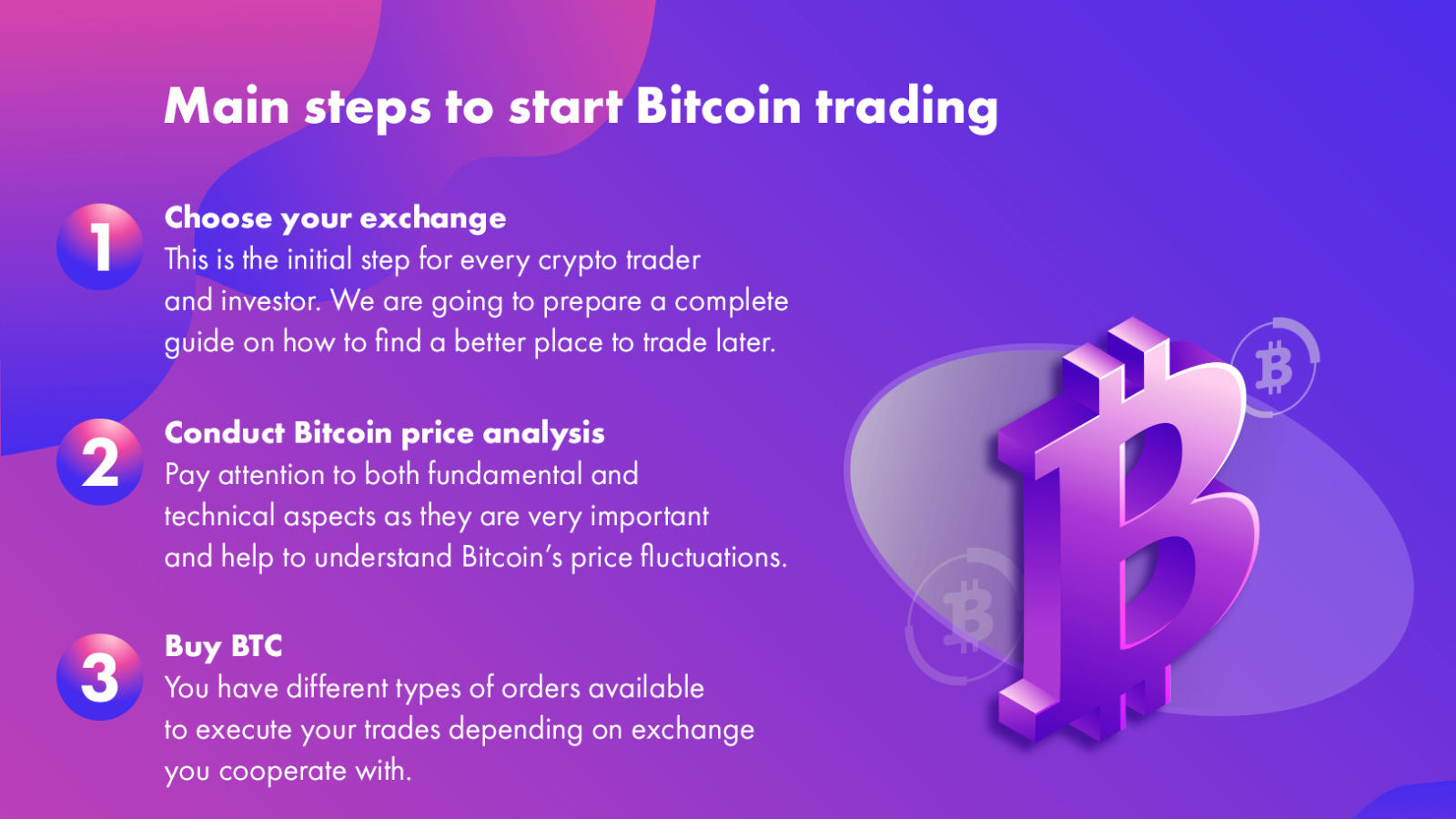 Image by Utoday
Here we make a point in this Bitcoin trading guide. In order to trade like a professional investor, you need to pay attention to several aspects and be prepared to work hard.