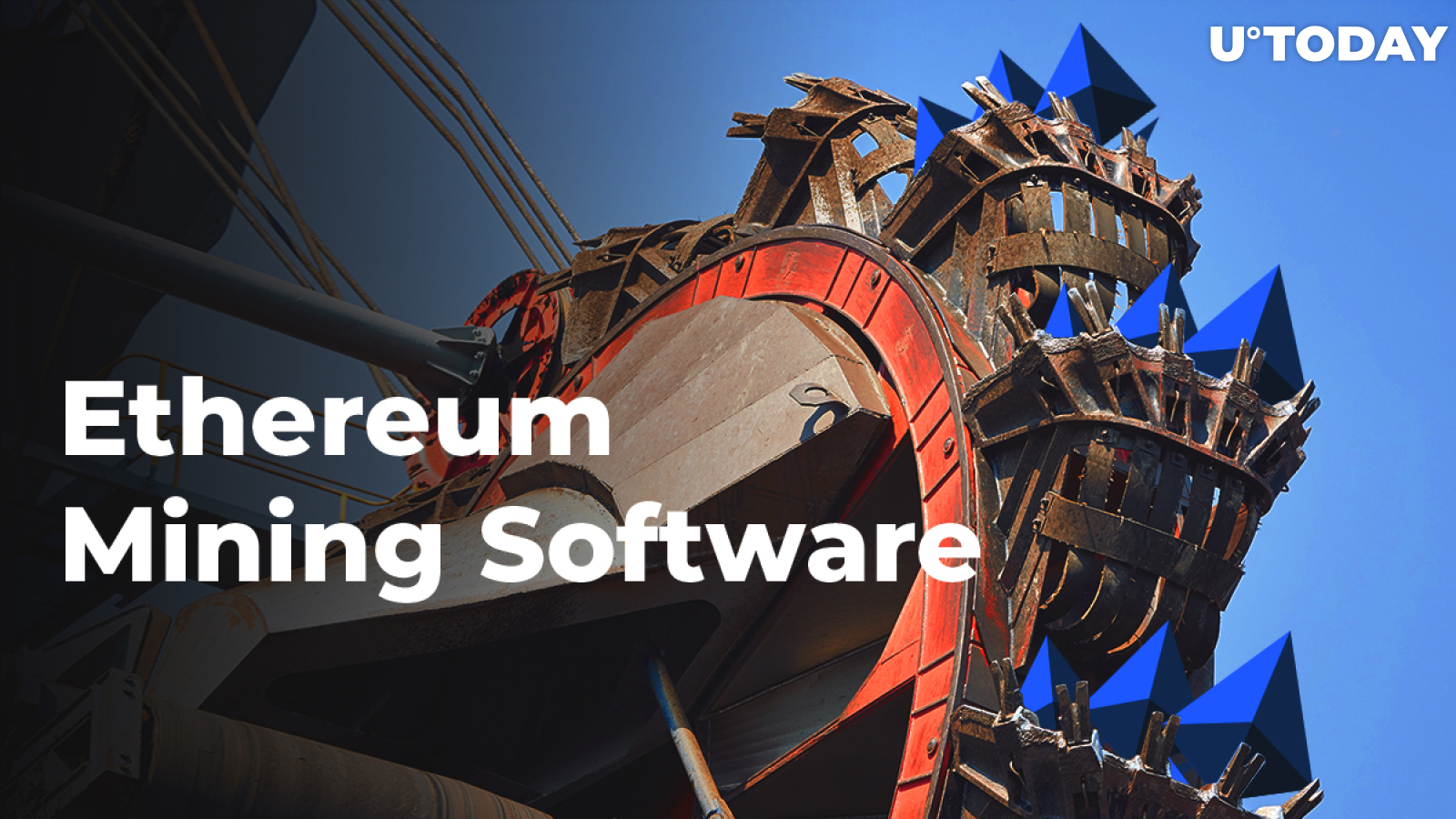 Cover image via www.123rf.com
Ethereum, the ultimate 'it-currency' of 2017, had a truly brutal year. On Dec. 7, its price tanked to $80, thus recording a jaw-dropping 94 drop from its January ATH of $1,349. The crypto rout forced many miners out of the market, but there's a silver lining – decreasing mining difficulty. Hence, we wouldn't recommend writing off Ether for the time being, given that it still remains one of the most profitable cryptocurrencies for long-term mining.
In this article, Cryptocomes will have a look at the most popular mining software clients for Ethereum mining to determine which one will be the best choice for you.
Preliminary steps
Before we get down to our list of the best Ethereum mining software, here's a small guide on how to install any mining software:
Make sure you've installed drivers for your GPU (they can be downloaded on the manufacturer's website).

Download the Blockchain data for synchronization.

Connect your node to the whole network with the help of a chosen client.
NB! Once you've done all these steps, you can also create your own dApps and smart contracts apart from mining Ether.
Claymore
Claymore is a top-of-mind option given its 'ubiquitous' status with Ethereum miners, which gives its users the possibility to simultaneously mine Ether along with other coins. However, one has to take into consideration the fact that 2018, which marked the rise of ASIC monopoly, put a final nail in the coffin to double mining, thus making Claymore's most salient feature obsolete.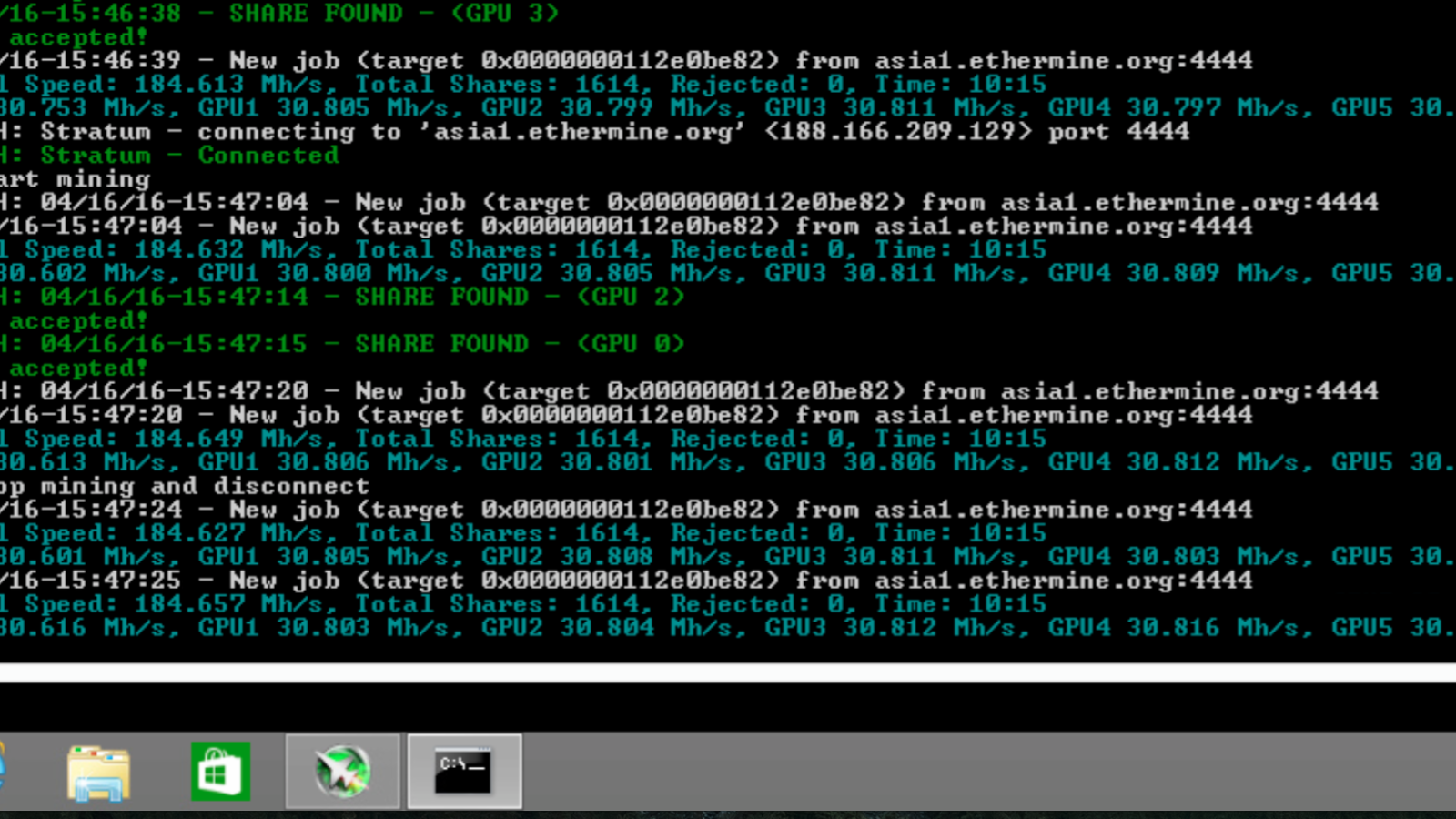 However, keep in mind that Claymore is more than a run-of-the-mill mining client – it also performs the role of a remote manager and gives users an ability to set clocks/voltages, etc.
Phoenix Miner
Phoenix is another option for those who are looking for a Claymore alternative. Notably, it offers much lower dev fees (you can remove the fee altogether if you have the wits to complete the client yourself). Unlike Claymore, they didn't add dual mining but this feature barely has any value of now. Redditors who compared both of the miners also point out that Phoenix has a higher level of stability. Furthermore, some users point out that Claymore had their hashrate 20-30 percent below the reported hashrate.
Geth, cpp-ethereum, Ethminer: what's the difference?
Geth
Tech-savvy miners who are capable of producing a couple of code lines can consider running a software client that is called Geth (a shortening for 'go-ethereum'). Geth is the implementation of the 'Go' scripting language, which is necessary for communicating with the Ethereum network. Obviously, the program is not recommended for those who are only getting started with Ethereum mining, but it can be a useful tool if you acquire the necessary programming skills.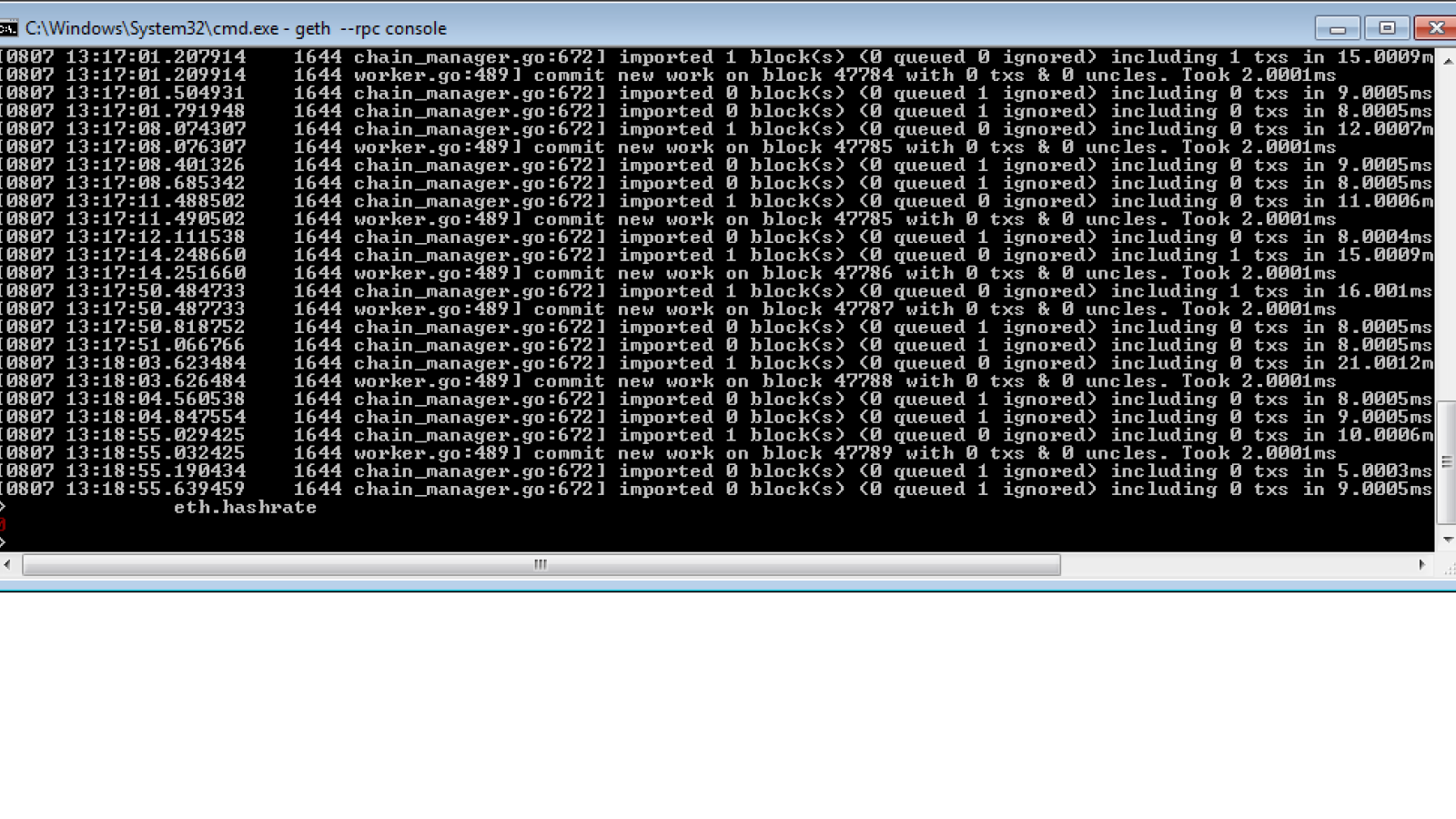 cpp-ethereum
cpp-ethereum is yet another viable option if you are interested in Ethereum mining software. The code, which can be downloaded on GitHub, has been tested on various operational systems (Windows, Linux, OS X).

One also has to mention that AlethZero is the C++ implementation of the abovementioned Ethereum client. In 2015, the AlethOne version was released, which was supposed to make mining easier for users who can't get around with the console-based client.
Ethminer
Ethminer is a command line mining program that supports any Ethash-based coin (Ethereum, Ethereum Classic, Metaverse, etc.). It is worth mentioning that Ethminer stems from the cpp-ethereum project.
NB! Ethminer and Geth both represent the command line interface but there is a difference in coding languages (the former is written in C++ while the latter is written in Go).
Miners are supposed to fork out a one percent dev fee (which is rather reasonable). The client has low system requirements, which makes it accessible for all types of miners. This software is constantly updated every two weeks or so.
Wineth
There's a world of difference between Wineth and Geth – the former is specifically designed for beginner-level users. Its UI is super-simple even for those who never had any cryptocurrency mining experience. Moreover, there is no need to modify any settings since the client's auto-configuration will choose the most suitable permanents instead of you. However, there is also a huge downside – Wineth is only compatible with Ethereum Classic.
MinerGate
In May 2016, MinerGate, one of the best-known multi-currency mining clients, announced its support for Ethereum. The main advantage of this specific client is that it suits both amateur and professional miners. MinerGate maximizes the efficiency of Ethereum mining by adjusting the settings to the GPU power.
Claude Lecomte, the CEO of MinerGate, claims that '1-click client' was supposed to become an entry-level software for many uninitiated miners. It is capable of showing an impressive hashing output because of its new code architecture.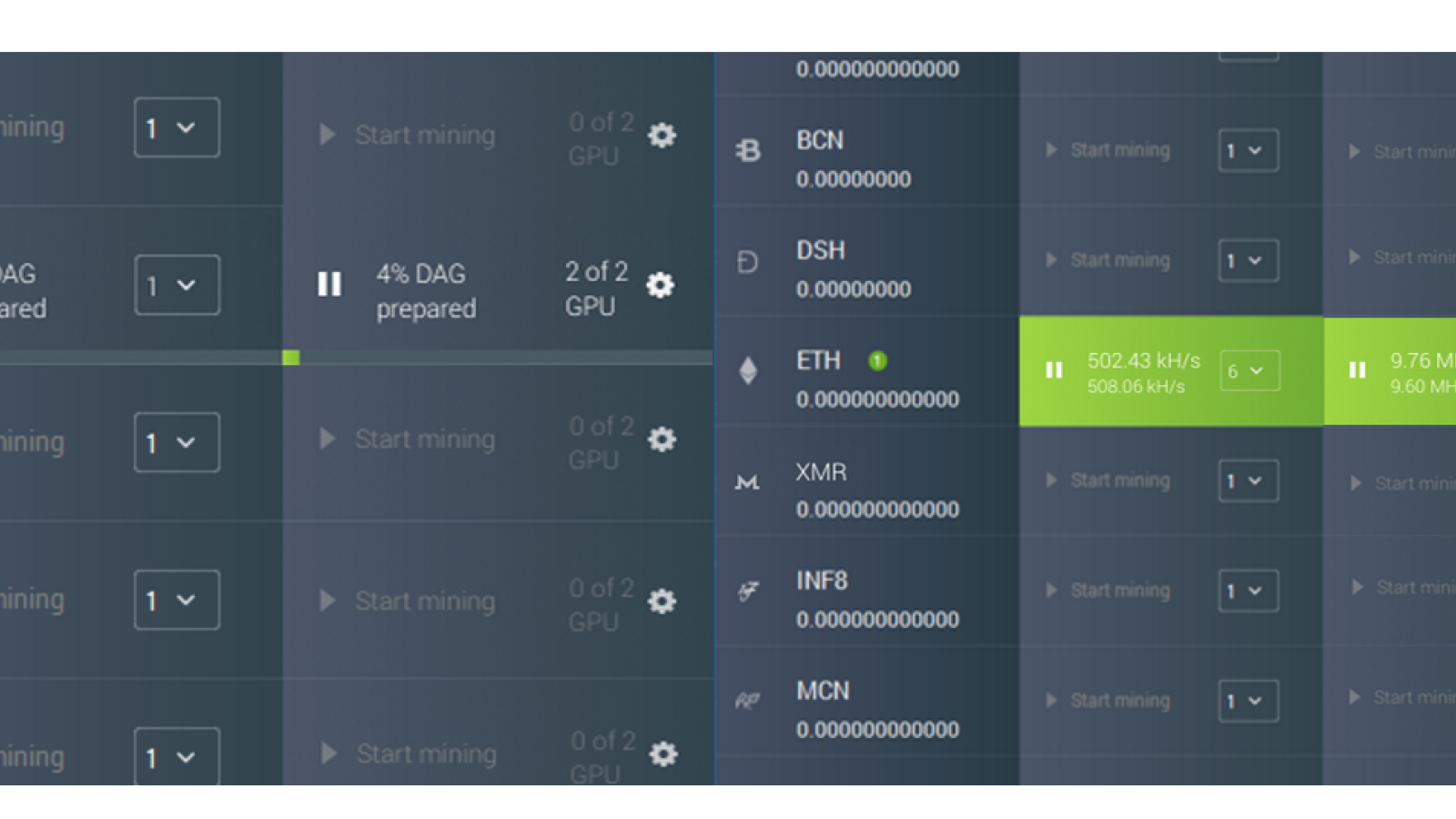 The support of multiple languages and a huge user base are also among the main reasons why you should consider choosing this client.
CGMiner
CGMiner is yet another miner on the list that requires programming skills. Those who simply downloaded a CGMiner folder from Github will find themselves at an impasse since they won't figure out how to make it run. The thing is, the source code that you download from Github has to be compiled (alternatively, you can already download compiled versions that are available on the web).
Just like MinerGate, it functions as a mining pool software but it is also compatible with most types of mining hardware. The good thing about this software client is that you are not obliged to limit yourself to one single mining device.
Parity
Parity has a rather tainted reputation because of a major security breach that resulted in millions of Ether being stolen. Since then, they've managed to enhance their security, and there is a good reason to believe that they've learned their lesson.
The client is written in the bleeding-edge Rust programming language. Notably, it is integrated right into the Parity browser. It works with both Windows 10 and macOS.
Awesome Miner
Awesome Miner is a good option if you prioritize centralized mining management. The majority of clients that are featured on that list are mainly suitable for running one mining rig but if you want to run multiple mining engines (ASICs, FPGAs, etc.), it is advisable to stick with Awesome Miner. This client supports up to 25 clients and supports a wide range of coins that are based on popular algorithms.
The only disadvantage is that Awesome Miner doesn't support any other operating systems apart from Windows. Hence, this miner is not that 'awesome' for Linux and MacOS fans.
Take a look at the Red Panda Mining review on Best Crypto Mining Software:
The caveats
Back in June, multiple news outlets reported that hackers could steal over $20 mln in Ethereum from mining clients that were insecurely configured by amateur users. Cybercriminals could get unauthorized access to the cryptocurrency wallets of their victims. As you can see, almost all of these clients are not beginner-friendly. Meanwhile, WinEth is an easy-to-use Windows graphical client.
Another caveat pertains to those miners who are looking for an alternative Ethereum client. For instance, when users reach a certain level of stability with Claymore, they are hesitant to make a switch. On top of that, it is rather challenging to adjust a specific type of mining software to specific types of Ethereum mining hardware (Nvidia graphics cards are generally considered to be the safest option).