There are no limits for perfection, and cryptocurrency developers continue proving it by introducing new technologies multiplying transaction speed. Today, we will observe the latest advancements in this sphere and compare the transaction speed of top crypto assets.
But before we start…
Why does transaction speed matter?
With regards to exchanging digital forms of money, transaction speed alludes to the time it takes for the system to finish one operation. With better exchange speed, the procedure will be quicker, which means customers will prefer the current cryptocurrency to other coins as the exchange means.
At the moment, there are over 2,300 cryptocurrencies. Boasting a high transaction speed is crucial: it means your crypto asset will be preferred to rivals' coins. That's why developers are working tight-lipped about making their platforms agile and fast. What does the operation speed depend on?
There are several aspects of influencing exchange speeds.
Present exchange volume

Operation kind included in the creation of blocks

System conditions
Note that the transaction fee influences only the first confirmation (it refers to one block where miners get fees). Following confirmations take place because the transaction is a part of the preceding block, not the fee connected with it.
Top 10 fastest cryptocurrencies 2019
So, let's get down to observing the cryptosystems providing maximum transaction speed. Spoiler: it's not Bitcoin – the world's most famous cryptocurrency has long ago been outperformed by altcoins.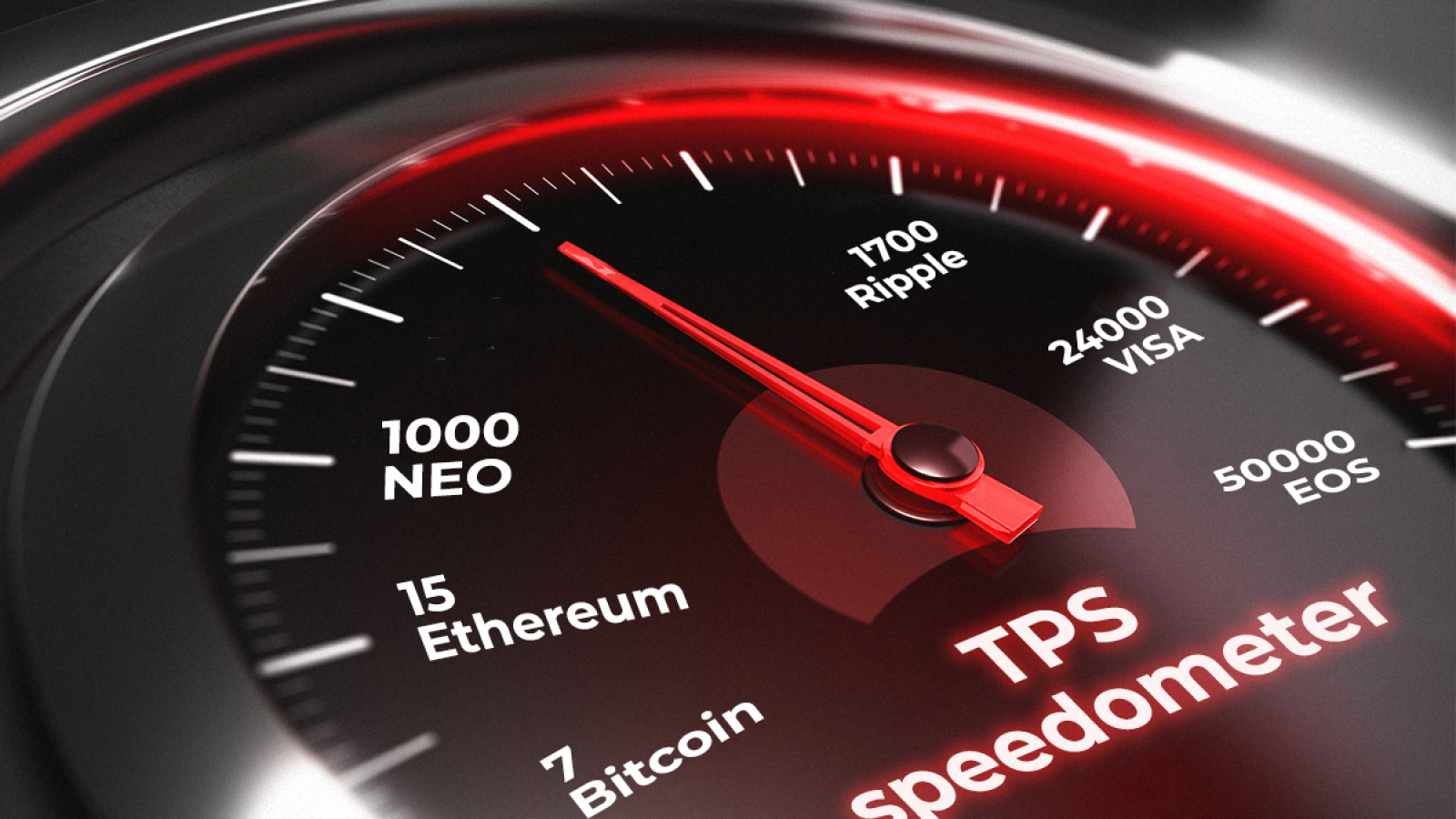 1. EOS
Having appeared less than a year ago, EOS has gained the reputation of the quickest crypto platform for its agility. At the point when EOS propelled, it reached beyond the 3,000 TPS level, which meant breaking two records: transaction speed and overpassing Visa speed (1,700 TPS at those times).
Like the above-mentioned platform, EOS is providing tools for DApps creation and the EOS blockchain's underlying foundation. Today, the speed of processing is close to 50,000 TPS!
2. Ripple
One of the major P2P crypto payment platforms, Ripple offers over 1,700 TPS speed. Its agility is the reason why banks and financial institutions are keen on using their tech.
3. GoChain
Having appeared quite recently, GoChain boasts 100x higher speed than Ethereum (1300 TPS) promising to increase it to 13,000 TPS in Q2 2019. Being highly praised by the crypto community, GoChain is said to become a great alternative to smart contracts. The crypto is based on the Proof of Authority, which helped to solve scalability and centralization problems. 10x times more decentralized than Ethereum and greener than Bitcoin, GoChain distributed ledger delivers benefits for both individual and corporate users.
4. NEO
This is a Proof-of-Stake coin with a high processing rate of 1000-10,000 TPS. This asset is at times called the Ethereum executioner since it requires only ~15 seconds processing a block of operations on the blockchain. By 2020, NEO wants to reach the speed of 100,000 TPS.
5. Nano
Introduced in 2017, Nano is highly quick and versatile because of its innovative tech. Usually, one Nano exchange takes around 5 – 10 seconds to get an affirmation.
6. Dogecoin
The old cryptocurrency utilizes the Proof-of-Work consensus tech. It additionally has an extremely quick processing rate, taking around 60 seconds to execute an exchange and get an affirmation. Although not valuable from other standpoints, Dogecoin should be given credit because it used to be revolutionary a few years ago thanks to its speed.
7. DASH
This is also one of the most long-ago established computerized monetary standards in the market and furthermore the pioneer of the nodes system. Its exchange speed is around 2 minutes 39 seconds to get an affirmation. It reaches up to 56 TPS with a block volume of 2 MB. Interestingly, Dash is widely popular among users from Nigeria (23% of DASH exchanges on its blockchain originated from this country).
8. Monero
This is a network currency and ostensibly the pioneer of web safety and anonymity. It takes around 2 minutes to affirm an exchange. It has a dynamic block size which changes as volume increases.
9. Ethereum
The father of smart contracts, Ethereum has versatility issues that have been causing arguments. Consequently, developers are thinking about moving to a Proof-of-Stake which will unquestionably improve its speed. Today, it takes 14 – 17 seconds to get an exchange affirmation and execute up to 12 TPS.
10. Litecoin
Bitcoin's younger brother in the digital currency space, Litecoin takes around 2 minutes 30 seconds to get an affirmation for an exchange. It's not surprising that the coin is in the Top 10, and is often preferred by users for making fast exchanges.
Summary
When it comes to transaction speed of crypto assets, only the sky's the limit. Developers are working hard on delivering outstanding technologies and record-breaking speeds. This is why we start preferring cryptocurrencies to fiat – the companies behind them are chasing perfection and provide clients with something truly convenient and reliable.