In recent days, altcoins are going through another phase of painful recession triggered by SEC cracking down on major cryptocurrencies in the U.S. The meme coin segment is still losing its capitalization. However, some its representatives managed to make it into the green zone today.
After painful drop, FLOKI is back to green zone
FLOKI becomes the only meme coin in the top 10 that has already started surging after a recent collapse. While all of its competitors have lost value in the last 24 hours, the FLOKI price printed a green daily candle.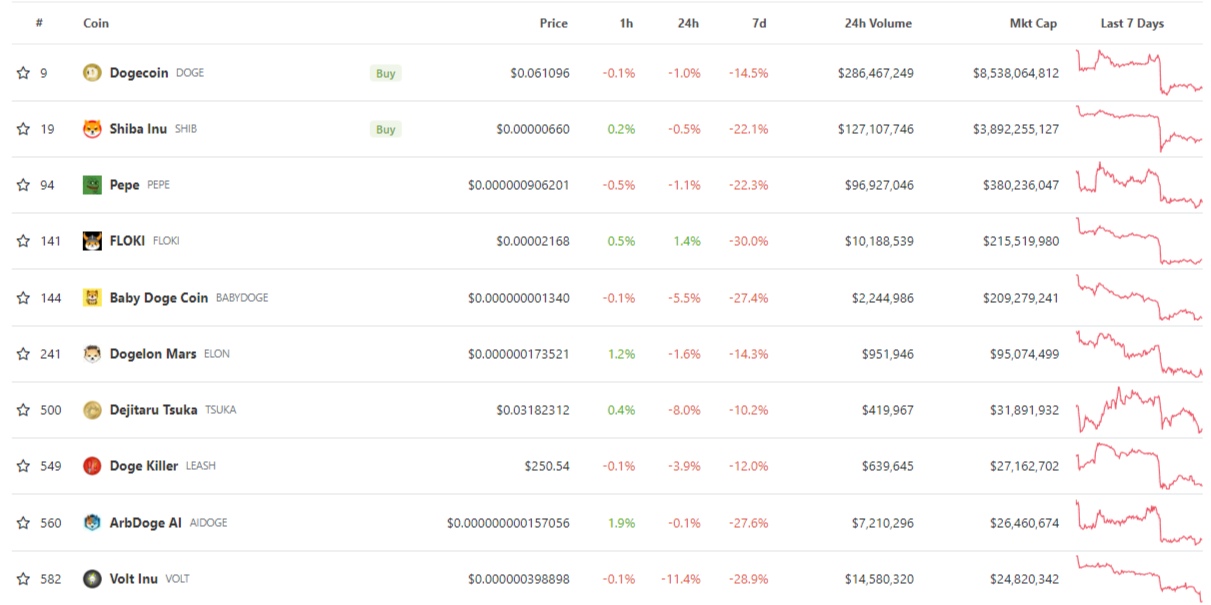 Per CoinGecko's data, the segment as a whole continues losing its capitalization. In the last 24 hours, its net market cap lost 2.4% and dipped below the $13.7 billion level.
FLOKI, the fourth representative of this segment by market capitalization, has seen its price increase by 1.4% in the last 24 hours. Its market cap smashed through the $215 million milestone.
Also, with trading volume over $10 million in the last 24 hours, it becomes the fifth most traded meme coin. All of its competitors, including SHIB and DOGE, are in the red as their market caps reduced by 0.5%-1%.
Outside of the top league, only small-cap meme coins with $13-$15 million capitalizations managed to grow in price in the last 24 hours.
Cardano's (ADA) SNEK does not care about downtrend
Largely, the ongoing collapse on the altcoin market was painful for meme coins. Some of them lost over 30% of their valuations in the last seven days.
As covered by U.Today previously, the U.S. SEC sued Binance.US and Coinbase for offering unregistered securities to American citizens. In both lawsuits, all of the major altcoins, including Cardano (ADA), Polygon (MATIC) and Solana (SOL), are mentioned.
However, SNEK, the largest meme coin in the Cardano (ADA) ecosystem, seems to remain unaffected by the ongoing collapse. In the last two days, its price almost doubled. SNEK spiked by 37% in the last 24 hours; only that pushed it onto the list of the top gainers on cryptocurrency trackers.