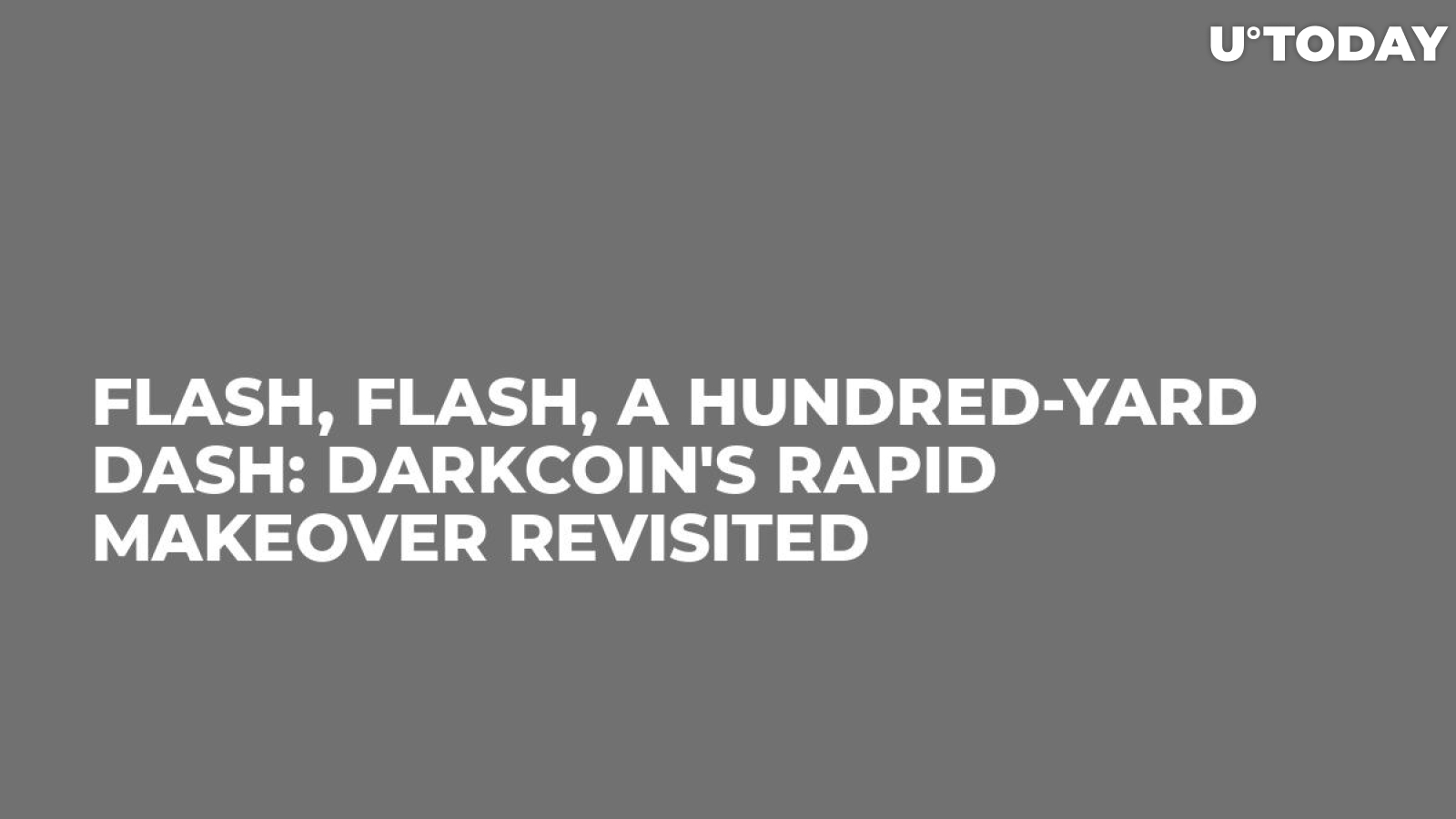 Cover image via U.Today
Dash, short for Digital Cash, is undoubtedly one of today's most sought-after cryptocurrencies. Having been founded in January 2014 by Evan Duffield, it entered the Blockchain market as Darkcoin and was renamed Dash in March 2015.
Currently fighting with IOTA for the 12th position by market cap with around 1.4 billion USD, it is simultaneously occupying the 5th position by unit price with close to 165 USD per each one of its coins. That makes Dash a major player on the global market with much envy from its rivals directed at how the company managed to reach such heights in both these categories.
Below is the first graph (logarithmic) that shows a complete history of Darkcoin/Dash's market cap values by quarter, since the coin's inception up until now: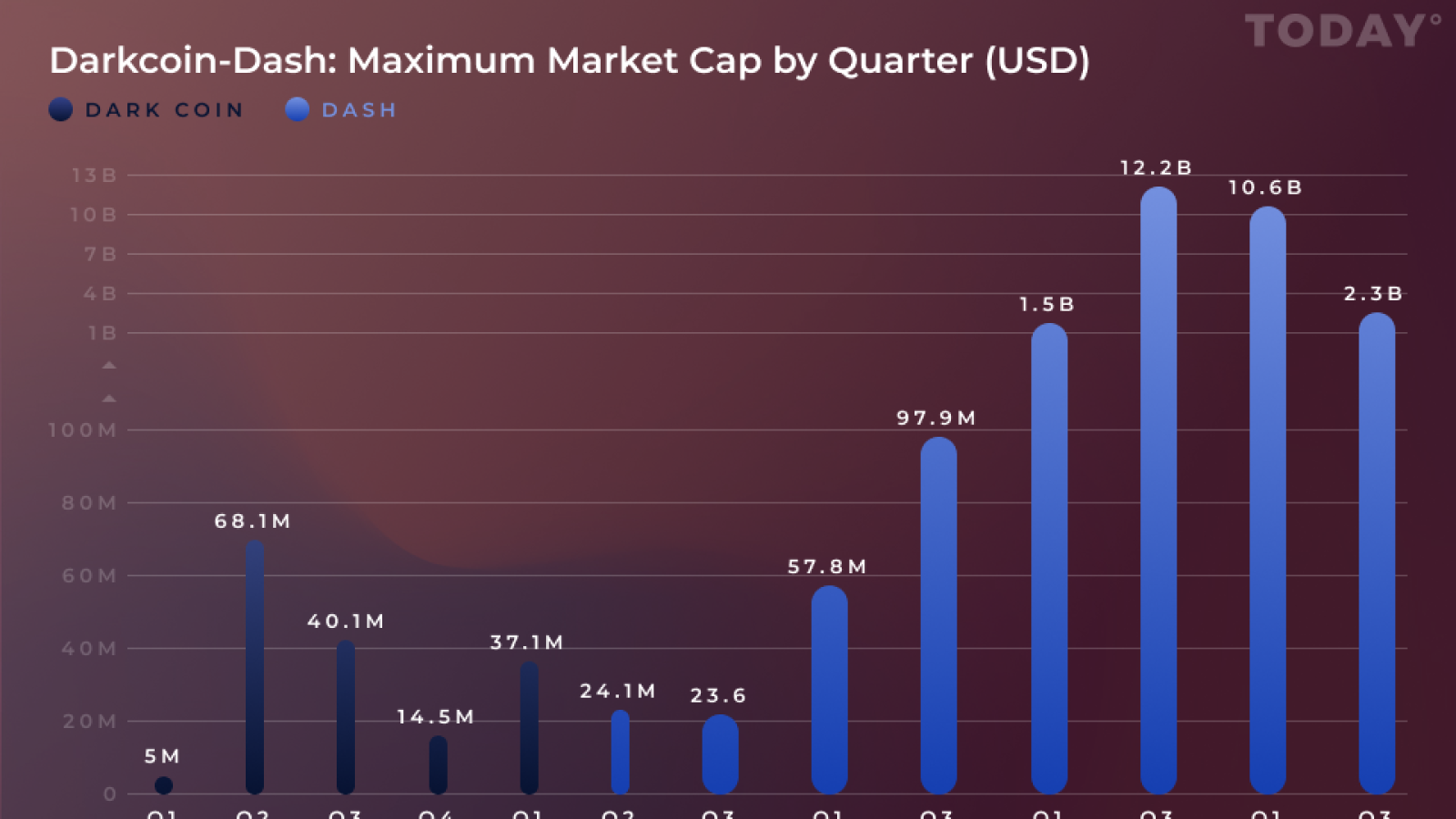 The very first quarter saw a modest start with only 5 million USD. However, the cap value increased fourteenfold and reached almost 70 million USD the following quarter—the highest cap value Darkcoin will ever see—in part thanks to the aftermath of the second Bitcoin bubble.
The next few quarters saw mainly satisfactory but not brilliant performance, both for Darkcoin as well as its new face, Dash, in the first nine months of its existence. The first six months of 2016 saw Dash starting to approach the days of Darkcoin's former glory in the second quarter of 2014, with close to 60 million USD.
The second half of 2016 saw Dash's market cap exceed its previous record and almost reach 100 million USD. The growth continued into the third Bitcoin bubble, having reached 1.5 billion USD in the first half of 2017, and finally peaked at over 12 billion USD, settling for its absolute maximum value in the second half of last year. The subsequent wane ensued in 2018, at that point already foreseen and expected, which left Dash where it is today, with the respectable average of 2.3 billion USD for this year's last two quarters combined and 1.4 billion USD as of right now, during sordid times of the bear market.
Below is the second graph (logarithmic) that shows a complete history of Darkcoin/Dash's prices by quarter, since the coin's inception up until now: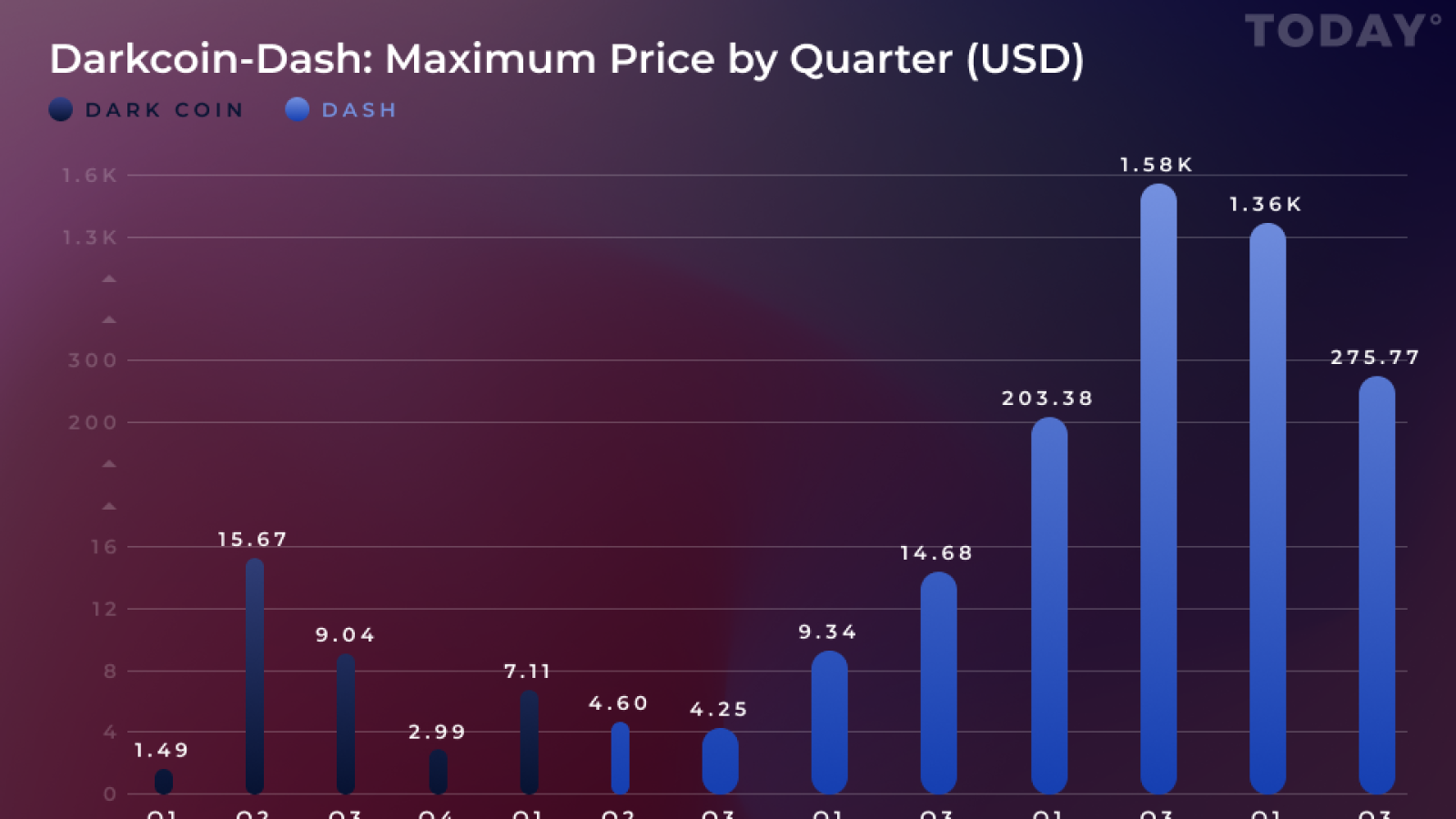 The situation here is fairly identical. Darkcoin started at almost 1.5 USD per piece in its first quarter and also saw a gigantic increase in the second quarter with the price reaching almost 16 USD. There was a sharp dip after that, followed by a period of relative stability for the next year or so with the price tag being stuck mainly between 3 and 4 USD a pop for both Darkcoin and its post-makeover version, Dash.
Finally, the first half of 2016 saw a rapid increase, and the second half saw the price almost touch its previous record from the second quarter of 2014. The growth continued in 2017, just before and during the aforementioned Bitcoin bubble period, and reached its maximum of over 1 500 USD. The subsequent decline came, which saw Dash find its current position of 275 USD (double quarterly average) and 165 USD as of right now, in the bear market.
Having moved from 5 million USD (market cap) / 1.5 USD (unit price) at the very start to almost 1.4 billion USD (market cap) / 165 USD (unit price) right now, Dash has clearly come a long way and done very well for itself. The Darkcoin has truly made a hundred-yard Dash in a flash, crypto-economically speaking.
We hope you found this information handy. Stay tuned for more.