Jurrien Timmer, Fidelity's director of global macro, recently commented on the state of Bitcoin, comparing its current market dynamics to those of gold.
Timmer suggests that Bitcoin is now marching to the same rhythm as gold but warns that the leading cryptocurrency may have gotten a bit ahead of itself, hinting at potential overvaluation at the $30,000 mark.
In his analysis, Timmer has highlighted an 88% inverse correlation between Bitcoin and the two-year real TIPS yield, and a 63% inverse correlation to the PCE-derived real rate. This correlation analysis, based on data since 2018, puts Bitcoin in a similar position to gold in terms of its reaction to real rate drivers.
In layman's terms, what Timmer is suggesting here is that Bitcoin's price tends to move in the opposite direction of these two economic indicators. If the returns on certain government bonds go up, or if inflation rises, we can expect the price of Bitcoin to generally go down, and vice versa. It is important to note, though, that these are just tendencies; they do not happen every time, and other factors can also influence Bitcoin's price.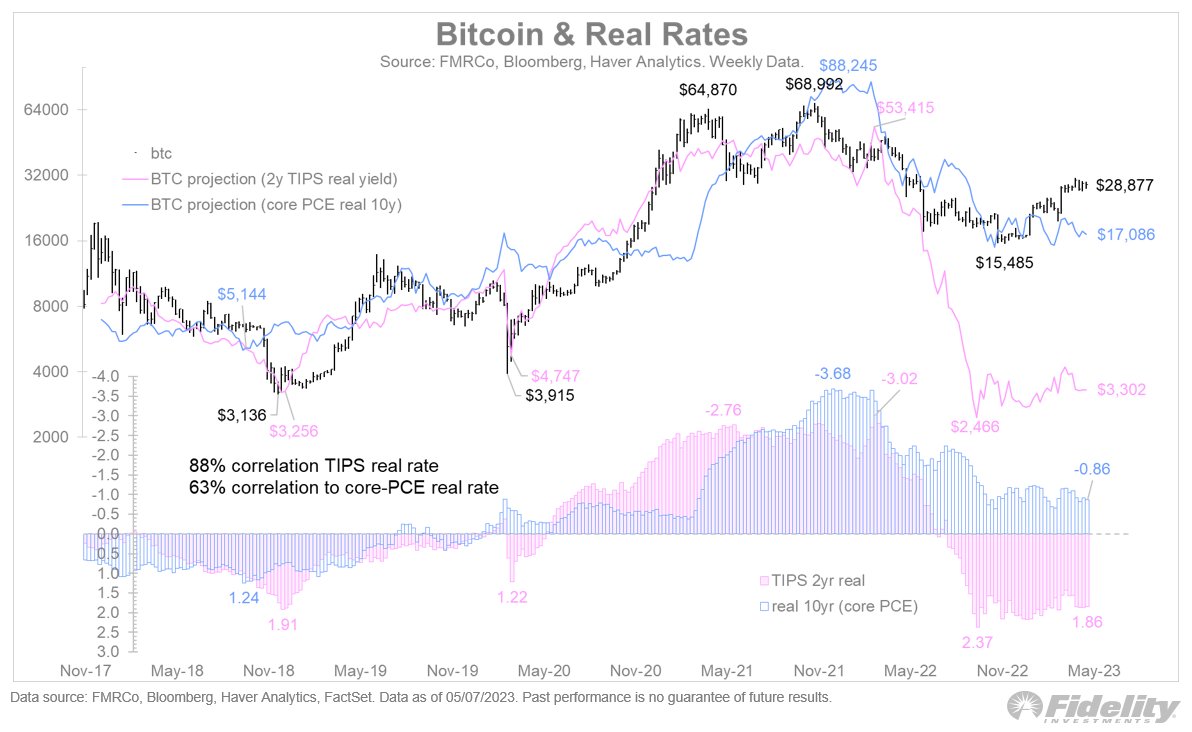 Timmer has also pointed out a key difference in the regression models for gold and Bitcoin. Gold follows a linear regression, while Bitcoin's is exponential. Timmer interprets this as a sign of Bitcoin's role as a "high-powered inflation hedge." This powerful hedge potential, coupled with its growing popularity among investors, has positioned Bitcoin as a highly aspirational asset.
The executive's insights shine a spotlight on Bitcoin's strong correlation with gold, but his caution about Bitcoin's potential overvaluation emphasizes the need for investor prudence.
The Bitcoin price has dropped to its lowest since March 17, with an over 12% decrease since May 6, decoupling from traditional risk assets like the Nasdaq.