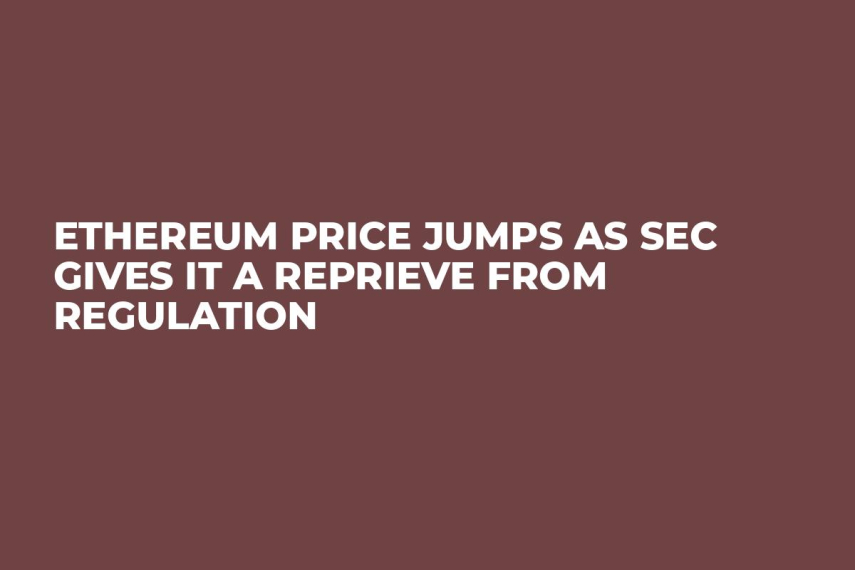 Cover image via U.Today
The SEC, a key regulator in the cryptocurrency space in the US, handed down some positive news for Ethereum, the world's second-largest cryptocurrency. At the Yahoo All Markets Summit: Crypto Conference in San Francisco, the SEC declared officially that Ether is not a security.
This had a positive effect on the markets and helped boost Ethereum's price by almost 10 percent amidst the current downturn this week in the markets.
From BTC to ETH
The SEC have in the past labeled Bitcoin as a commodity as the biggest cryptocurrency escaped the Securities Commission, but it has also said that it intends delving into other coins and ICOs.
Now, it has come out and made its stance on Ether clear, saying there is no value in putting it under the gambit of a security.
"We don't see a lot of value in seeing ether as a security," William Hinman, head of the Division of Corporate Finance for the SEC, said at the Yahoo All Markets Summit: Crypto conference in San Francisco. "Ether is a coin that is evolving."
The reason for Ether not being labeled as a security hinged on it's decentralized and public network, and lack of a third party expecting to make a profit.
"In case of Ether as we interact with market participants, we keep gathering info and at some point we say this is something we should make clearer," Hinman added.
Market boost
The news was met with positive sentiment from the Ether market as the price of the coin rose 8.8 percent to a high of $520.68. The is a break from the general uneasy feeling the cryptocurrency market has faced this week, with many major coins losing substantial ground.
It was not only the market that responded positively, there was general good sentiment from other crypto experts and enthusiasts at the decision taken by the SEC.
CoinList co-founder and President Andy Bromberg said:
"The SEC's recent comments are a validation of the possibility of non-securities tokens and a big step towards more definitive guidance on how and when individual tokens can be defined as non-securities. The precedent they are indicating here is a powerful one that will enable new projects to continue to flourish in the space."
We applaud the clarity provided by Director Hinman and the SEC today. ConsenSys looks forward to continuing to engage with regulators around the globe to promote responsible adoption of this transformative technology. https://t.co/2CURvdie7o

— ConsenSys (@ConsenSys) June 14, 2018
Well regarded crypto-commentator, Brian Kelly, also added what this decision means for Ethereum futures.
*CBOE SAYS SEC'S COMMENTS REMOVES OBSTACLE TO ETHER FUTURES

— Brian Kelly (@BKBrianKelly) June 14, 2018
Co-founder of Blockgeeks also made a good point about this decision that pertains to all the ICOs that have built their coins upon the Ethereum Blockchain.
SEC announced Ether $ETH is NOT a security, due to its "Decentralization" and no corporation

But before you go celebrating.

...Remember 99% of ERC20 Tokens are Corps and are centralized, preminted tokens that the corp keeps = Securities #Ethereum

— Ameer Rosic (@AmeerRosic) June 14, 2018
We applaud the clarity provided by Director Hinman and the SEC today. ConsenSys looks forward to continuing to engage with regulators around the globe to promote responsible adoption of this transformative technology. https://t.co/2CURvdie7o

— ConsenSys (@ConsenSys) June 14, 2018