DRIP, a novel decentralized finance (DeFi) protocol, starts its hotly anticipated presale campaign on one of the most democratic launchpads in Web3. Users can access an eccentric reward system and claim novel assets at an early stage.
DRIP presale campaign starts on Pinksale launchpad
The presale phase of the DRIP token release kicked off on Pinksale decentralized launchpad on Aug. 7, 2023, at 5:00 p.m. (UTC timezone). Cryptocurrency enthusiasts can purchase the tokens at the lowest price to receive unmatched benefits, the DRIP team official statement goes.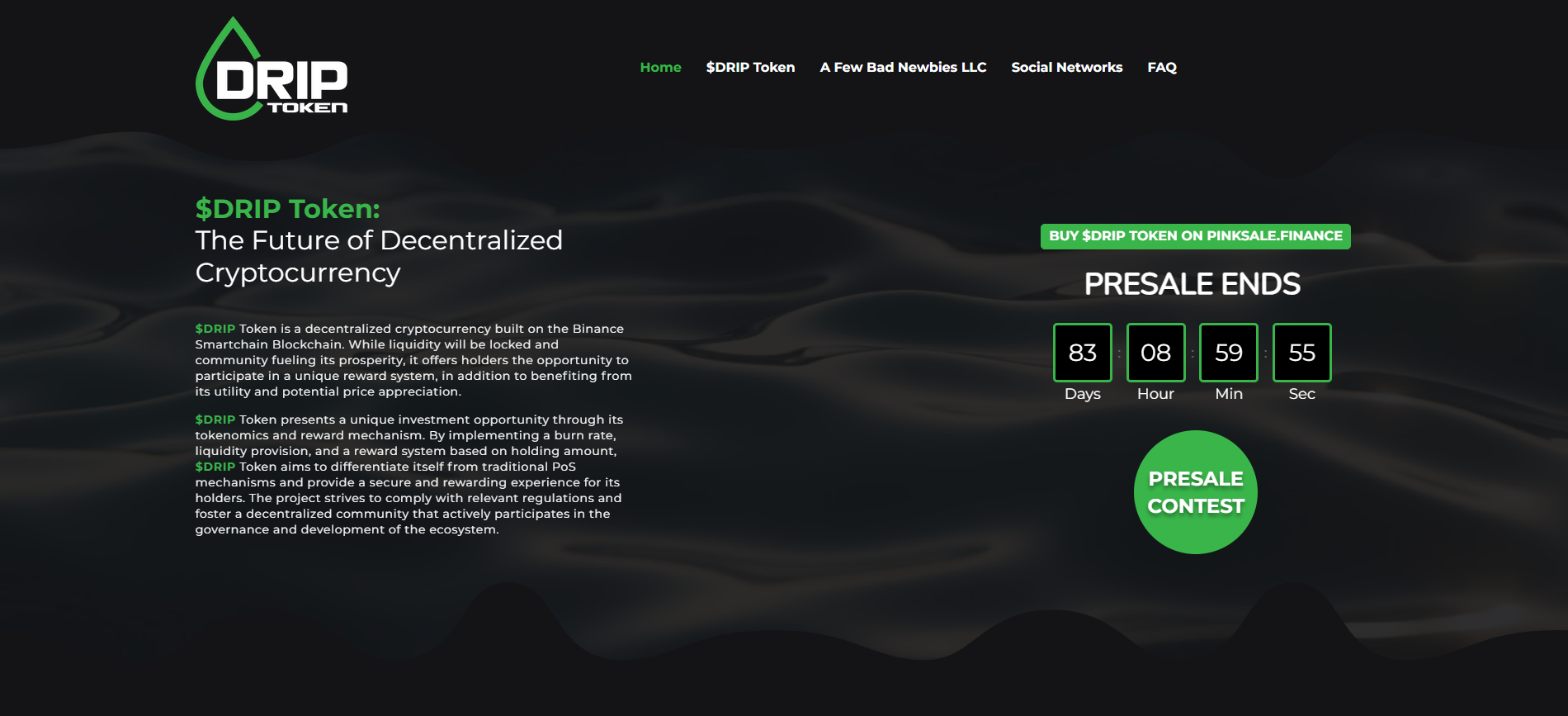 After purchasing the token, all of its enthusiasts will be able to get rewards in a unique two-layer bonus system. Both types of rewards are completely gas-free, which makes the process of rewarding more profitable and predictable for all participants.
All holders with DRIP tokens in their wallets receive a percentage of the daily trading volume. This type of reward is distributed between eligible wallets with every transaction in the DRIP ecosystem. As such, rewards of the first type will grow proportionally to the trading activity of DRIP wallets. This incentive will be fueled by 0.5% of aggregated transaction volume.
In addition to periodic trading volume rewards, holders of DRIP will also get back a percentage of their individual holdings every three days. This reward is designed to motivate new users to hold DRIP longer and, therefore, to reduce potential the selling pressure that retail sellers can create on the DRIP price. In total, 0.2% of the transaction volume will be directed to this program.
A healthy, fair and transparent liquidity ecosystem is of paramount importance for DRIP as a project. That is why it introduced a 8% liquidity provider (LP) tax, constantly feeding the LPs, ensuring stability and maintaining a healthy structure for DRIP allocation.
DRIP token was issued with a 100,000,000 aggregate supply. Out of this supply, 40% is allocated to the presale campaign. In total, the team will raise a $5,000,000 hard cap during the presale.
DRIP employs hyper-deflationary design for verified scarcity
In order to make the ecosystem of the product viable and attack resistant, its creators designed balanced and sustainable tokenomics for the DRIP token. Its 3% transaction tax creates a continuous burn cycle for the project: a large portion of its circulating supply will be periodically sent to the burn address. These DRIP tokens will be removed from circulation for good, therefore making the asset scarcer over time.
As such, DRIP introduces itself as a hyper-deflationary project: its circulation reduction will mitigate the effects of potential inflation and be yet another powerful catalyst for DRIP's potential price movements.
Unlike many early-stage altcoins, the DRIP team is public; its maternal company is a U.S.-registered LLC. A Few Bad Newbies (AFBN) company has already introduced a number of projects in the sphere of metaverses and blockchain-based gaming.
The protocol's development is curated by the team of CEO William Simmons, COO Dana Mowbray, CMO Antonio Cristaldi and community technician John Stolk. The team, product and its token passed security audits and KYC through Cyberscope, a reputable Web3 cybersecurity agency.
Also, the DRIP team installed the HoudiniSwap module on its website to allow new and existing users to seamlessly swap their DRIP tokens to Binance Coins (BNB) and vice versa with no need to leave the portal.
DRIP team announces presale contests for crypto enthusiasts
In order to reward new participants of the presale campaign, the DRIP team introduced two open contests with valuable prizes. Prizes will be distributed between lucky participants once the benchmark cap of the sale is reached, i.e., when presale enthusiasts manage to purchase $2 million in DRIP tokens combined.
Participants in this contest will be able to compete for a 2023 Volkswagen Taos turbocharged with a 1.5 l engine (158 hp, AWD), or its cash equivalent of $20,000.
Once the entire hard cap of the presale is met ($5,000,000 in fiat equivalent), DRIP will hold a Hard Cap Contest with two luxury cars as prizes, i.e., a 2023 Range Rover Velar Dynamic SE and 2023 Toyota Camry SE. Both prizes can be replaced by its cash equivalents of $75,000 and $30,000, respectively.
In order to be eligible for participation in the contests, investors should purchase $499 DRIP in equivalent (for the first tier) and $500-$1,500 (for the second tier). Investments less than $499 are not rewarded with lottery tickets, the announcement says.

Also, if the DRIP team hits the HardCap goal, the benchmark prize (the Volkswagen) will be given out to the lowest tier ($1-$499). In this way, anyone in any tier will be entered to potentially win a car, regardless of their investment amount.
To wrap up, DRIP is a hyper-deflationary ecosystem based on BSC token. Its presale phase allows crypto enthusiasts to purchase DRIP at exclusive prices.
Twitter: $DRIP Token (@BNB_DripToken) / X (https://twitter.com/BNB_DripToken)
Telegram Community: https://t.me/driptokenglobal
Website: Home | $DRIP Token (drip-token.com)
Presale: Drip Presale - How to Buy Drip (pinksale.finance)