Markets are continuing their movement upward but are clearly slowing down since inflows to the industry decreased significantly. Most digital assets have entered local consolidation channels that will most likely become points of reversal in the foreseeable future.
Dogecoin gains traction
After the surge of transactions on whale-tier accounts and the unexpected price rise of the biggest meme coin in the world, DOGE came closer to the golden cross, which might launch the meme asset further as it lacks fundamental growth fuel.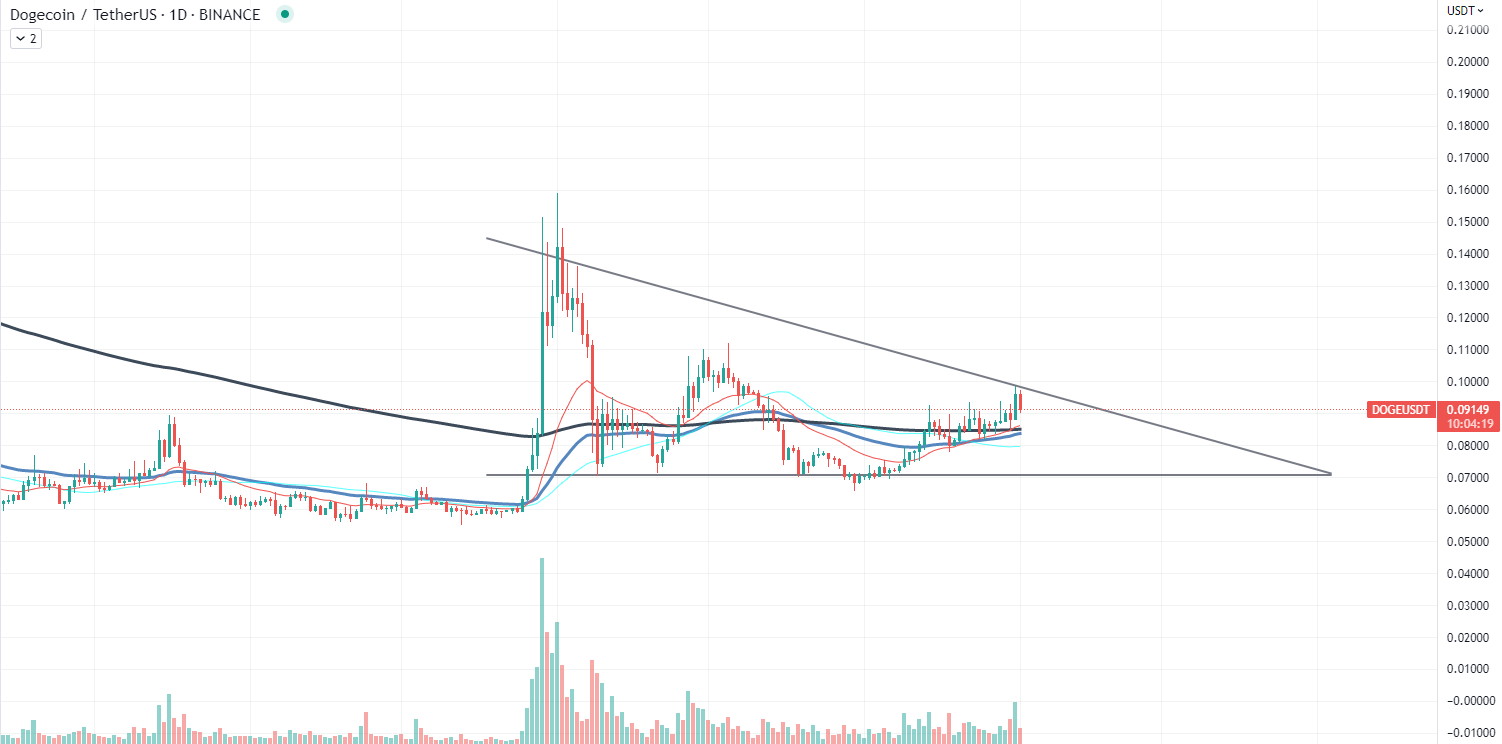 The asset has been constantly going up and down through time since the source of its growth was purely speculative rather than fundamental. Every time Elon Musk hints at the adoption of cryptocurrencies on Twitter, DOGE sees a huge surge of transactions and purchases, which quickly fade at the same time.
Ethereum on verge of breakdown
Despite a strong start after the beginning of the reversal on the market, Ether quickly lost all the momentum after breaking the 200-day moving average that has been acting as the local resistance level.
After moving past the line, Ether immediately entered the consolidation channel and started losing volume, while delivering additional signals about the upcoming reversal rally. For example, the Relative Strength Index has been signaling an upcoming reversal for Ethereum, as it clearly shows a descending dynamic while the price moves sideways.
Despite being strong fundamentally, Ethereum is still struggling to gain a foothold on the market even with a solid burn level on the network and relatively high activity with a lack of funding on the market.
In a nutshell, Ethereum, Solana, Cardano and other alternative cryptocurrencies are unlikely to move without the market-wide reversal that will be led by Bitcoin, and since the week on the markets is already nearing the weekend, we are unlikely to see a spike in volatility before Monday.
Monero's fuel
XMR entered the uptrend back on Nov. 11 and has been moving upward without even entering consolidation periods or corrections. After days of ascending movement, the golden cross occurred on the daily chart of XMR, which might have triggered the prolonged uptrend on the market.
Unfortunately, there is a problem. Despite the golden cross signal, the trading volume on the asset is descending, which is a crucial factor for any kind of rally. If the current tendency prevails, XMR will most likely lose the grip and break down.
However, the asset is still successfully moving above the 21-day moving average, which is considered a guideline separating assets moving in an amplitude trend or consolidating in ascending trading channels.