Digital Acceleration & Transformation Expo (DATE) | New Delhi, November 23-24, 2023
Event details
Location:

Event place

Yashobhoomi Convention Center (IICC Dwarka)

Dates:

Thu, 11/23/2023 - Fri, 11/24/2023

Website

https://datewithtech.com/

Price: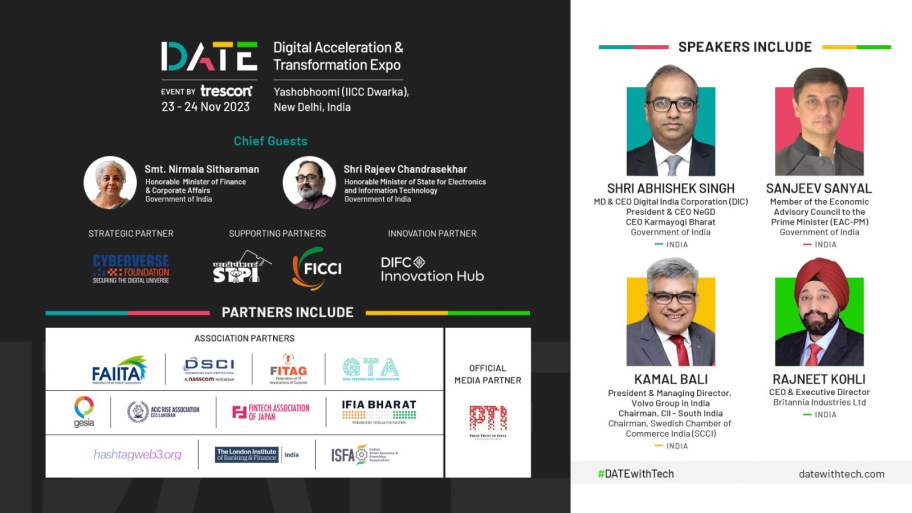 Cover image via U.Today
Emerging as India's premier B2B Tech Expo, DATE India 2023 encapsulates the nation's recent technological triumphs. With 3,000+ attendees and 100 global tech maestros, it's the nexus for innovators, startups, and investors. Beyond showcasing innovations, DATE crafts the synergy between visionary dreams and real-world tech solutions. It's not just an event – it's the pulse of digital transformation, where innovation converges with opportunity.
With a global reach and a local impact, DATE gathers global visionaries, thought leaders, policy makers and tech enthusiasts to explore the latest trends, breakthroughs, and possibilities in the tech landscape.
Website: https://datewithtech.com/
Advertisement
Top
Crypto
News
in
Your
Mailbox
Top
Crypto
News
in
Your
Mailbox