While being at the crossroads of tech and crypto, more and more people start to think of getting into this 'crypto' thing, that they keep hearing so much about.
Whether you are a simple crypto enthusiast or a professional trader, you may face a hard time trying to maintain all your crypto investments and track down your progress by checking numerous different accounts & platforms. Wouldn't it be great to find one unified tool, that will give your investment actions much broader scope? A platform, that will place everything under one illustrative roof.

Well, if you were in such pursuits, seems like you are finally in luck.
It was mid 2017 when Coinstats crypto portfolio tracker shined for the first time as an ultimate portfolio management tool. The idea behind Coinstats is very simple: to place the cryptosphere literally at your fingertips, letting you do everything starting from market research till your portfolio management, and all in one single platform.
The core offering of Coinstats is that you can track Bitcoin price and over 5,000 altcoins prices from over 250 exchanges, it gives the ability to sync your favorite exchanges, wallets, ledger accounts automatically, it allows you to do advanced filtering, sorting, and research, to set up different types of alerts for all the cryptocurrencies available, it brings all the crypto related news from over 40 sources to a single screen and much more!
Impressive, isn't it? And yet it's still just a light overview of the app, that already has 500,000 + active users and 5+ billion in USD tracked!

So we've got many features to cover, let's jump right in and wander through the tabs of Coinstats.

The app is divided in 5 tabs:
1. Main Screen
And here comes the huge list of coins. Bitcoin price and over 5,000 altcoins with a separate detailed section for every coin, which includes a detailed information such as current price, charts, market cap, volume, change %, markets where it's traded, your holdings, project website, social links, news and much more! Here you can also observe price action of the coins by switching to candlestick charts as well.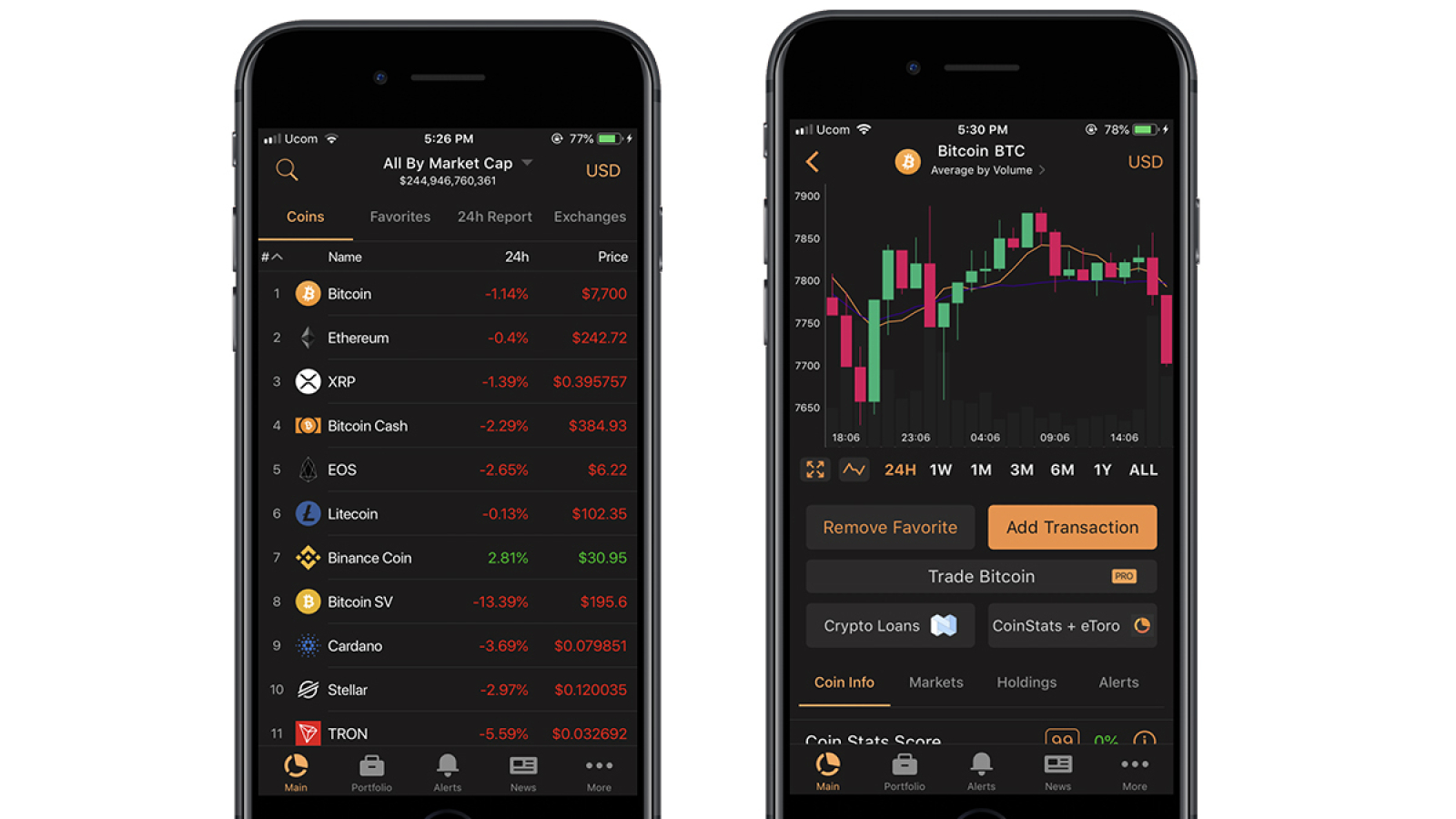 Apart from News section, that brings useful links from different sources for every crypto, you also have the opportunity to get updates directly from the token teams by means of Team Updates feature.
In this tab you can star your beloved crypto and view the separate list of your Favorite coins as well.
From the top of the Main screen it opens a comprehensive drop down list, where you can filter and sort the list by numerous criterias, such as top performed coins, 1 week winners, highest volume, top 100, 300, RSI filters and many more.

24h Report section in the Main tab provides a useful and handy information such as top volume coins, top losers and gainers, top exchanges, top news and more.
The next section in the Main tab is Exchanges. Over 250 exchanges listed alongside with exchange information, such as volume, rank, charts and Markets with a full list of traded pairs.
2. Portfolio
Here you can see all your portfolios on one screen. You can set up your portfolio in Coin Stats either by manually adding your buy/sell transactions or syncing your exchange account and wallets for a live view. Yes, Coinstats allows you to connect it automatically, for easier transaction history entry with read-only API keys. All the major exchanges are listed, including Binance, Bitfinex, Bittrex, HitBTC, Coinbase, Kucoin, Bitstamp and others. The list is being continuously expanded based on user requests and feedback.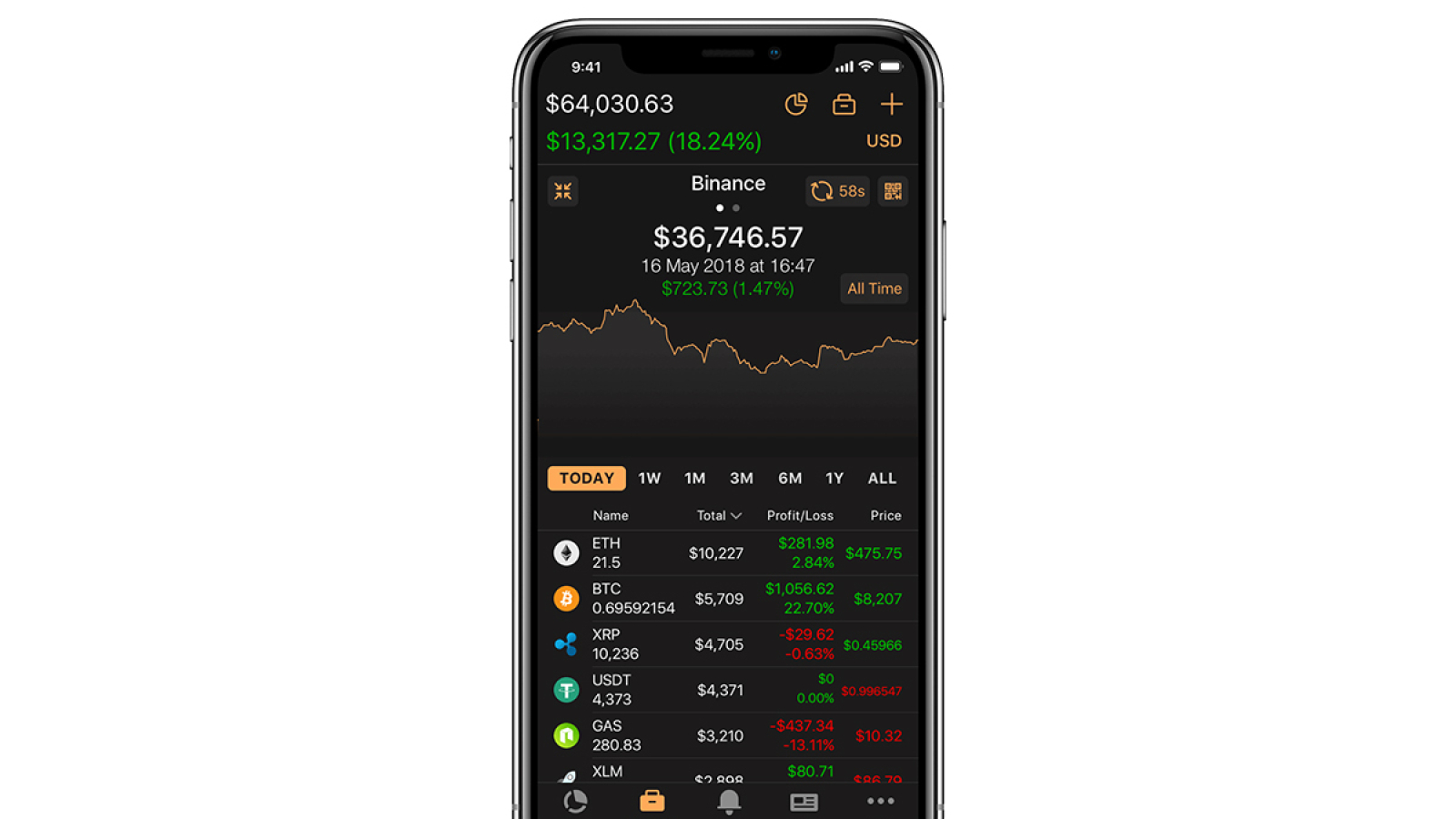 As already mentioned, you can also create portfolios manually. This makes it convenient to add in transactions into portfolios and edit accordingly. You can tick the "deduct from USD holdings" toggle to update your holdings so that you no longer have to carry out two transactions.

For auto-synced exchange portfolios, there is an elegantly integrated separate screen, where you can see your open orders and all the useful information associated with it. All users can use this feature for free. Pro users can go even beyond and enable Order Fill Notifications to get immediately notified when their orders are filled.
Here you have another helpful and efficient feature — Portfolio Analytics, that displays your total deposits, withdrawals, total fees paid and more!
Visualisation of your holdings in the app is also possible by means of colorful Pie Charts.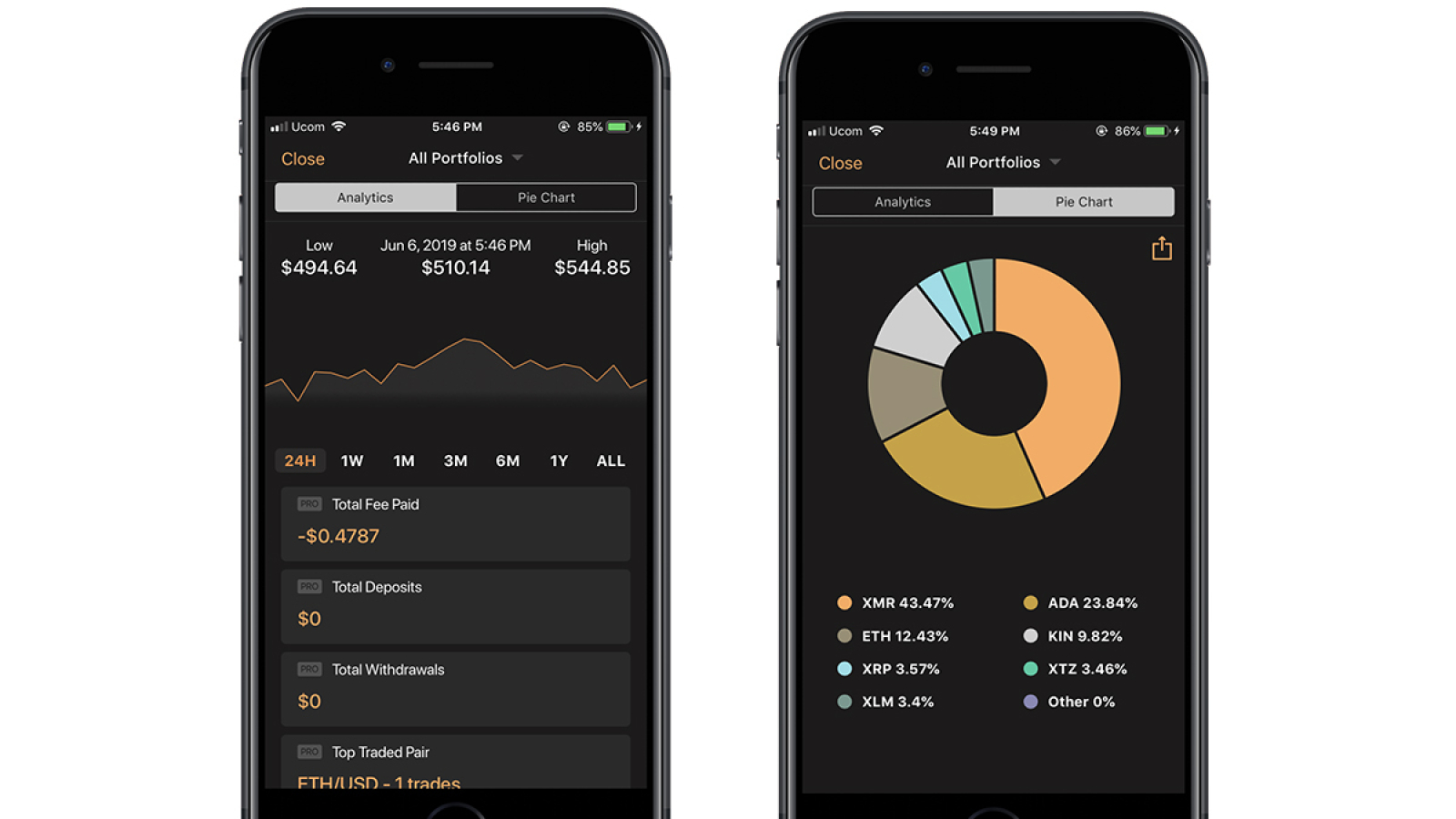 Quick Trade is the next empowering feature, that allows to submit effortless simple swap trades between your coins on your exchange portfolios. It makes trading instant, secure and simply intuitive.

With Portfolio Sharing feature you can share one or more of your portfolios with your friends and it will appear in their Coin Stats app. The easiest way to compare your portfolio and gains over time!
3. Alerts
And here comes a pack of useful alerts, that you can set up for all the cryptocurrencies available so you don't miss a single opportunity.

- Significant Change Notifications: This type of notifications are triggered if a coin in your portfolio or favorites is going up or down more than a specific % in last 1 hour.
- Pump Notification: Pump notifications are notifying you in case of some coin had a significant growth (around 50%) during a short period of time (around 1 hour).
- New Pair Notifications: When the new pairs started being traded in an exchange.
- Custom Notifications: You can set your own price limit, total market cap and volume alerts!
- Breaking News Notifications
- Team Update Notifications
- Portfolio Value Notification
4. News
Coin Stats brings all the crypto related news from over 40 sources to a single screen so you can easily stay on top of the market. What's even more awesome, you can add your custom news source by simply adding source URL to the app.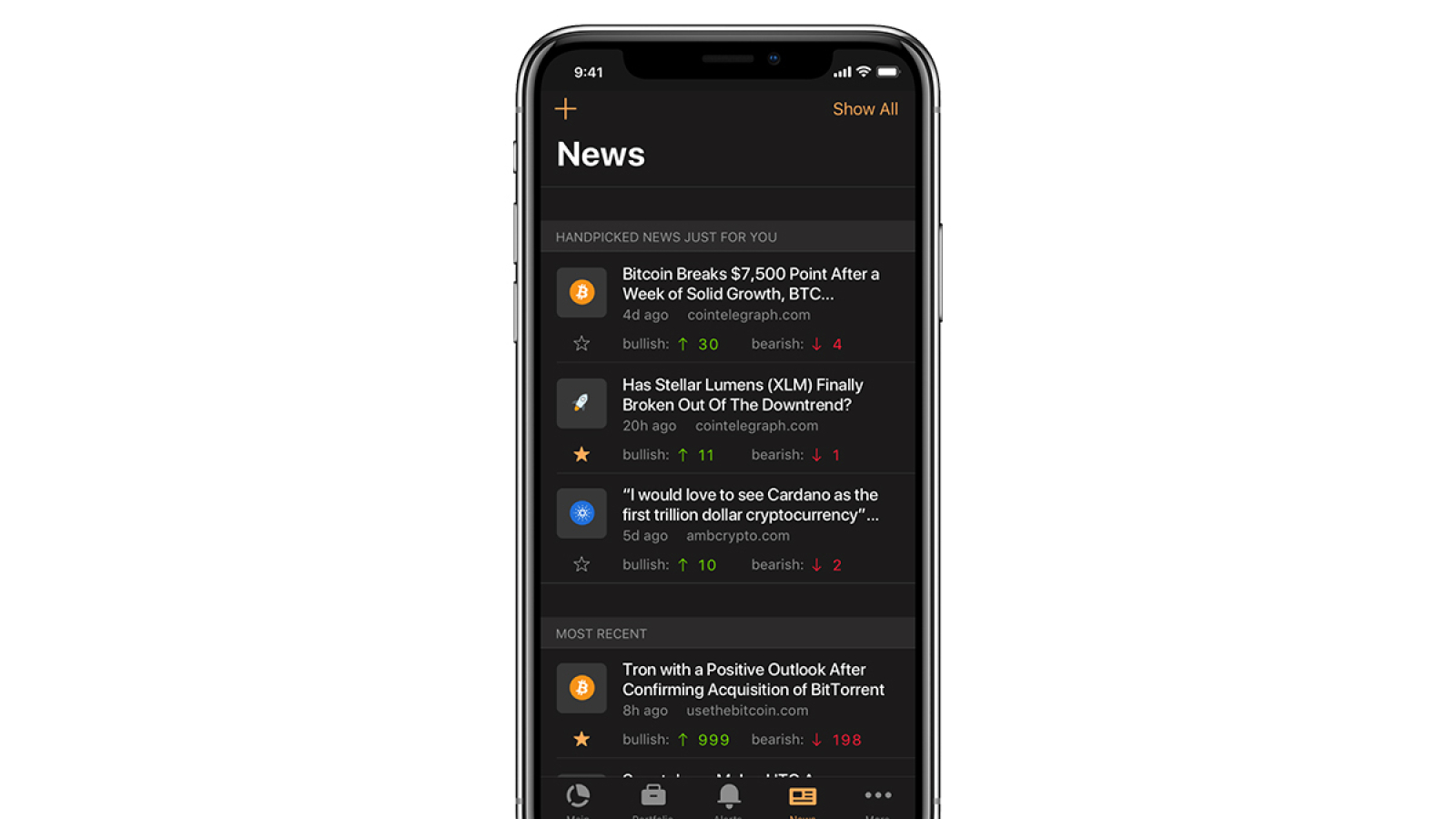 Going up to the last, More tab of the app, here is where you find extra empowering features, such as CSV Export, Coin Converter/Calculator, currency, language and privacy settings and much more! It's worth to highlight, that app is currently supported in 13 languages!
To Conclude
Platforms supported: iOS, Android, Web, MacOS, Telegram Bot, Apple Watch
Pricing: Free, Paid (PRO Version $4.99 per month and $39.99 per year)
To download and more details: Coinstats website