Crypto tracker Whale Alert has spotted several mind-blowing XRP transactions that carried almost 1 billion of these coins. This signifies that investors' interest in XRP as an asset remains on a high level.
Ripple San-Francisco-based blockchain giant was among those who conducted these transactions. It happened right after Ripple released a whopping billion XRP from escrow on Aug. 1.
Almost 1 billion XRP on move, Ripple shifts 75 million XRP
The aforementioned blockchain tracking service spread the word about four massive XRP transfers. The largest two of them carried 424,354,912 XRP and 424,604,934 XRP worth $214,293,666 and $221,841,994 at the times of the transfers.
These chunks were sent between anonymous whales. The first XRP lump was transferred to the wallet rJps4V3s9U87NDAJuGS7qX6mAdWxpcZNeX Aug. 31. Then, on Sept. 1, the second XRP lump, slightly bigger than that, was moved from this address to rp6JBQ4rLrjfXgojhqm8Eikf4nusT8miuk.
Neither of these addresses are marked as belonging to any crypto exchanges by Whale Alert or by the XRP-focused analytics platform Bithomp, they are tagged as "unknown" wallets.
Among the other two transfers was one made by Ripple giant as it sent 75,000,000 XRP to an anonymous cryptocurrency wallet. This anon wallet was proved to be one that also belongs to the company, though. This usually happens when the company intends to sell some of its crypto — it moves XRP to an internal wallet and then off to a crypto exchange.
Ripple locks back 700 million XRP; court drama continues
On Aug. 1, Ripple made a scheduled monthly programmed release of XRP, unlocking 1 billion of these coins from escrow in four large transactions.
Around 13 hours ago, the blockchain behemoth transferred 800,000,000 XRP back, locking them in escrow until the next release in October.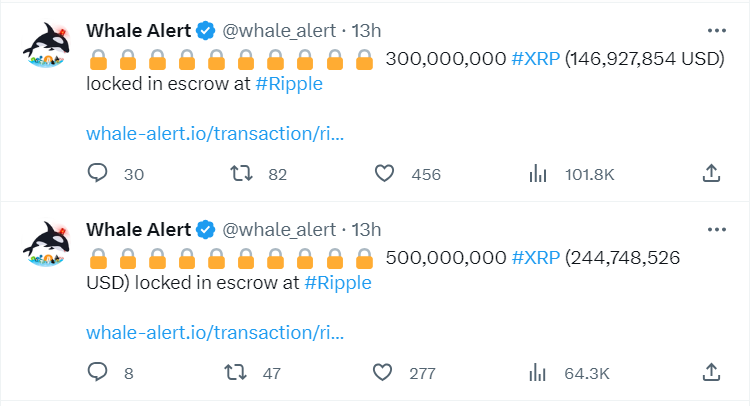 In August, Ripple had a major win in court against the SEC when the court judge ruled that the company's XRP sales on the secondary market did not qualify as security sales, but Ripple's sales of XRP to financial institutions did. After that, several large exchanges relisted XRP, pushing its price up. Many investors again started purchasing this digital currency, hoping to make healthy profits on it in the near future as they expect a further price hike.
After that, the securities regulator filed an appeal to the court again. Yesterday, Ripple submitted an opposition to the SEC's appeal request.