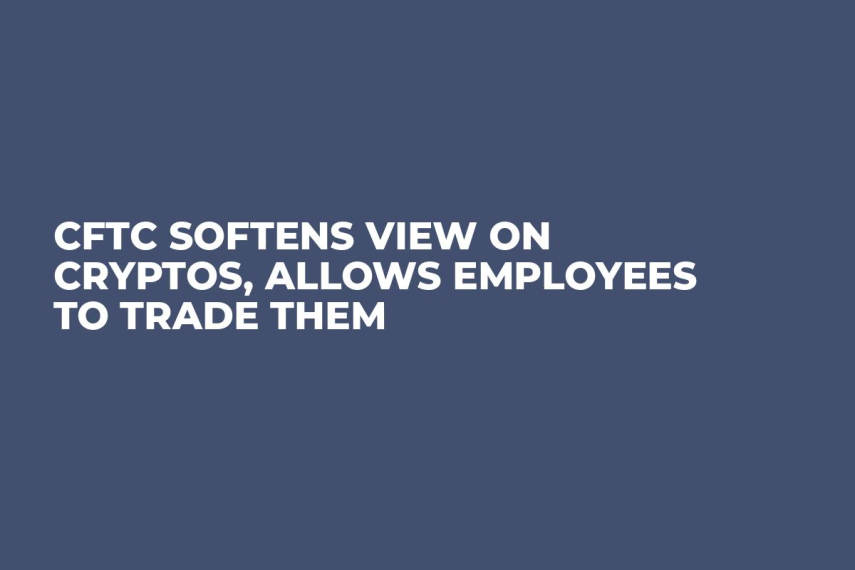 Cover image via U.Today
The US's main commodities regulator, Commodity Futures Trading Commission, has after numerous enquiries, allowed for its employees to trade in Bitcoin and other cryptocurrencies.
This follows just a few weeks after the CFTC was tasked with overseeing Bitcoin futures.
There are some guidelines however as the employees do not have free reign when it comes to entering the cryptomarket. While they can trade digital currencies, they may not buy them on margin or have inside information gleaned from their jobs.
Investing in the Bitcoin futures that the CFTC polices is also barred.
Times are changing
The employees of the CFTC were told the news in a memo following numerous requests about if investments were possible.
The fact that they are being allowed indicate a changing of the times as the CFTC has already shown that they are respectful and interested in cryptocurrencies, adopting a 'do not harm' approach.
As regulators move with the times, there is also evidence of banks softening their approach with the news that mobile payment app Circle, part-owned by Goldman Sachs, has bought out Poloniex.
Skew regulatory decisions
While those who requested the possibility of trading will be pleased, there has been some backlash at the decision as many think that this could affect decision making when it comes to regulating cryptocurrencies.
"This is actually mind-boggling that they are allowing investing in this at all," said Angela Walch, an associate professor who specializes in digital money and financial stability at St. Mary's University School of Law. "It could absolutely skew their regulatory decisions."
"The chairman has made it clear that staff members who own Bitcoin should not participate in matters related to Bitcoin, as it presents a conflict of interest," she added.
Because of Bitcoin's ability to react to rumors in the news, such as how it jumped 13 percent on Dec. 1, the day of the CFTC's announcement that it was allowing Bitcoin futures, it does indeed seem worrying that those involved in regulating it can have a vested interest.