Despite the local corrections Cardano has experienced recently, a more comprehensive look at the daily chart reveals that ADA is still moving in an uptrend.
For traders, it is crucial not to be misled by short-term market fluctuations. Cardano has been resilient amid the turmoil and continues to exhibit an overall positive trajectory. The next price target for ADA is an impressive $0.59, a level that may surprise many market participants.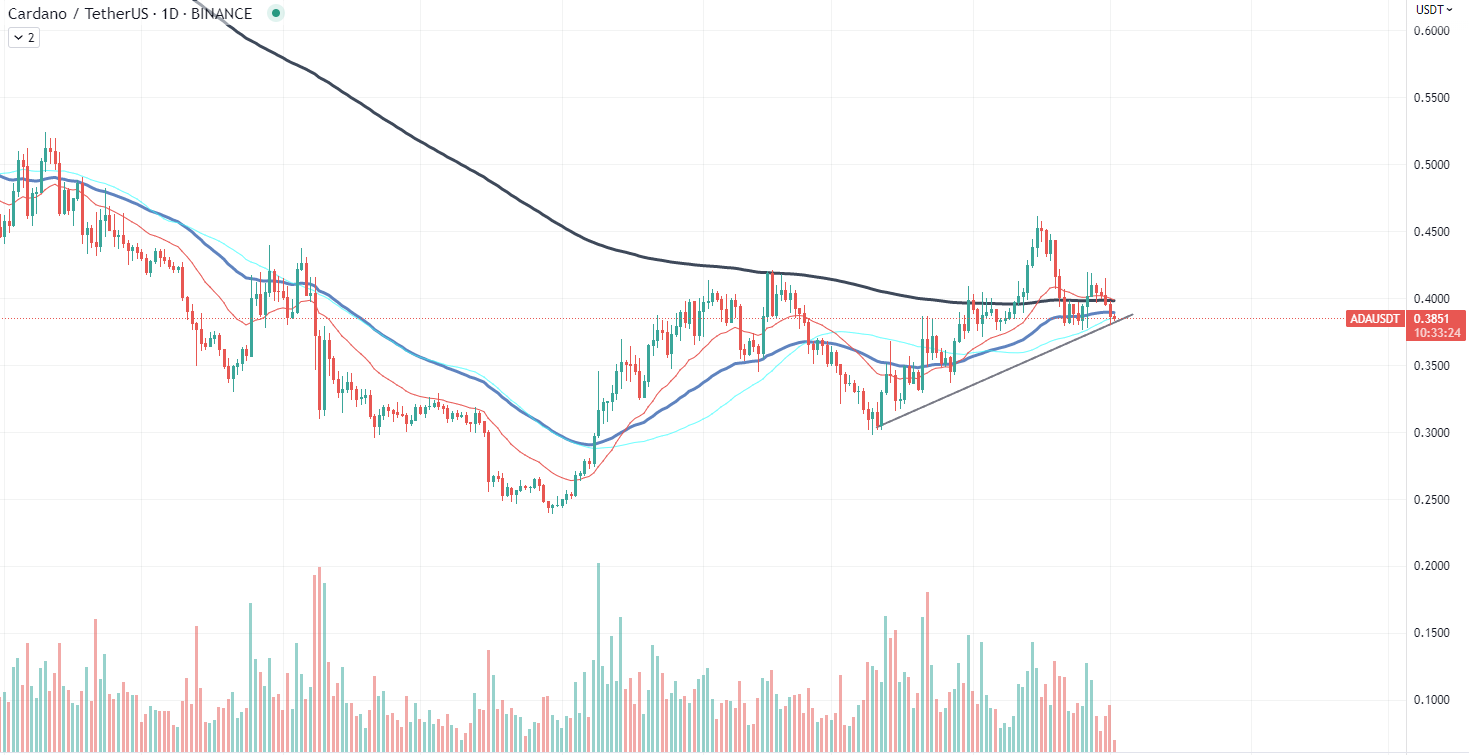 This target is based on the fact that there are no visible resistances prior to the $0.59 price threshold. If ADA experiences a reversal before reaching this target, it would likely be due to factors affecting the entire industry, rather than a direct result of the asset's performance. As such, it is important for traders to remain vigilant and monitor market dynamics and external influences that may impact Cardano's path toward this target.
While the $0.59 price target may seem ambitious and even unrealistic, Cardano's strong fundamentals and the continued growth of its ecosystem suggest that the asset is well positioned to achieve this milestone.
How long will PEPE rally last?
PEPE has recently exhibited an impressive 260% price growth in just a few days. As impressive as this rally may seem, it is crucial to understand the factors driving it and whether it has the potential to sustain such growth in the long run.
PEPE, a meme token with a market based predominantly on speculative interest, has seen a significant inflow of buying power, primarily from the East. With a market driven by speculation, it is essential to recognize that PEPE is an inherently unsafe asset. The lack of a solid foundation and real-world use cases makes it difficult to determine its long-term prospects.
Despite its meteoric rise, the sustainability of PEPE's rally is uncertain. The speculative nature of the token makes it highly susceptible to market sentiment shifts and sudden price corrections. Moreover, as interest in meme tokens waxes and wanes, it is difficult to predict the duration of the current bullish trend.
Historically, meme tokens have experienced dramatic price fluctuations, with assets like Shiba Inu not being able to even slightly reach previously shown ATHs. While it is impossible to predict the exact duration of PEPE's current rally, market dynamics and the token's inherent risks suggest that the potential for a downturn is always looming.
Demand for SUI prevails
The SUI IOU, a representation of the upcoming native token of Layer 1 blockchain Sui, has been making waves on the market, reaching a remarkable $2. However, it is worth noting that the SUI price is not yet transferable across all exchanges in the industry, and the current value is only reflected on a select few platforms.
The excitement around the SUI token has been building as the mainnet launch, scheduled for May 3, approaches. Prior to the mainnet launch, token sales took place on crypto exchanges Bybit, OKX and Kucoin. Each exchange made 225 million tokens available, with a maximum allocation of 10,000 per user. Priced at $0.10 each, U.S. residents were not allowed to participate in the sale.
Sui blockchain was developed by former Meta Platforms (META) employees using a programming language called Move, which is also the foundation for the Aptos blockchain. This innovative language has garnered significant attention, contributing to the enthusiasm surrounding Sui's upcoming mainnet launch.
Despite the Sui team's consistent communication with its community that there will be no airdrops, some users expressed disappointment on Twitter when the token distribution plans were announced. Regardless, anticipation for the mainnet launch remains high.
One of the first projects slated to go live on the Sui mainnet is Suiswap, a decentralized exchange and liquidity staking protocol. This innovative platform shares similarities with Uniswap on Ethereum, adding to the excitement around the Sui ecosystem.