The ongoing rally in the digital currency ecosystem undoubtedly spells an impressive trend for Solana-based meme coin sensation Bonk (BONK). According to data from CoinMarketCap, the cryptocurrency has surged by as much as 31.92% over the past 24 hours to a price of $0.000001456 at the time of writing.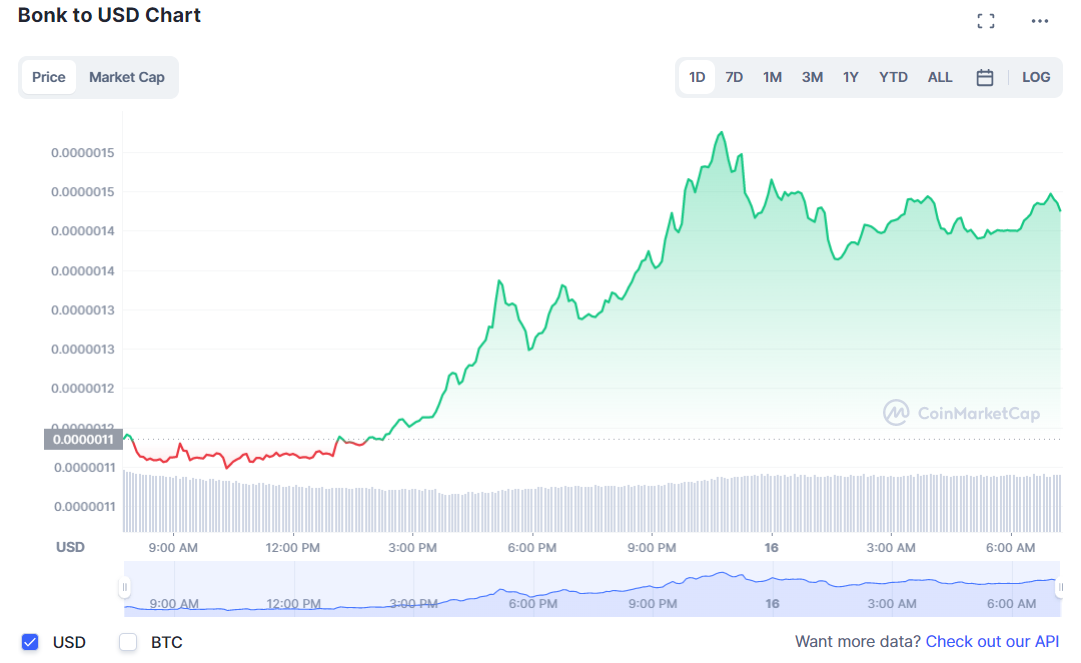 The ongoing rally is a major turnaround for the meme coin, which saw a freefall toward the end of last week, as reported by U.Today. The ongoing growth momentum represents the resilience of the token as one of the most embraced meme coins after its two dominant rivals, Dogecoin (DOGE) and Shiba Inu (SHIB).
At its current price point, BONK is now down by exactly 70.96% from its all-time high (ATH) of $0.000004922. While BONK has a massive pump tendency, the expectation for its price to return back to this level in a short time might be an overarching wish. Should this rally be sustained, we can see the price of the token surge back to $0.000002500 in the near term.
This price expectation may be fast-tracked or even surpassed, depending on whether or not whales choose to join in on the action.
When Binance and Coinbase?
Meme coins are even more speculative digital assets compared to other regular cryptocurrencies like Bitcoin (BTC), Ethereum (ETH) and Solana (SOL). Based on this, it becomes a fairly different affair for top trading platforms like Binance and Coinbase to list tokens like BONK for trading.
However, a listing from these platforms, whenever it happens, can be the next turning point for BONK to really catch up with its peers. The exchanges have a large community and robust liquidity that can help power the naturally infused growth rallies from the meme coin. Considering what its impact will be, most BONK holders are expecting this listing so the token can properly compete with its peers.