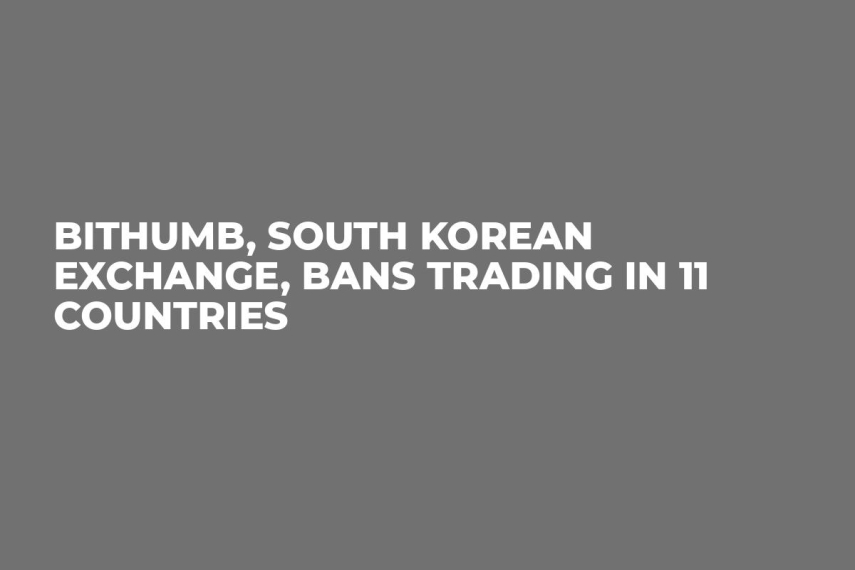 Cover image via U.Today
Bithumb, Korea's massive cryptocurrency exchange, has banned trading in 11 countries to comply with global anti-money laundering norms, on Monday.
Bithumb said it is blocking all transactions of residents in jurisdictions belonging to the Non-Cooperative Countries and Territories (NCCT) blacklist, in an official announcement on its website.
The banned countries are North Korea, Iraq, Iran, Bosnia and Herzegovina, Ethiopia, Syria, Iran, Iraq, Sri Lanka, Trinidad and Tobago, Tunisia, Vanuatu, and Yemen.
NCCT countries are nations identified by the Financial Action Task Force (FATF) that have not taken proper measures to combat money laundering, and financing terrorism and other threats.
As a part of the effort, Bithumb is in the process of mandating a mobile verification process to avoid any instances of falsification of user information for international users.
As of May 27, Bithumb will not accept any users from the 11 banned nations and existing accounts will be disabled on June 21, the exchange stated.
In recent months, Bithumb has been working with South Korean government and Blockchain association to amp up its own anti-money laundering policies and mandates to prevent market manipulation and insider trading.