Over the weekend, Bitcoin's price surged over $7,000 and fixed above it. Over the past several weeks, the major cryptocurrency has been showing a stable rise and made a great number of altcoins spike as well.
All except Bitcoin SV, that is – this asset got a massive blow due to the BSV delisting campaign initiated by Changpeng Zhao from Binance. BSV failed to even come close to the top 10 list from which it was kicked out of after the massive delisting.
Calvin Ayre questions BTC's rise
Ayre and Craig Wright keep calling Bitcoin SV the only real Satoshi Bitcoin (thus is the name of their coin – Bitcoin Satoshi Vision). They have always criticized Bitcoin. Wright has been banned on Twitter. However, his supporter Calvin Ayre has recently expressed his negative opinion of the recent BTC price surge.
is the current BTC price move an exit pump by all the exchange scammers...if so the only safe place to retreat too is BSV which is not promoted up and has in fact recently been down promoted with the market manipulation delist attack..and has real utility.

— Calvin Ayre (@CalvinAyre) May 11, 2019
The response from the crypto community was mostly negative, with many Twitter users pointing out the numerous weak points of BSV and Calvin Ayre himself.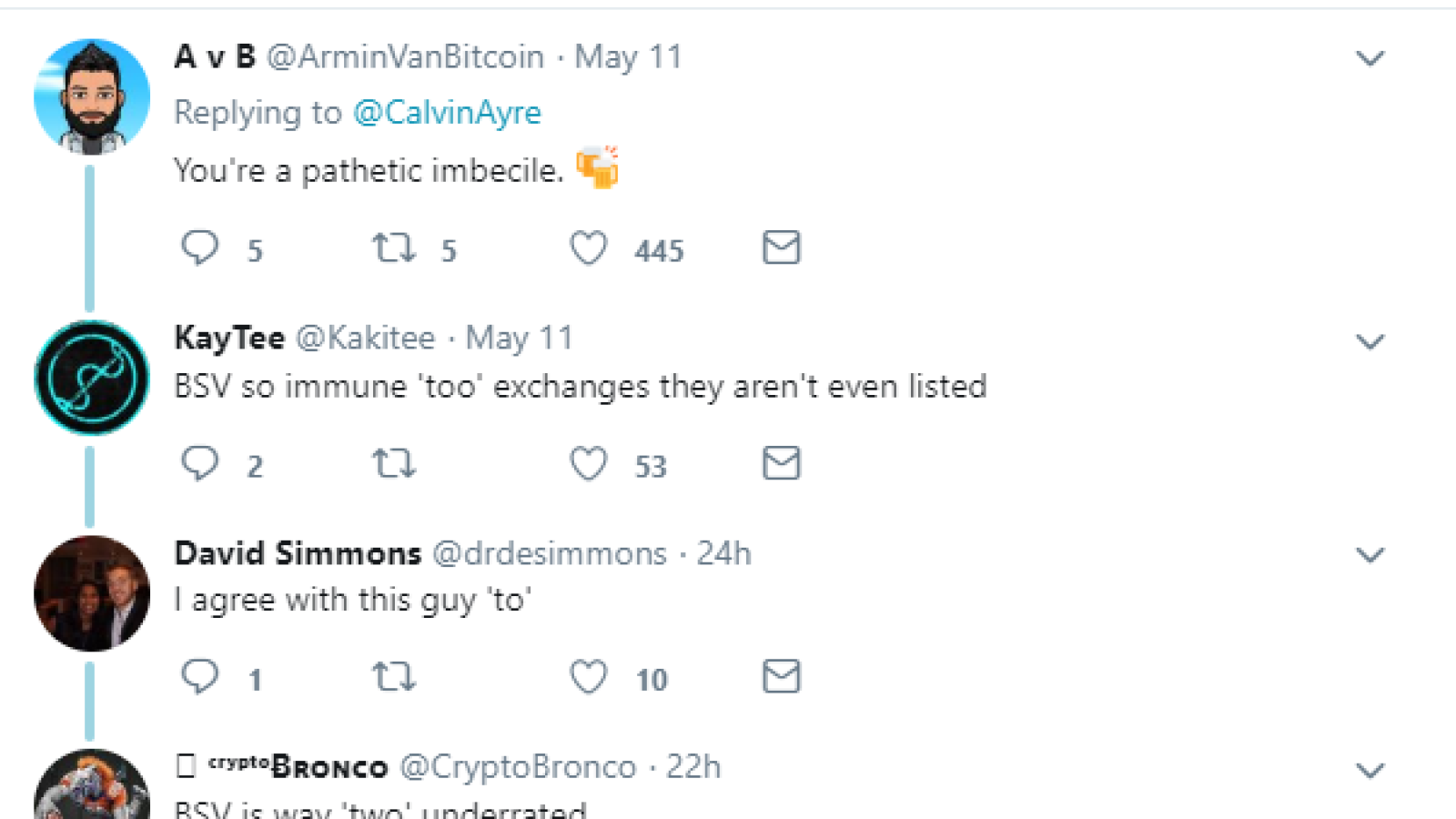 Bitcoin SV market stance
The recent actions of Craig Wright, the frontman of BSV, to sue both regular Twitter users and big-names in the crypto community have caused numerous platforms to delist the coin and sent its price into a slump.
Currently, Bitcoin SV is trading in position #14, as per CoinMarketCap, at the price of $57.36, between IOTA and Dash.
Among the people to whom Craig Wright's team of lawyers has sent legal documentation are Vitalik Buterin, Roger Ver and podcaster Peter McCormack. None of these people seem to pay any serious attention to that and are not commenting on it on their social media accounts.