*** Please note the analysis below is not investment advice. The views and opinions expressed here are solely those of the author and do not necessarily reflect the views of U.Today. Every investment and trading move involves risk, you should conduct your own research when making a decision.
Bitcoin started to make a small recovery and so have alts
Currently, Bitcoin starts to make a recovery but definitely nothing remarkable because we dropped -$1,100 and we have made recovery +$200. At the moment, it moves slowly upwards and a positive sign is this that the daily candle closes above the strong area $6,509. In August, the $6,500 area was very hard resistance to beat but after many attempts it was successful and now the old resistance becomes a support.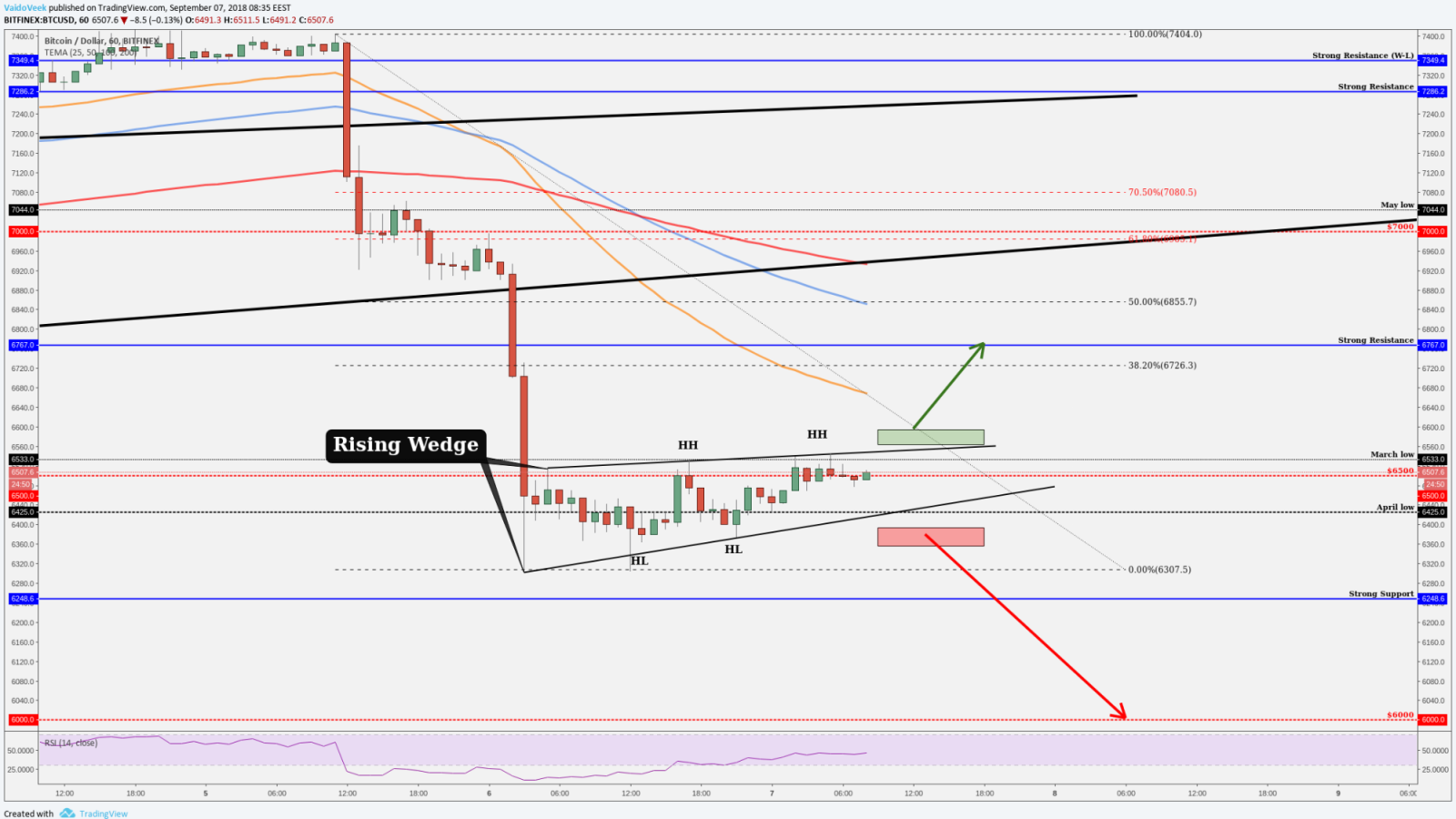 Like you see on the one-hour timeframe, we start to make new short-term higher highs and higher lows on the important level.
Currently, it looks good but those HH's and HL's starts to form a continuation pattern "Rising Wedge" which will indicate the future direction. If it breaks below the lower trendline then it's simple, we follow the trend, which is down and continuation pattern starts to work correctly and the first bigger target would be around $6,000 but if we make a breakout upwards then we might go and retest the $6,767 area. This area is also historically very strong and it would require a lot of power to break above but there are also other criteria:
*Fibonacci retracement level 38 percent (pulled from the Sept. 5th, which is the high point, to Sept. 6th which is the low point)
* Different timeframes EMA's starts to work as resistances.
Let's look at how altcoins have reacted after Bitcoin's small recovery.

Monero (XMR) looks good but it all depends on Bitcoin
The day before yesterday, Monero was down 22 percent but Bitcoin finds a support from the strong area and after that, we saw a nice upwards movement from Monero.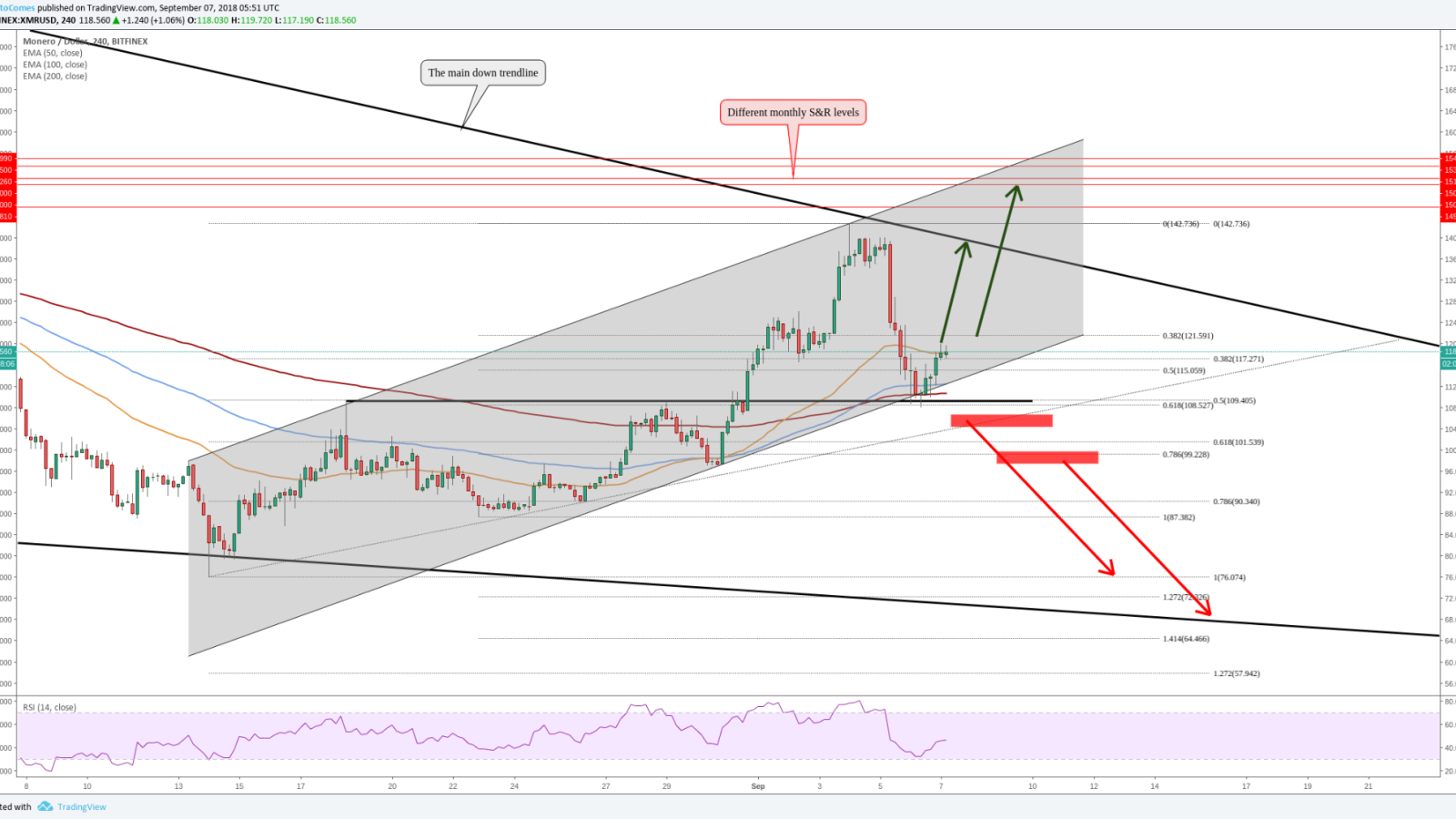 Technically the bounce came from the strong price levels where are several reversal criteria:
1. Channel bottom trendline bounce
2. In the three-hour and the four-hour chart we could see that EMA 200 works as a support
3. Smaller Fibonacci retracement level is perfectly 62 percent
4. Bigger Fibonacci retracement level is 50 percent
5. Old resistance becomes support
6. We are in the higher high area
So, technically Monero can continue climbing up, but all depends on Bitcoin: if it breaks above the "Rising Wedge" then Monero will follow. The starting platform is very good and the first target would be the major trendline touch above us. If it breaks above the trendline then there are several red lines, those are monthly lows and monthly highs and that makes the $150 very hard to beat.
If Bitcoin makes a breakout from the continuation pattern downwards then Monero bearish confirmation area would be a close around $105. Then we have a breakout from the upwards channel and if we get a close below the $100 then we have also a break below the round number and we have made a new lower low which all indicates bearishness.
NEO followed our forecast and yesterday it was one of the top gainers
"...if BTC finds the support from the current price then NEO will follow suit because it looks solid compared to others altcoins."
Those are our words from yesterday's market overview. Bitcoin found a support and NEO start to climb higher. NEO was one of the biggest climbers on the top coins list because like we said the platform looked pretty solid to starting the climb upwards compared to other alts.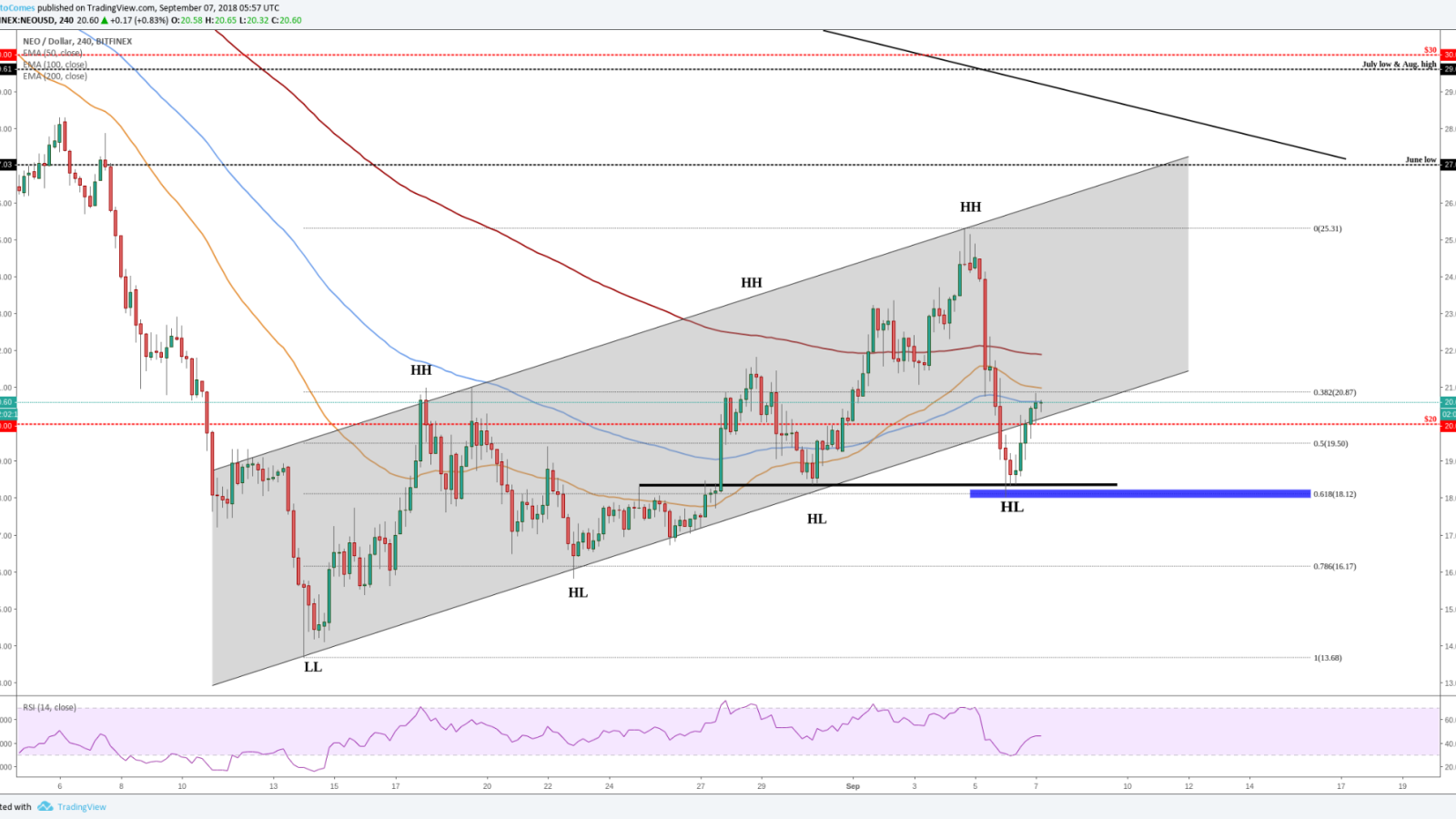 Now, the current price is above the round number $20 and we are back in the upward channel. NEO price structure stayed positive even after the panic and currently it made a new HL which is a very good sign.
If the market stays healthy, without pumps and dumps, then NEO chart shows to us that we have almost a resistance-free area between $25-$27.
Bearish scenario:
A close below $18 confirms a lower low and in addition, we have a change in the price structure which will indicate that we may come down and retest the $13 area.