Bitcoin, the largest crypto asset by market capitalization, might be on track for its major "death cross" in 2023.
Bitcoin's daily chart is set to print what is regarded as a "death cross," a bearish chart pattern, for the first time since January 2022. Notably, this would be the first occurrence of this type on the daily chart in 2023, with the weekly chart painting a death cross earlier this year in February 2023.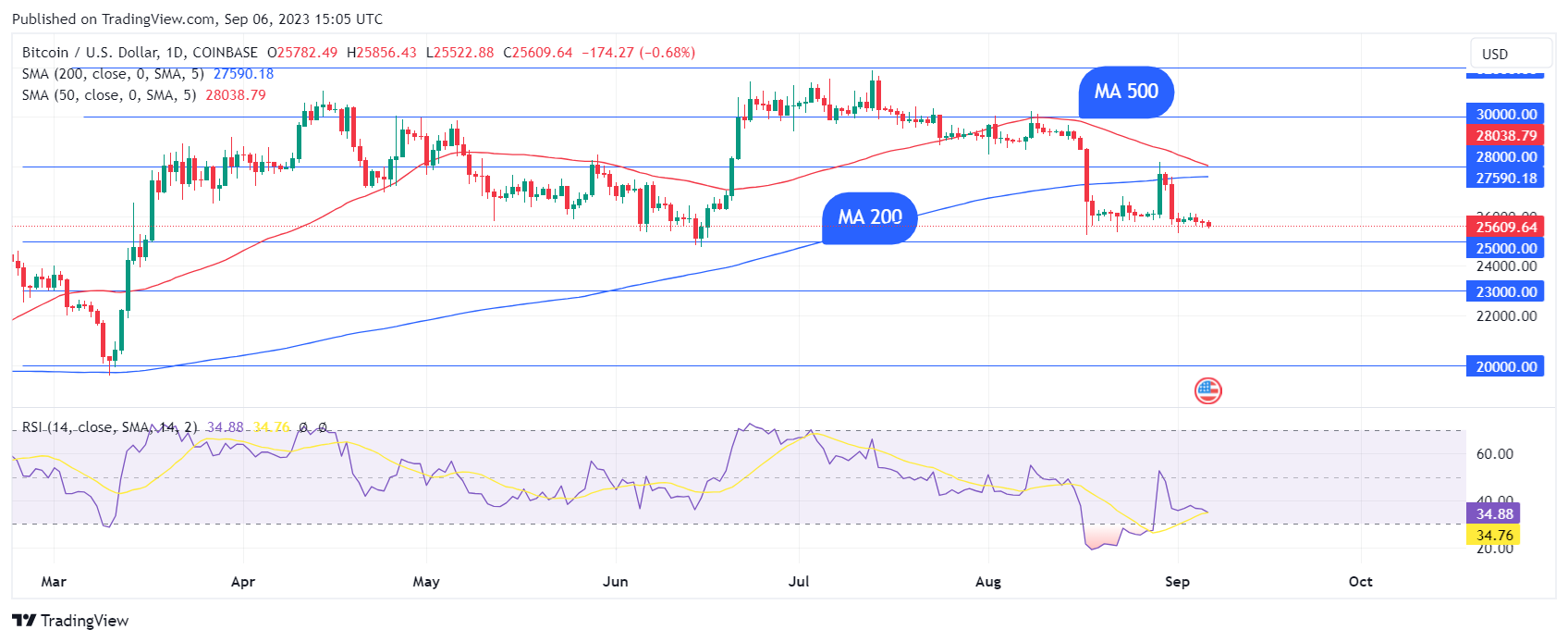 Bitcoin's daily moving MA 50 is set to cross beneath its moving average MA 200, which would yield the dreaded death cross pattern. It should be recalled that Bitcoin painted a golden cross on its daily chart in February of this year, preceding its rise to highs above $31,000 in April.
Bitcoin's death cross is expected to occur in the coming days but probably next week, and analysts are already paying keen attention to the impending crossover.
Death crosses, on the other hand, should not be considered an ultimate signal, as some experts refer to them as a lagging indicator. Furthermore, experience has shown that the Bitcoin death cross is unreliable as a solo signal.
Bitcoin extended its declines after the Securities and Exchange Commission delayed its decision on all spot Bitcoin exchange-traded fund (ETF) applications. Today, the leading cryptocurrency fell to lows of $25,528 last seen in mid-June of this year before slightly rebounding.
At the time of writing, BTC was marginally down 0.38% in the last 24 hours to $25,595.
What analysts say
Bitcoin, according to cryptocurrency analyst Ali, may not be out of the woods yet.
According to historical data spanning the last decade, BTC is known to frequently spark a bull run when it exceeds the average cost basis of holders with a six-month to three-year track record. According to this model, Bitcoin is currently far from the pivotal breakout level of $33,755.
Rager, another cryptocurrency expert, believes that Bitcoin's price movement does not always follow the same pattern as past cycles. He goes on to say that the fundamentals of the Bitcoin halving and block reward cuts will slowly create an uptrend on the market as in previous cycles, even if it looks different.