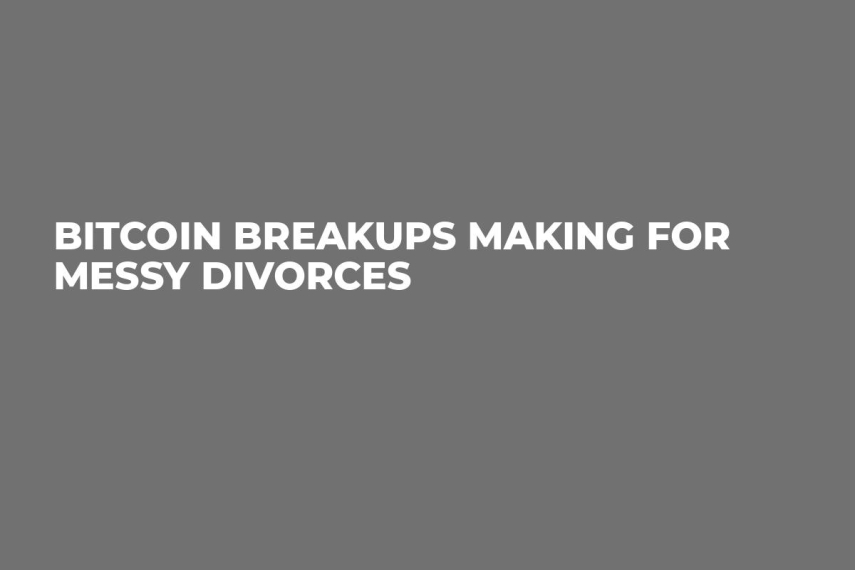 Cover image via U.Today
Divorce is already often a harsh and confusing landscape to maneuver through for the parties as they try and untwine their life that was built together. It is not getting harder with the rising popularity of Bitcoin and other cryptocurrencies.
There has been a rise in Bitcoin divorces where the parties splitting have acquired the digital currency and now have to disclose it as a valuable asset. However, the anonymous nature of the cryptocurrency is making it a bit of a safe haven for the divorcing partners to hide their money.
Not only is Bitcoin hard to keep track of, but it is also a space in which people can hide money by turning it into a cryptocurrency.
The missing pot of gold
In a divorce, the one partner will often be looking to claim what is theirs and sometimes their claim is too big or does not exists. However, when it comes to a Bitcoin divorce, there is every chance that major payday is out there.
"Often in a divorce one spouse is looking for a pot of gold that doesn't exist. But with cryptocurrencies, it's possible the pot does exist," Toby Yerburgh, head of Family Law at Collyer Bristow, said.
Yerburgh said he started to get cases where partners are concerned about hidden Bitcoin since the currency became better known last year.
Missing paper trail
Essentially, with Bitcoin, if the spouse in the divorce does not want to divulge their assets, then the divorce proceeding began to get more complicated and more expensive. But what is more concerning is that without actively discussing Bitcoin profits, it is hard to prove.
"It's creating another layer of distrust that we haven't had to deal with before," Jo Carr-West, a partner at Hunters, said. "The public perception that there is a lack of a paper trail causes the anxiety."
It is very similar to people who hide assets overseas or in numbered bank accounts. However, it does not mean it is impossible, but it is still very difficult.
Cryptocurrencies make things complex if you have a spouse who's determined to hold on to their money, same as if they were hiding assets overseas,
Victoria Clarke, a solicitor at Stowe Family Law, added.
We have the tools to trace Bitcoin. The difficulty is that some lawyers don't necessarily understand it yet, you need knowledge of the asset you're trying to get hold of.