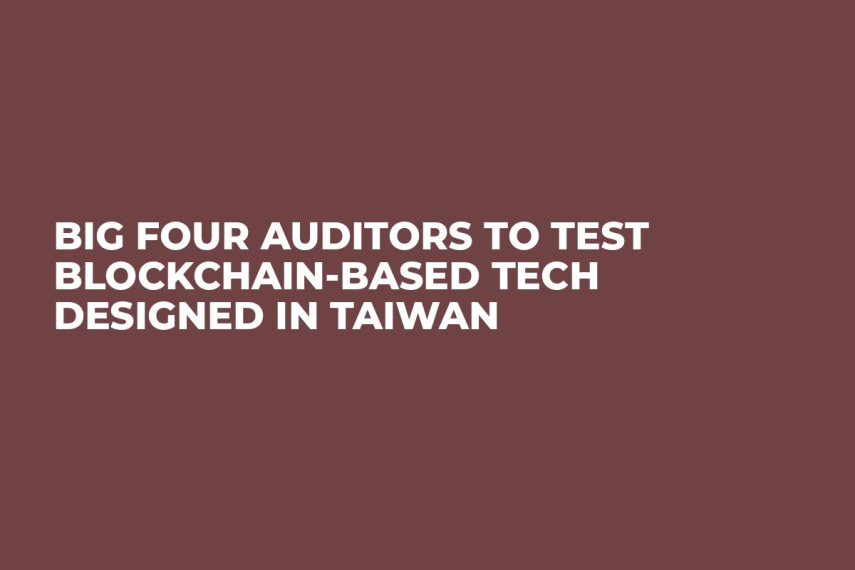 Cover image via U.Today
The so-called 'big four' accounting companies (Deloitte, EY, KPMG and PwC) are cooperating together in order to review a new Taiwanese accounting service which is based on the pervasive Blockchain technology.

Big Four' giants follow the trend
According to one of the local media outlets CTEE, the world's biggest names in auditing are going to closely cooperate with 20 Taiwanese banks within a newly formed consortium. The purpose of this cooperation is to test a new Blockchain platform that reportedly makes it easier to conduct fiscal audits. If a preliminary testing shows positive results, the aforementioned top auditors will conduct external confirmation of public companies which is aimed at obtaining and verifying the evidence of transactions.

card

A breakthrough in accounting

The new technology allows tracking down all transactions on a separate Blockchain, so there is no need for accounting firms to evaluate audit evidence manually. The information about transactions will be conveniently accessible to audit firms. The accounting service, which was developed by Taiwan's FSC, helps to effectively address such issues as compliance, compatibility and, of course, transparency. The usage of a tamper-proof chain rules out the possibility of altering transaction information while preserving the authenticity of an audit.

Taiwan's progress

Taiwan, with its comparatively liberal views on cryptocurrencies and a new set of recent regulatory efforts, is set to become the next major Blockchain development hub. Since the beginning of 2018, Taiwanese lawmakers have been moving towards legalization of cryptocurrencies by introducing crypto-based ALM regulations. The result of this action is a rapid implementation of Blockchain-based technologies. FSC, for instance, has been working on the development of Blockchain-based projects since 2017. In May 2018, Taipei bank launched the first Blockchain payment system.

British auditing giant Deloitte has recently published a report which clearly states that businesses reluctant to utilize the Blockchain technology will lag behind in the nearest future. That proves that Taiwan is moving in the right direction.