Algorand (ALGO) is on a bullish rampage today after soaring as high as $0.1185 upon gaining a total of 6.83% over the past 24 hours. Algorand has managed to sustain its growth trend in the trailing seven-day period after printing a total gain of 10.2%.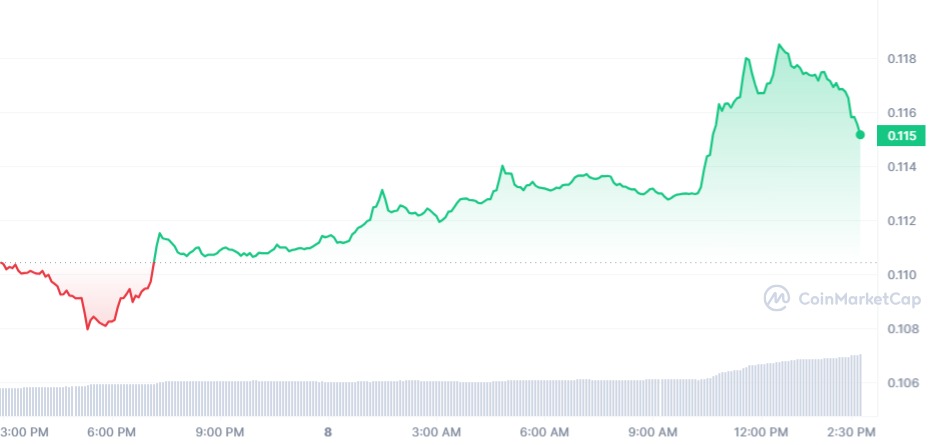 The volatility of Algorand is high at this time, but the obvious actions of market bulls have largely helped the proof-of-stake (PoS) protocol maintain impressive growth metrics across the board. The trading volume is up by 124.4% with a total of $88,851,349 traded overnight. While Algorand has been a low flier compared to other PoS protocols with smart contract capabilities, its appeal is still very much appreciated across the board.
Algorand has had a mix of ups and down thus far this year, similarly to other high-growth protocols, which involve active developer activity. While this developer activity has been steady, it has also been marred by a bout of exploits that rocked the protocol earlier in the year.
With transparent handling of the exploit by the Algorand team, ALGO buyers appear to have gained a whole new motivation to go on an accumulation spree. Per the current outlook, the token is looking to retest its 30-day high of $0.123.
Riding DeFi wave
Algorand has its own community and ecosystem, both of which have been very proactive in championing the growth strides of ALGO over the past years. However, with most PoS protocols now creating an Ethereum Virtual Machine (EVM) in order to gain unhindered accessibility between each other, a new trigger for growth has been ushered in, with Algorand notably tagging along.
Despite the many distractions that have been recorded, including the invitation from Cardano founder Charles Hoskinson asking Algorand to come become a sidechain of Cardano, the developers remain focused, driving innovation in a steady manner to drive growth.