Algorand (ALGO) remains among the most promising Layer 1 blockchain protocols, whose token has sustained a stellar start to the year. While the coin is experiencing a marginal slip in price over the past 24 hours, it has maintained 15.45% growth over the past week to $0.2298, according to data from CoinMarketCap.
The week-to-date resilience in the price of Algorand seems to have translated from its impressive Decentralized Finance (DeFi) activities. The protocol has recorded a massive jump in its Total Value Locked (TVL), which is now pegged at $176.85 million, up from $75.12 million earlier this month.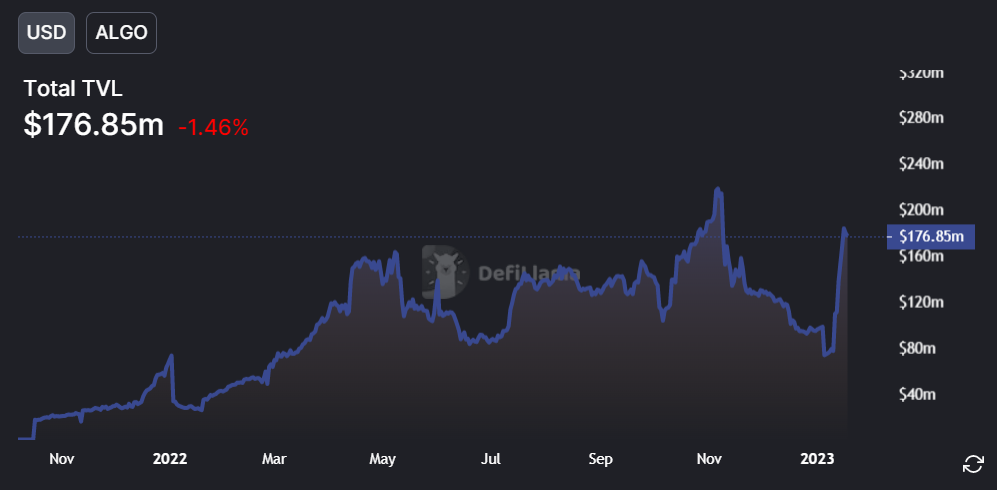 Algorand is designed as a highly functional proof-of-stake (PoS) blockchain but has not really been at the forefront of intense DeFi activity compared to other networks like Ethereum (ETH), BNB Chain and Solana (SOL). From the growth in Algorand's DeFi TVL over the past week, the narrative for the blockchain seems to be making a turn for the better.
Algofi remains the most important application running on Algorand with a TVL of $117 million, and it controls as much as a 66% dominance on the blockchain. Other protocols that make up the top three include Lofty and Folks Finance.
Algorand's slow but steady growth
For Algorand, the team has never stopped building, and new decentralized applications are making their way onto the blockchain. In one of the latest updates shared, C3 Protocol, a self-custodial exchange built to change the market structure, has just been launched on Algorand in what looks like one of many billed for the year.
Back in October of last year, Cardano's Charles Hoskinson confirmed that Algorand is now accessible on the protocol, paving the way for interoperable activity between the duo. Algorand has a rich history of recording impressive jumps in TVL and, at this time, the coin's price growth seems to be moving in tandem.