ABC Conclave 2023 | Dubai, October 7-8, 2023
Event details
Location:

Event place

Address Dubai Marina, Dubai, UAE

Dates:

Sat, 10/07/2023 - Sun, 10/08/2023

Website

https://abcconclave.com/

Price: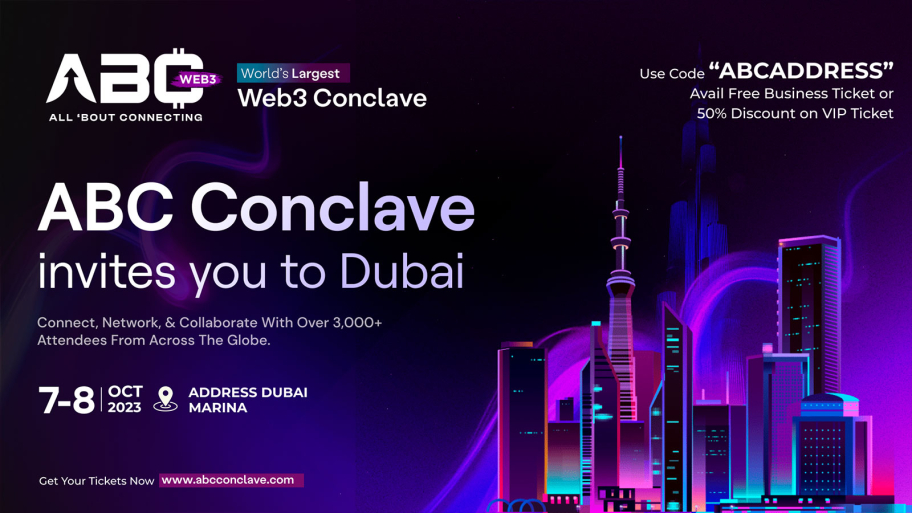 Cover image via U.Today
Dubai, UAE - ABC Conclave, is set to gather blockchain enthusiasts, industry leaders, and innovators from around the globe on 7-8 October 2023 at the prestigious Dubai World Trade Centre. This immersive event will provide a unique platform for collaboration, education, and exploration of the latest trends in blockchain, cryptocurrencies, NFTs, DeFi, and Web3 technologies.
With the blockchain industry evolving at an unprecedented pace, ABC Conclave aims to bring together the brightest minds and disruptive projects to drive innovation and shape the future of decentralized technologies. The event will feature an extensive lineup of expert speakers, interactive workshops, panel discussions, and networking opportunities to foster knowledge sharing and strategic partnerships.
ABC Conclave 2023 features an impressive lineup of renowned industry speakers, including:
Ahmed Elmetwally, CEO / General Manager, Private Office of Sheikh Mohamed Bin Ahmed Bin Hamadan Al Nahyan, UAE

Carmelo Milian, Founder and CEO, Polkacity, USA
Mohammed AlKaff AlHashmi, Co-founder, Islamic Coin, UAE
Dr. Zayed Al Hemairy, Blockchain, Cryptocurrency & ICO Expert, Bitcoin Inc,UAE
Alex Chehade, Executive Director and General Manager, Binance, UAE
Igor Bershadsky, Director of Business Development & Partnerships, Hacken, UAE
Haidy Riad, Financial Economist & Consultant, McKinsey & Company, KSA
Khushboo Gehi, Gold Coding Ambassador, Digital Economy and Remote Work Applications Office, UAE
Mary Pedler, Founder, Input Communications Agency, UAE
George Chivi, Head Of Partnerships, Smart Token Labs, UAE
Ali Safri, CTO (AI and Metaverse), Avanza, UAE
Mohamed Roushdy, Senior Consultant - Digital Transformation and Fintech, IFC - International Finance Corporation, UAE
Vadim Krekotin, Founding Partner, Cryptomeria Capital, UAE
Ashish Kumar Singh, Vice President, Expand My Business, UAE
Akina Ho, Co-founder, Global Head of Business Consultancy and Head of Asia Pacific Chapter, AllStarsWomen DAO, Singapore
Malik Khan Kotadia, Co-founder and Chairman, Finnovation Labs Private Limited, Manila
Sunil Sharma, CEO, SquadX & Coingape, India
Dr. Jane Thomason, Inaugural Chair, Organization: World Metaverse Council, Australia
Tim Mangnall, Founder & CEO, Capital Block, UAE
Matthias Mende, Co-Founder, Dubai Blockchain Center, UAE
Cristina Ceban, Founder, Women Do Crypto, UAE
Charlie Hu, Lucid Blue Ventures, UAE
Arpit Sharma, Managing Director of SE Asia & MENA Near Foundation, UAE
Marcello Mari, Founder & CEO of Singularity DAO, UAE
Farkhad Shagulyamov, Founder & CEO of Velas Network, UAE
Bruce Porter Jr, CEO Global Boost/Impact Protocol & Founder of Washington Elite, USA
Rudy Shoushany, Founder, Producer, Dx Talks & Crypto Talks, UAE
Shailesh Kunnath, Co-Founder, Masary Capital, UAE
Ravindra Kumar, Frontier Wallet, India
BK Raj, Founder and Director of Scallop Group, UAE
Aaron T, Octopus Network, UAE
Ramani Ramachandran, Founder & CEO of Router Protocol, India
Tobais Bauer, Principal, BFF, Singapore
Preetam Rao, CEO & Co-Founder, QuillAudits, India
Harrison Goldsmith, CEO, Kernel Ventures, Singapore
Geoff McAlister, MD, Hex Trust, UAE
Catie Romero, Founder and CEO of BABs Labs, USA; to name a few.
Our distinguished speakers will share their expertise, insights, and visions for the future of blockchain technology. Their sessions will cover a diverse range of topics, including decentralized finance (DeFi), non-fungible tokens (NFTs), smart contracts, and the evolution of Web3.
ABC Conclave is proud to have the support of leading sponsors who share our vision of advancing the blockchain ecosystem. These strategic partners will gain unparalleled exposure to a global audience, showcasing their products and services, and forging valuable connections within the industry.
As a participant at ABC Conclave, you will have the opportunity to explore the latest innovations, gain insights from industry experts, and connect with like-minded individuals who are driving change in the blockchain space. Whether you're an investor, developer, entrepreneur, or simply curious about the potential of blockchain technology, ABC Conclave offers a vibrant environment to expand your knowledge, network, and business opportunities.
Book your tickets today and secure your place at this landmark event. Take advantage of the limited-time Early bird discounts and be among the first to experience cutting-edge technologies, innovative projects, and exciting opportunities in the blockchain industry. Get ready to embark on an incredible journey of knowledge, networking, and growth.
Hurry! Apply the code "ABCADDRESS" to grab complimentary Business tickets or 50% discount on our VIP tickets using code, applicable until seats lasts.
If you are a VC, media partner, C-level executive, or a prospective sponsor interested in being part of our groundbreaking event, inquire now: https://abcconclave.com/get-in-touch
Secure your spot at the #ABCDXB today and become a driving force for change in the blockchain industry: https://abcconclave.com/tickets
We look forward to welcoming you to ABC Conclave 2023 and joining forces to shape the future of blockchain technology.
For more inquiries, please contact:
Jagriti Jaiswal
Telegram ID : @abc2023admin
abcconclave.com
Advertisement
Top
Crypto
News
in
Your
Mailbox
Top
Crypto
News
in
Your
Mailbox