As reported by the popular crypto tracker Whale Alert, over the past 24 hours, several large XRP transactions have been spotted, including three astonishing ones that carried between 200 million XRP and nearly 300 million XRP each. Overall, a total of 916 million XRP was shifted by Ripple and anon wallets.
These transfers took place at roughly the same time as the news of the third major crypto-friendly bank shutting down was spread.
Ripple shovels 724 million XRP, whales move 192 million
The aforementioned source shared that of the three largest chunks of XRP out of eight XRP transactions it had detected, three were conducted by wallets linked to the Ripple crypto behemoth. These transfers moved huge lumps of crypto: 278,500,000 XRP; 245,500,000 XRP and 200,000,000 XRP.
This amount of tokens is the equivalent of $262.4 million in fiat USD. A portion of these funds was moved to Bittrex, apparently to be sold. The rest was transferred between Ripple-linked wallets.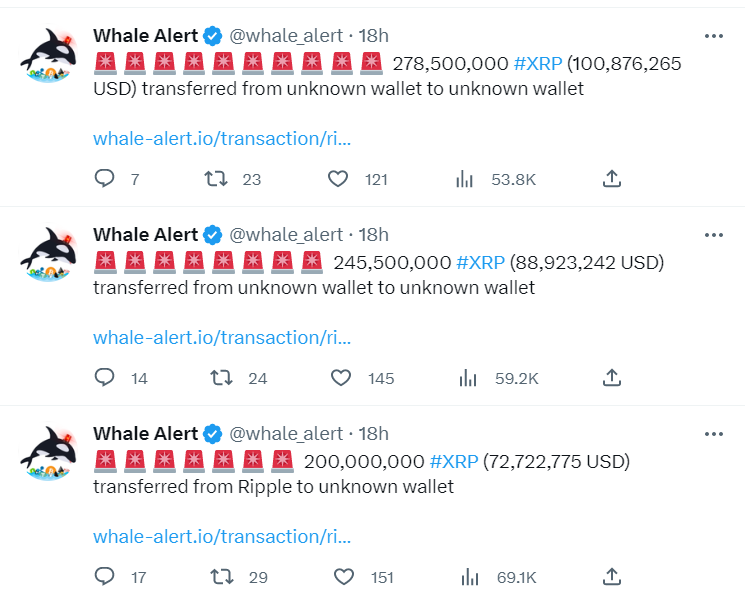 A total of 192 million XRP was moved with the remaining five transfers. Four of those shifted tens of millions of XRP each to the Bitstamp exchange.
Signature Bank closes down, here's what happens to stablecoins
As became known over the weekend, Signature Bank has become bankrupt. This is the third largest crypto-friendly bank to be shut down as of late. Prior to that, down went Silvergate and Silicon Valley banks. According to Ripple CEO Brad Garlinghouse, the crypto giant had small exposure to this bank. Still, its closure has not impacted its daily operations.
This impact TUSD stablecoin minting for a small number of users from that bank. As for BUSD and USDP stablecoins, their emitter Paxos tweeted that at the moment, $250 million of its funds were stored in that bank at the time of its closure.
According to a recent tweet by Chinese journalist Colin Wu, the U.S. government has taken measures to save the deposits of all clients by providing a full guarantee for that.
Paxos, the issuer of BUSD and USDP, issued a statement saying that Paxos currently holds $250M at Signature Bank, the government has taken extraordinary measures to protect customers and announced all customer deposits at Signature Bank will be fully guaranteed.

— Wu Blockchain (@WuBlockchain) March 13, 2023
On Saturday, U.Today reported that prominent investor and author of the "Rich Dad Poor Dad" book, Robert Kiyosaki, predicted the approaching crash of the third major bank after Silvergate and SVB. He did not provide any particular names, but it was clear that he had Signature Bank in mind.
However, Bitcoin remained unaffected by that event. On the contrary, BTC has even demonstrated a nearly 10% rise, hitting $22,681. At the time of this writing, though, the leading cryptocurrency is changing hands at $22,088 per unit.