Prominent tracker of Dogecoin transactions, @DogeWhaleAlert, has spread the word about several massive transfers of the original meme coin, large in size and reaching nearly $400 million worth in total.
Top whale kicks hundreds of millions of DOGE to Binance
These DOGE lumps were sent to Binance, suggesting a conclusion that there is or was a big sale planned on the leading crypto trading platform.
These massive transactions carried 57,804,249 DOGE, 110,976,371 DOGE and 190,840,745 Dogecoin for a symbolic fee of less than 3 DOGE each, which is less than $1. The equivalents of these DOGE lumps in fiat are $29.2 million in total.
Overall, Dogecoin is a popular crypto asset among traders, and they take advantage of buying and selling it depending on the market conditions.
🐕🪙🐋🚨🚨🚨🚨🚨🚨🚨🚨🚨🚨

190,840,745 $DOGE ($15,539,399 USD) was transferred from a #Top20 wallet to a #Binance wallet.

Fee: 2.41 ($0.20 USD)

Tx: https://t.co/Y5lSEQQSGA#DogecoinWhaleAlert #WhaleAlert #Dogecoin #CryptoNews

— Ðogecoin Whale Alert (@DogeWhaleAlert) February 25, 2023
DOGE price in decline
Over the past few days, the price of the largest meme token on the market has been in decline. Since Thursday, DOGE has lost slightly over 8% as it dropped from $0.0877 to the $0.0807 level, where it is trading at the time of this writing.
The drop began after a sudden 5.45% surge in a single green hourly candle, which occurred after the biggest public DOGE fan Elon Musk tweeted a meme about Dogecoin.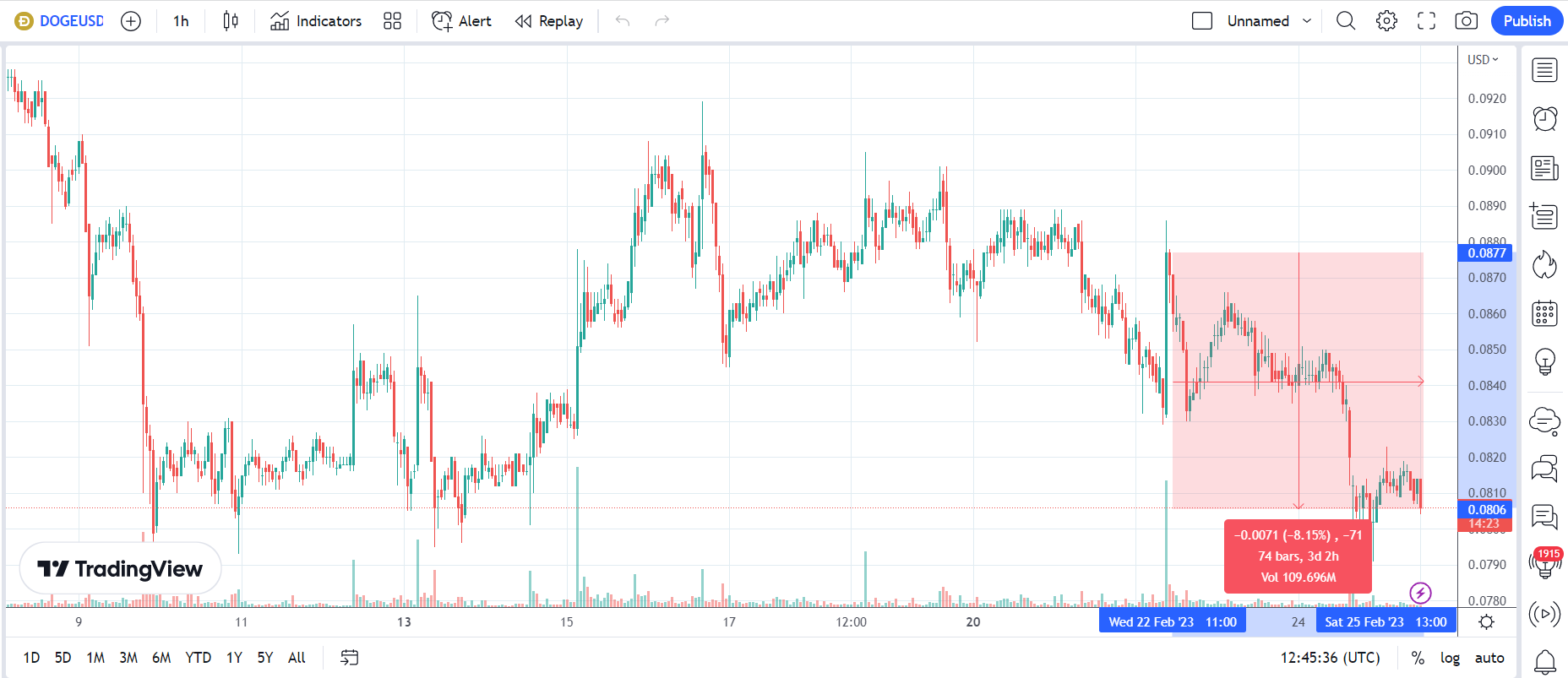 In the past, such moves of Musk were able to provide more or less sustainable long-term growth of DOGE. These days, however, his tweets are provoking brief rises, which end in hard price drops of Dogecoin.