XRP tumbled to lows of $0.435 on April 26 as the wider crypto market fell following an alert from blockchain analytics firm Arkham that wallets linked to Mt. Gox and the U.S. government had moved large amounts of Bitcoin. However, the alert was due to a "bug fix."
The drop brought XRP to trade once more below the key level at the daily MA 50 at $0.466. The bulls' attempt to reclaim this level on April 27 was thwarted as the bears were not willing to give up ground.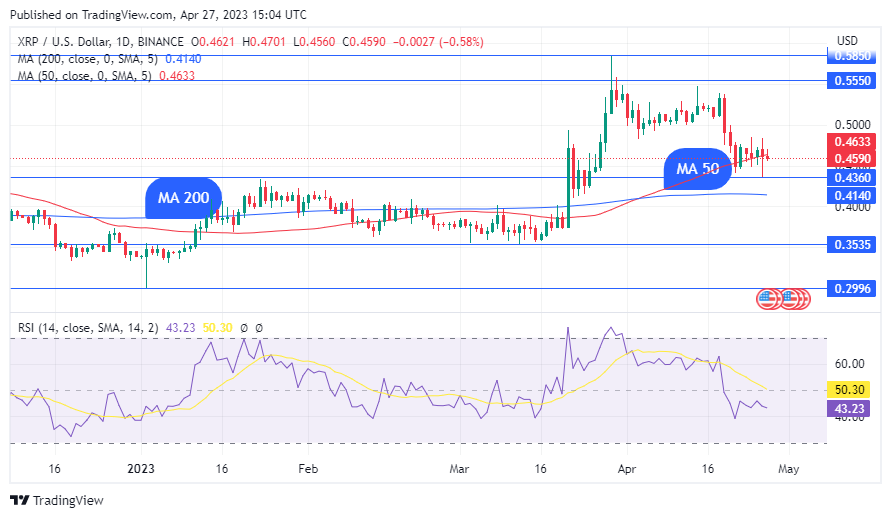 Meanwhile, the bulls continue to attempt another shot at recovery, but this remains underway. XRP continues to trade below the key MA 50 level at $0.46.
At the time of writing, XRP was down 3.77% in the last 24 hours at $0.459. The cryptocurrency is also down 6.55% in the past week.
The significance of the daily MA 50 level is seen as XRP briefly rebounded near this key level on April 22. However, the rebound was short-lived, and XRP now persists in a range around this crucial level.
Crypto lawyer reveals why he acquired XRP
CryptoLaw founder John Deaton stated on Twitter what informed his choice to first buy XRP about seven years ago. Deaton noted in response to a user that he bought his first Bitcoin (BTC), Ethereum (ETH) and XRP in 2016.
The reason I acquired XRP in 2016 was b/c of its use case for cross-border payments. Truth be told, I bought more in 2019 when Coinbase not only listed XRP, but highlighted its utility. While China reduces demand for the 💵 the U.S. is attacking not embracing the crypto's utility https://t.co/X1xEnDuVXE pic.twitter.com/hxIW3b5gbd

— John E Deaton (@JohnEDeaton1) April 26, 2023
Deaton says the reason for his purchase of XRP then was its utility for cross-border payments and settlements. He added that he further increased his XRP holdings in 2019 after U.S.-based crypto exchange Coinbase listed XRP and highlighted its utility.