Before there was Bitcoin Cash and its civil war with Bitcoin, the biggest rivalry between the coins was probably between Litecoin and Bitcoin. Litecoin was created to be the 'silver to Bitcoin's gold' and to operate a lot faster, and more like cash, than the original cryptocurrency.
However, in the recent past, the coin has slipped a bit from many people's minds as other coins with similar interests, but bigger mouths have come to the fore and pushed for the cryptocurrency market's attention.
That has changed recently, though, as Litecoin came to the fore in Q1 of 2019. On New Year's Day, Litecoin was worth $30, but it reached a year-high of over $90, a 300% increase in three months.
This has led many to ask if Litecoin is on its way to being the go-to crypto in the future, or if, rather harshly, it is just a testing ground for Bitcoin.
Critiquing Litecoin
Jason Hamlin of StreetWise Reports said:
"I read a critique on Litecoin recently. The basic premise was that Litecoin is just a testing ground or testnet for Bitcoin. The author seemed to insinuate that Litecoin had little value other than testing new technologies prior to Bitcoin implementing them and was not a valuable standalone cryptocurrency."
This was further corroborated by a tweet from Mike Novogratz: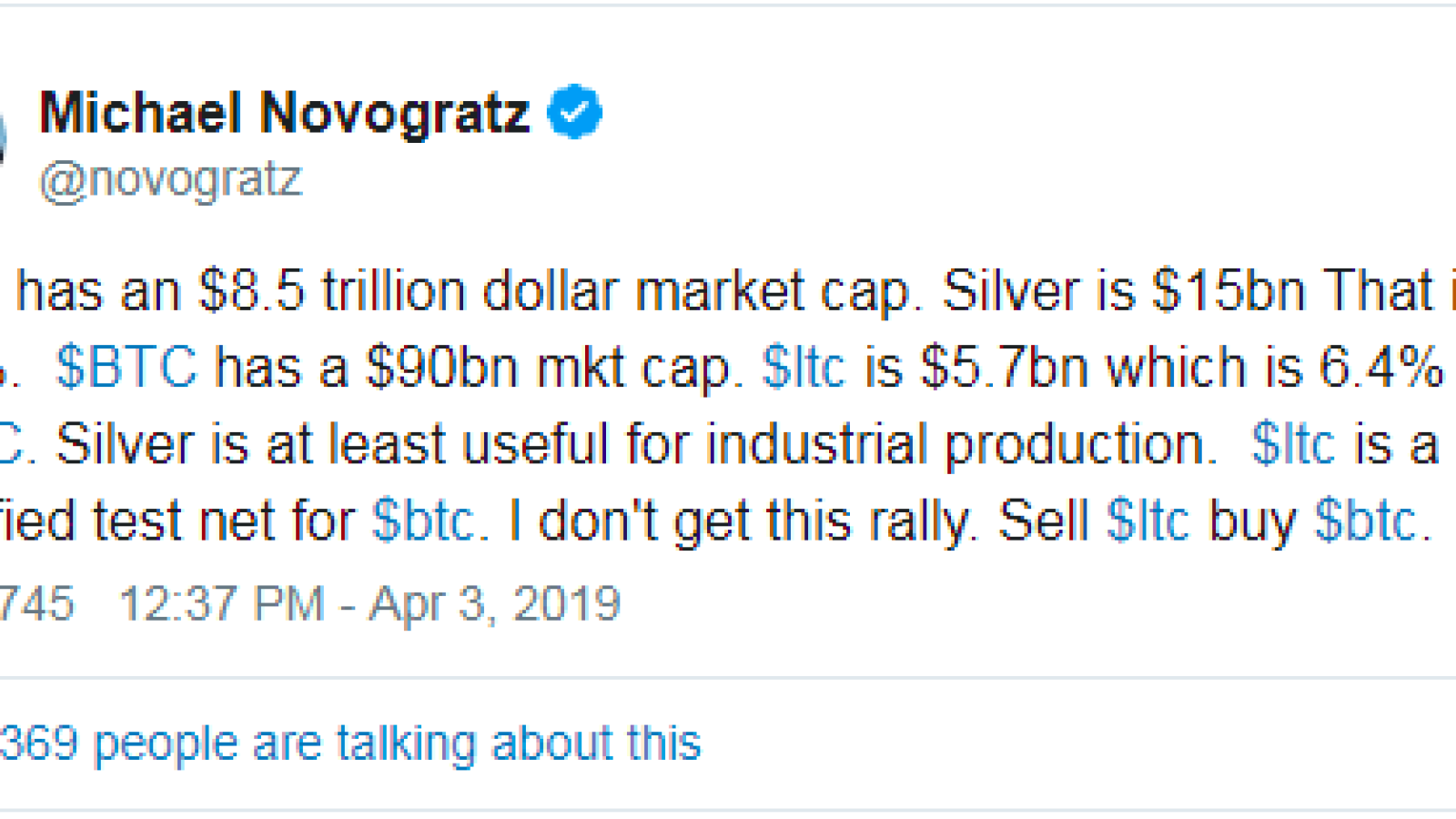 But, is this assessment of the coin a little harsh? Litecoin is one of the older, more established cryptocurrencies, and it has done a lot of positive things for the market. Its price is still quite low, especially compared to Bitcoin, so why are people slating its use?
Reasons for applauding Litecoin
Hamlin describes in his article a few reasons why Bitcoin should be taken seriously and looked into as a good deal, rather than as an overrated asset.
"One way to look at the valuation is comparing the supply of each token. There will only ever be 21 million Bitcoin and 84 million Litecoin created. The supply of Litecoin is 4x the supply of Bitcoin, so we might expect the price to be somewhere in the general vicinity of 1/4 or 25% of the price of Bitcoin," Hamlin said. "With Bitcoin around $5,000, this would put the target value of Litecoin at $1,250. Yet, it is currently trading at just $80."
It is true that things like the Lightning Network first appeared on Litecoin before Bitcoin, but that is again not a reason to downplay Litecoin, or call it overvalued. It is forging the way in terms of being a fast and useable cryptocurrency because of its innovations.
"Litecoin is faster than Bitcoin at confirming transactions. On average, it takes Litecoin just 2.5 minutes to confirm a transaction compared to 10 minutes for Bitcoin. With the implementation of Segwit on both networks and availability of the Lightning Network add on, fees are just pennies and transaction times can be reduced to a matter of seconds," Hamlin adds.
More room to grow
Litecoin also has done a lot to shape the current positive sentiment across the market – that in itself is no mean feat and should really indicate that this coin still has a lot of room to go before it finds a true and accurate value.