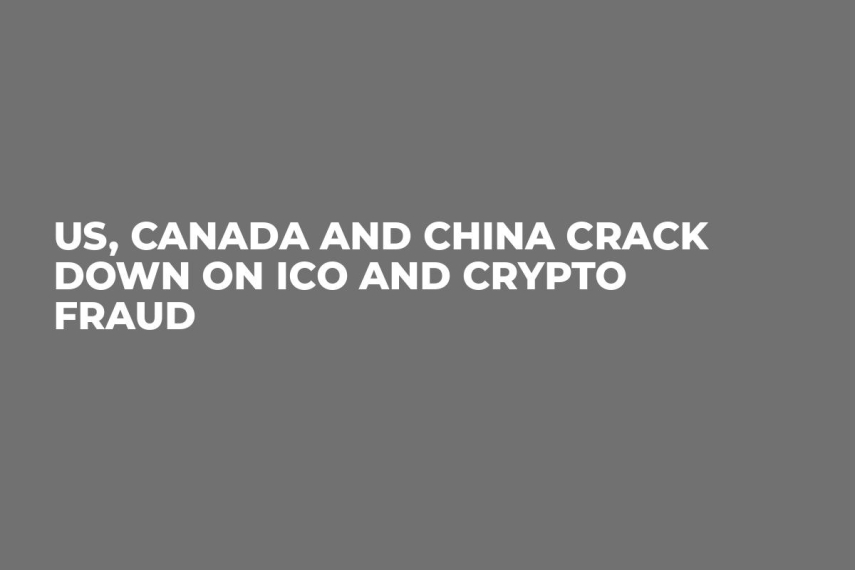 Cover image via U.Today
The US, Canada and China have ramped up efforts to educate citizens about cryptocurrency scams which could result in massive losses of their hard earned money.

US and Canada unleashed "Operation Crypto-Sweep," opening 70 inquiries and investigations into cryptocurrency scams and fraudulent ICOs.

The North American Securities Administrators Association (NASAA) has sent letters to companies it believes are operating shams in more than 40 jurisdictions across the United States and Canada.

Joseph P. Borg, president of NASAA, said in a statement released Monday:
"The actions announced today are just the tip of the iceberg."
The agency stated that "fraudsters" who have continued to exploit the nascent US crypto ecosystem will be met with swift action.
NAASA's probe found 30,000 cryptocurrency-related domain name registrations which it says warrant investigation since the agency's inception in last month.

While the task force noted that not all ICOs are fraudulent, a recent study by Satis Group, an ICO advisory firm, found that 81 percent of the ICOs launched since 2017 were scams.

The staggering number of scams and schemes warrants caution, the agency says.

Joseph P. Borg adds:
"Not every ICO or cryptocurrency-related investment is fraudulent, but we urge investors to approach any initial coin offering or cryptocurrency-related investment product with extreme caution."
card

SEC also deployed HoweyCoins, a mock initial coin offering (ICO) website, to stop naive investors getting duped by fraudulent ICOs which have a slim 1.6 percent likelihood of succeeding, according to data compiled by Satis.

The bogus website offers the promise of guaranteed returns, a white paper, and live token sale which leads investors to an educational web page that informs them of the ways they could have been duped into a fraudulent ICO scheme.
The site educates naive investors about red flags such as high returns, celebrity endorsements and pump and dump scams.
Owen Donley, chief counsel of the SEC's Office of Investor Education and Advocacy, says:

"Fraudsters can quickly build an attractive website and load it up with convoluted jargon to lure investors into phony deals. Fraudulent sites also often have red flags that can be dead giveaways if you know what to look for."
China, one of the first countries to ban ICOs all together, led an investigation conducted by National Internet Financial Risk Analysis Technology Platform (IFCERT), its financial cybercrime unit, uncovering 421 digital currencies with fraudulent business models.

IFCERT found that the common scams are multi-level marketing schemes that promise high yields and fraudulent "hard forks" promising increases in coin value.

The IFCERT also noted that most of these platforms are hosted on overseas servers and challenging to detect.