Solana-killer Aptos (APT) has joined a small list of altcoins striving to help fuel the market recovery today. The digital currency has jumped by 8.05% to $6.38 in a rare move that can help restore confidence to the broader market.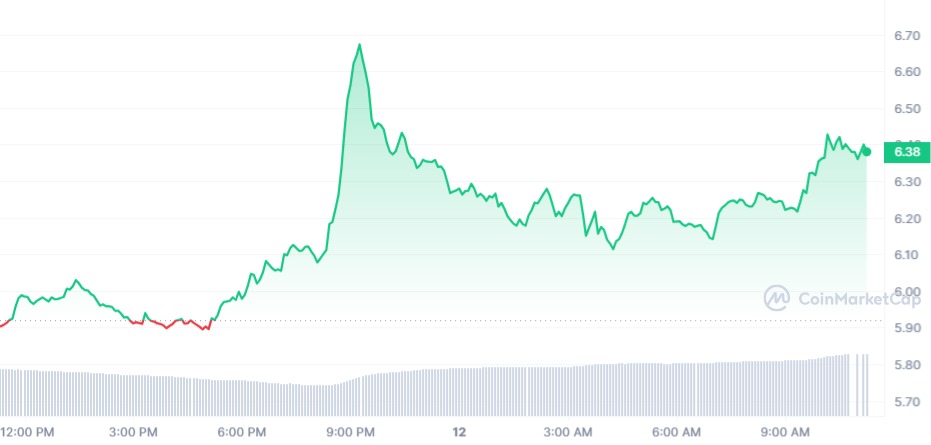 Sentiment on the market was dampened earlier in the month when the United States Securities and Exchange Commission (SEC) named some tokens, such as Cardano (ADA), Solana (SOL) and Filecoin (FIL), as securities.
Broad-based impact
While the SEC has exempted Aptos as an investment contract the way it designated SOL and ADA, the impact has been encompassing and broad-based over the past week. Trailing the market plunge, Aptos has lost as much as 28% of its price valuation over the past week, shedding as much as the tokens that were indicted by the regulator.
The current classification of the top altcoins has stirred a lot of uncertainty in the Aptos community, with users seeking clarity on whether or not the SEC will label APT as a security in the future.
The industry did not take much notice of the ongoing Ripple v. SEC lawsuit in the early stages; however, recent moves from the SEC have pushed leaders in the ecosystem to call for unity in the fight against the market regulator.
APT trigger
With the broad uncertainty in the industry as a whole, Aptos investors have focused on the protocol's deeper fundamentals to draw positivity. Over the past few weeks, Aptos developers have been consolidating their efforts to drive the security and scalability of the protocol to a new level not seen in a Layer 1 protocol.
Through events like Hack Holland, Aptos has given its community something more tangible to worry about than the current Fear, Uncertainty and Doubt (FUD) that is flying around as a result of the SEC's actions.