According to data from IntoTheBlock, new addresses for BONE have increased by 174% over the past seven days.
New addresses particularly saw a huge spike on Aug. 24, with over 2,000 addresses added in a single day. Crypto addresses have frequently been used to measure network growth and monitor member activity, and this may apply in the case of BONE.
Shibarium initially launched on Aug. 16 but paused shortly after due to a massive influx of users. Now the team is preparing for Shibarium's relaunch to the public after deep testing and scaling.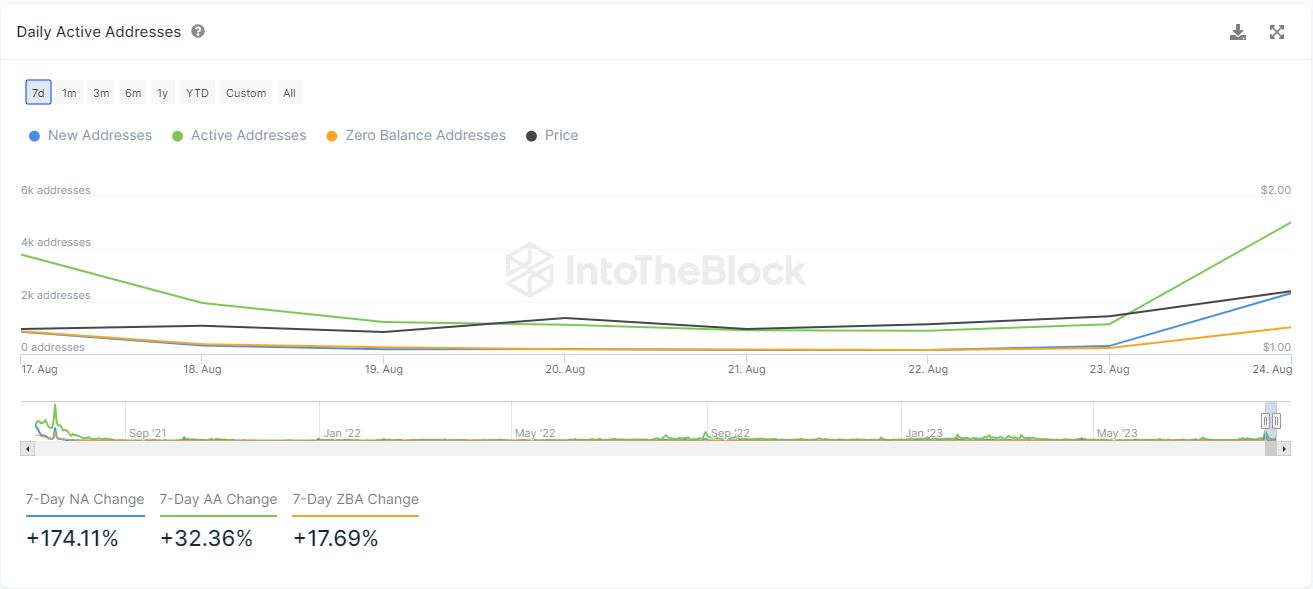 Given this, new users who seek to interact with the new Shibarium blockchain might have prompted the surge in new addresses seen for BONE, which is its gas token.
This is reflected in the number of BONE tokens staked so far. According to Shiba Inu team member Lucie, over 15.3 million BONE tokens have been staked so far.
The positivity regarding its use case on Shibarium seems to be impacting BONE prices. Bone Shibaswap surged as much as 18% earlier amid the positive news of Shibarium's relaunch.
BONE experienced a run-up to highs of $1.46 before slightly retreating to $1.33, where it presently trades. Despite this, BONE remains up 11.11% in the last 24 hours. Shiba Inu token DogeKiller (LEASH) was also exhibiting a similar rise, up 10.32% in the last 24 hours to $470.
Shibarium smashes new milestones
As reported, Shiba Inu team member Lucie provided an update stating that Shibarium is officially live but in private mode. All that remains, according to Lucie, is an official announcement that it is now available to the public.
That said, Shibarium is currently producing blocks and running smoothly. The number of interacting wallet addresses on the Layer 2 blockchain has topped 50,000, according to data from the explorer Shibariumscan. Shibarium now has 50,853 interacting wallet addresses as of press time.
On the Shibarium mainnet, the total number of transactions has reached 137,534. Furthermore, the total number of blocks produced is 284,739, with an average block time of five seconds.