The crypto ecosystem is experiencing mixed growth today, and tokens within the Shiba Inu (SHIB) ecosystem are notably on a bullish run at this time. Of the top tokens in the meme coin ecosystem, Bone ShibaSwap (BONE) is on a defined rally, soaring as high as 5.4% in the past 24 hours to $1.73. For the past week, the token is up by more than 24% as it is also riding on the broader ecosystem hype.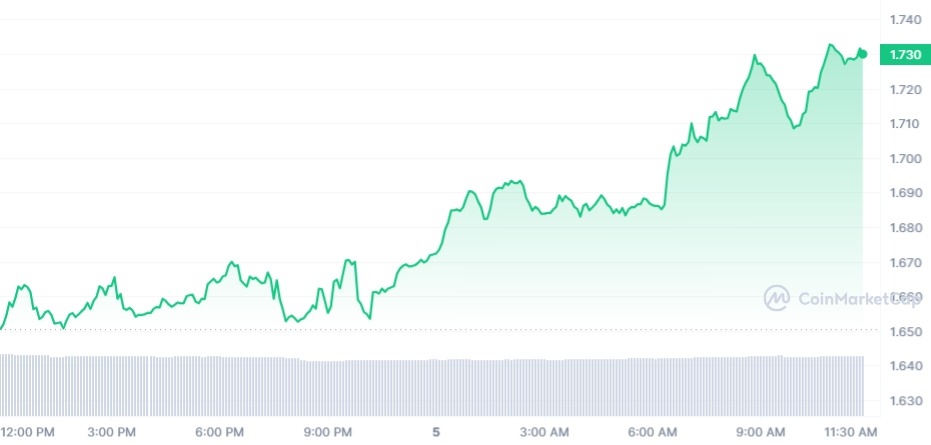 The hype in question is hinged on the expectations of a new era as will be brought on by the launch of Shibarium on the mainnet this August. With the launch timeline already revealed for some weeks now, community members have been pricing in the event with a unique focus on BONE.
BONE is billed to play a vital role in the Shibarium ecosystem as it will serve as the de facto governance token recognized in the ShibaSwap protocol and, by extension, the broader Shiba Inu world.
BONE has joined the overall hype that Shibarium is heralding as more projects will eventually make their way to the Ethereum-Layer 2 protocol, which will in turn be listed on ShibaSwap, where the demand for BONE will be generally bolstered.
BONE's next bullish target
With the consistency with which BONE is growing, bulls within the ShibaSwap governance token ecosystem are setting their sight on a new high. At the current price, BONE is eyeing a return to the resistance point around $2.
This point is very significant for BONE as it has touched that level at least twice since January 2022 but has never, on either of those occasions, formed a sustainable support at that price level. The launch of Shibarium and the positivity that will trail the event might be a major game changer in the short- to midterm.