Bone ShibaSwap (BONE) token has demonstrated a massive rise by more than 13% within the past 24 hours, hitting the $1.7209 level. A small decline then followed, but BONE is still up 11% compared to yesterday.
Several drivers may be responsible for driving this price growth, and they took place as this week started.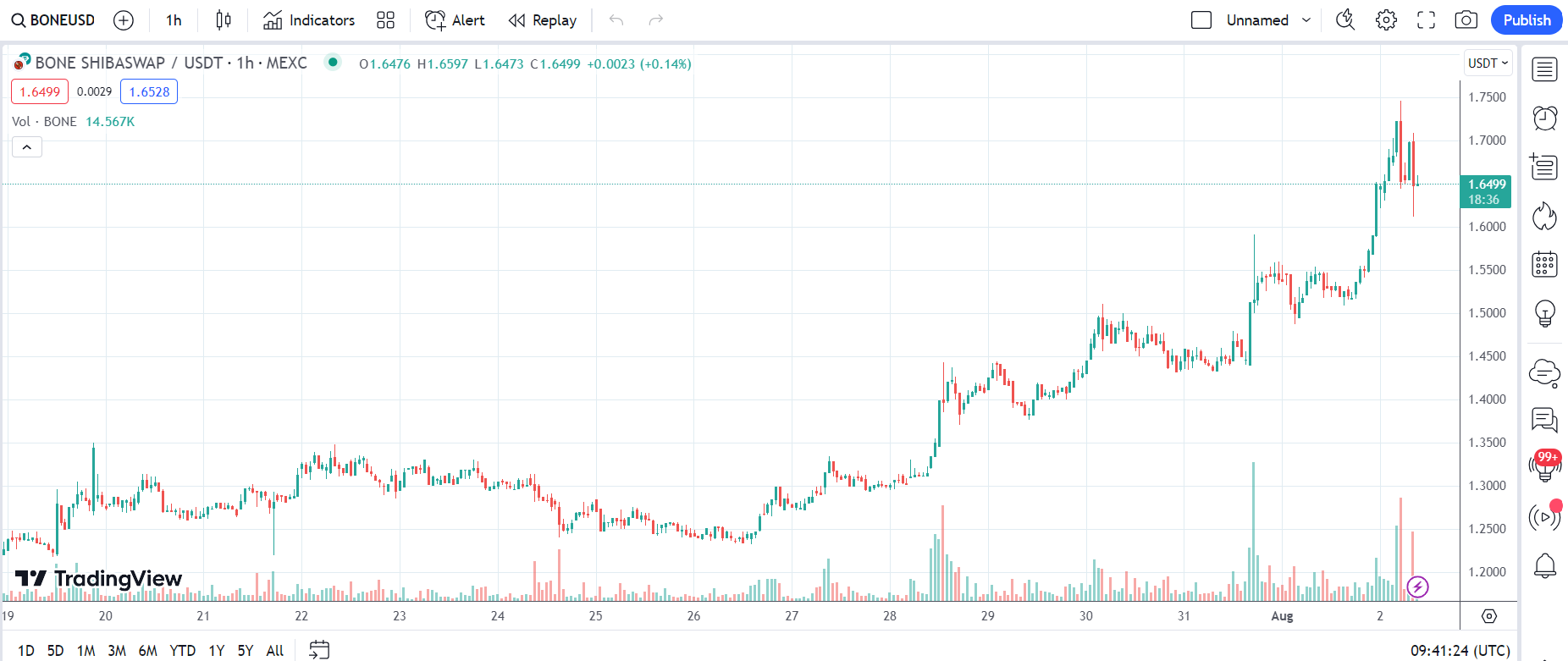 Drivers that are pushing BONE price up
The current fast growth of the BONE price may have been propelled by a recent blog post by Shytoshi Kusama, in which he announced that the Shiba Inu dev team is planning to mint the remaining supply of BONE into existence and then shut down the BONE contract to prevent any further creation of BONE.
This is going to be done with the goal of solidifying operations on the Layer 2 blockchain, Shibarium, which is expected to launch in August during the ETH Toronto conference in Canada.
A large portion of the BONE supply will be allocated to a group of people vital for running Shibarium, the validators. Kusama stated that BONE will be the "passport to the future" since it will allow users to obtain their share of rewards on the newly launched blockchain.
Aside from this announcement made by the lead developer of SHIB, Shibarium has reached yet another utility milestone as it continues to expand. The total count of transactions on beta test blockchain Puppynet surpassed the 34 million threshold yesterday, now standing at 34,290,585.
Aside from the function of a gas token on Shibarium, BONE will help developers to burn massive quantities of Shiba Inu meme coins as part of a fee for every transaction will be set aside and converted into SHIB to be burned later.
SHIB burn rate plummets
Still, while BONE and SHIB are going up, this cannot be said about the burn rate of Shiba Inu. Judging by the figures on the Shibburn website, it is nearly 30% down from yesterday with a total of 35,446,350 SHIB moved to unspendable wallets in 25 transactions.
Earlier this week, prior to Wednesday, the SHIB burn rate demonstrated much higher readings, which went up into the green zone.
Overall, as reported by Shibburn on Tuesday, in the month of July, the Shiba Inu community managed to get rid of slightly more than two billion SHIB tokens, locking them up in dead-end wallets for good.