Bone ShibaSwap (BONE), one of the tokens in the Shiba Inu ecosystem, has maintained its bullish momentum today after soaring as high as 7.65% over the past 24 hours. The token is currently changing hands at a price of $1.40, the highest trading level it has inked over the trailing seven-day period.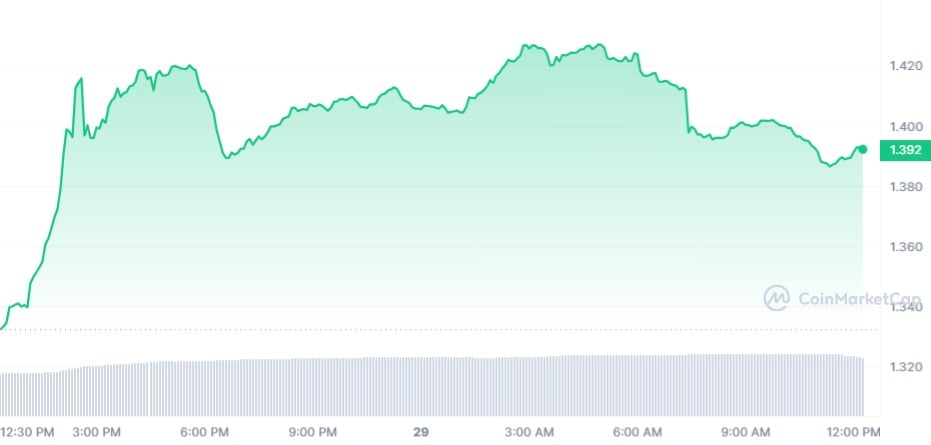 BONE has been on many traders' watch lists thus far this week as it has been maintaining a very defined rally across the board. As reported earlier by U.Today, BONE soared remarkably these past few days on account of the highly anticipated Shibarium launch. BONE will play a pivotal role on Shibarium and the broader Shiba Inu ecosystem as the de facto governance token.
The notable milestones in the Shiba Inu ecosystem have often translated to enormous growth in BONE, a showcase of how malleable the token is to positive news surrounding the broader ecosystem.
Bone ShibaSwap has remained on a bullish uptrend even with its core growth metrics, a showcase that investors are still much interested in stacking up the asset. The 24-hour trading volume is up by more than 53% to $13 million, an impressive metric that shows liquidity remains robust.
BONE dump coming soon?
The accumulation of BONE is now stretched to the maximum, and while there is a possibility of a reversal through sell-offs, there may be more upside for the token to touch in the near term.
The projection from the community about the price surge of BONE is very ambitious with some pitching the token to jump to $5 by the end of the third quarter. The proposed launch of Shibarium next month is definitely going to push the price of the coin upward, and as such, traders may likely continue accumulating the token rather than sell it off in the short term.