A large ETH whale, "Trinity," ranked 26th by WhaleStats crypto data platform—who holds two trillion SHIB tokens or $58,615,752 worth of Shiba Inu, has added other altcoins to his portfolio in the last 24 hours.
? ETH whale "Trinity" just bought 2,000,000 $matic ($3,620,000 USD).

Ranked #28 on WhaleStats: https://t.co/bk8vOMlbQo

Transaction: https://t.co/fKTswtq33A#ethereum #whalestats

— WhaleStats - BabyWhale ($BBW) (@WhaleStats) February 15, 2022
As reported by WhaleStats, the large investor whose holdings largely comprise Shiba Inu has purchased exactly two million MATIC tokens, or $3.62 million worth, according to a recent tweet.
WhaleStats analysis shows the mysterious whale token holdings have seen quite a lot of changes in the last two hours. Notably, Decentraland (MANA) and MATIC have increased by 17% and 34%, respectively.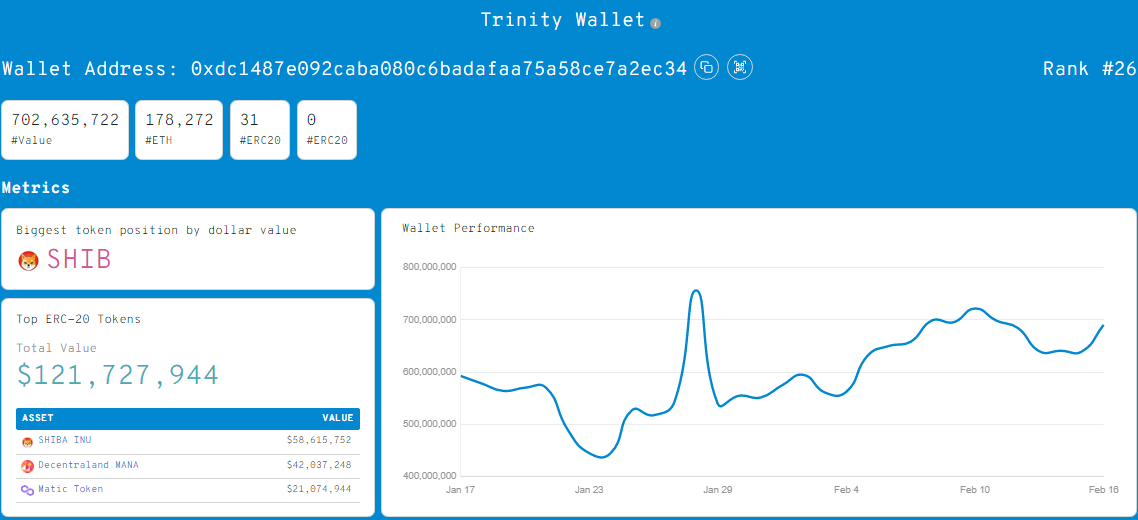 Aside from Shiba Inu, which the whale mostly bets on, the anonymous buyer also owns 12,825,661 MANA, or $42,037,248 worth, as the second-largest holding after SHIB. The said whale also holds 11,645,488 MATIC tokens, or $21,074,944 worth.
Market rebounds
Bitcoin and altcoins continued their advance on Wednesday, with several tokens adding value at press time. SHIB currently trades at $0.0000309 at press time. MATIC was also up slightly by 2% at a present price of $1.81, as per CoinMarketCap.
The total market capitalization also stood at $1.99 trillion at press time.
According to WhaleStats data, MATIC remains one of the top 10 purchased tokens by whales in the last 24 hours.