Shiba Inu, the popular meme-inspired cryptocurrency, is approaching a key resistance level after the Federal Reserve's recent decision to raise interest rates. This resistance level, which SHIB has previously tried to break through, is likely to cause some volatility in the token's price in the near future in case of a successful breakout.
SHIB has experienced significant growth since the market reversal in January. However, the recent interest rate hike by the Fed has caused some uncertainty in the cryptocurrency market, and it remains to be seen how SHIB will act while reaching the prolonged trend line resistance level.
According to the composition of on-chain indicators, Shiba Inu has been getting support from retail investors after the profitability of the token reached a new local high and approached the 40% threshold.
XRP's movement upward
XRP, the cryptocurrency associated with the payment platform Ripple, has reached its 200-day moving average, a key level that acts as a barrier for assets in both up- and downtrends. Reaching this level follows the recent rally on the cryptocurrency market that began in January.
While the rally has certainly been beneficial for XRP, the coin still faces some significant challenges. Perhaps most notably, XRP has yet to find a consistent source of funding, which could limit its future growth potential. Despite its association with Ripple, XRP remains largely reliant on the broader cryptocurrency market for support.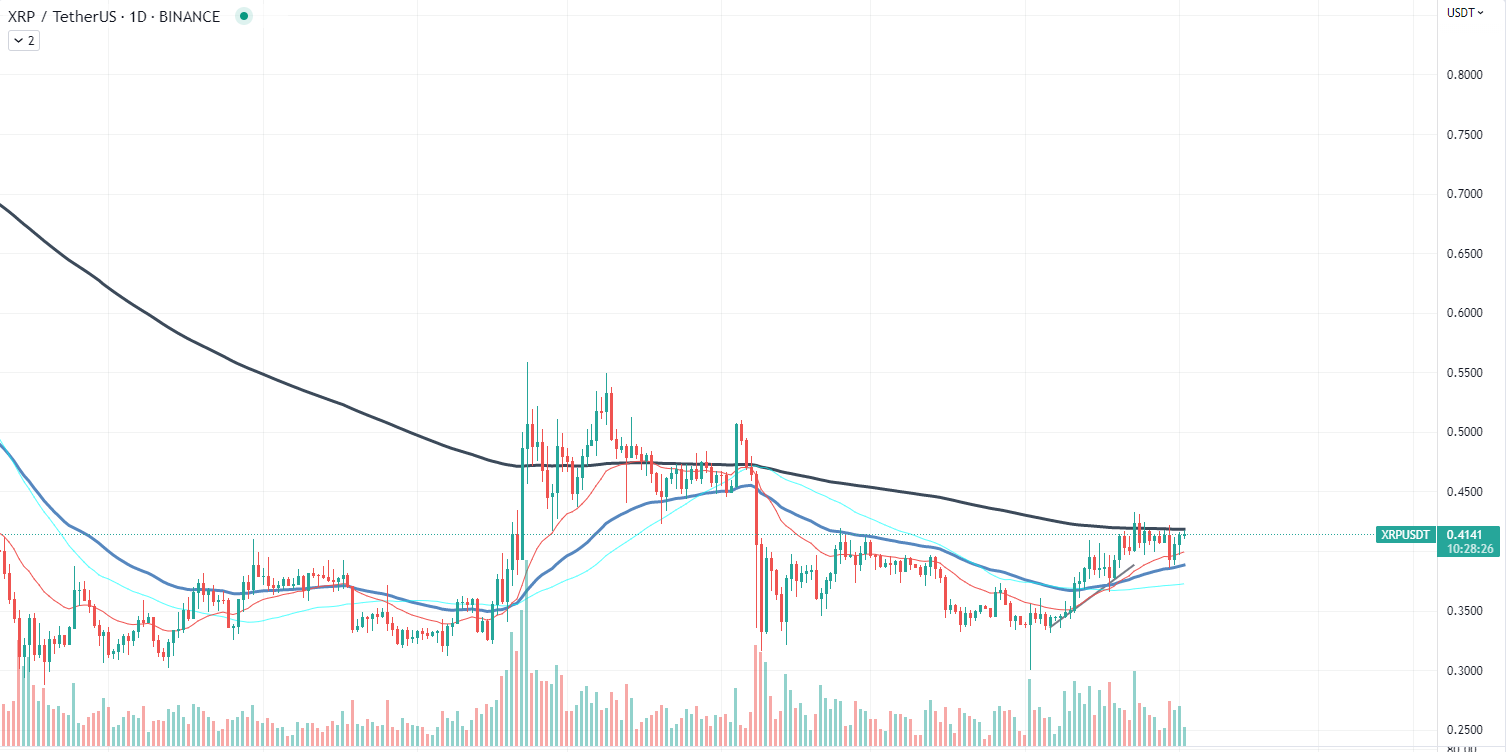 Additionally, XRP is still facing regulatory scrutiny, with the U.S. Securities and Exchange Commission (SEC) filing a lawsuit against Ripple over allegations of unregistered securities offerings. This legal battle has cast a shadow over XRP and raised questions about its future prospects.
However, despite these challenges, XRP remains one of the most widely traded cryptocurrencies and is supported by a strong community of investors and enthusiasts. It has also made significant strides in its adoption as a payment platform, with Ripple partnering with a number of financial institutions and payment providers to bring blockchain-based payment solutions to the market.
Solana cools off
Solana, a fast and scalable blockchain platform, has seen its trading volume reverse from 4.8 million SOL to a more regular range of under 500,000 SOL after the recent slowdown of the recovery rally on the cryptocurrency market.
Despite the slowdown, Solana has been steadily rising over the past 30 days, boosted by the increased demand for decentralized finance (DeFi) and non-fungible token (NFT) solutions. The platform has also benefited from growing interest in risk assets overall.
However, the recent momentum drop on the cryptocurrency market has caused Solana's trading volume to decline and its price to consolidate around the local support level of the 21-day moving average. This suggests that Solana will probably enter a period of consolidation in the near future, as traders and investors take a wait-and-see approach to market conditions.
Despite these short-term market conditions, Solana's long-term prospects raise some questions as large quantities of SOL are still held in whales' wallets and might get injected onto the market at any given moment.