SHIB has reached an important new milestone that speaks of its fast-growing adoption and utility level. Over the past 24 hours, the number of SHIB holders has increased significantly, while such coins as LINK, MATIC and others lag behind.
SHIB number of holders spikes
According to CryptEye data, the number of wallets holding SHIB has increased by 1,679 since yesterday morning. At the same time, LINK has added 548, MATIC's number of holders increased by 707 and MANA's rose by 151.
Over the past hour alone, SHIB has gained 35 new holders. Over the past week, the increase totals 10,142. The overall number of SHIB holders now stands at 2,368,030.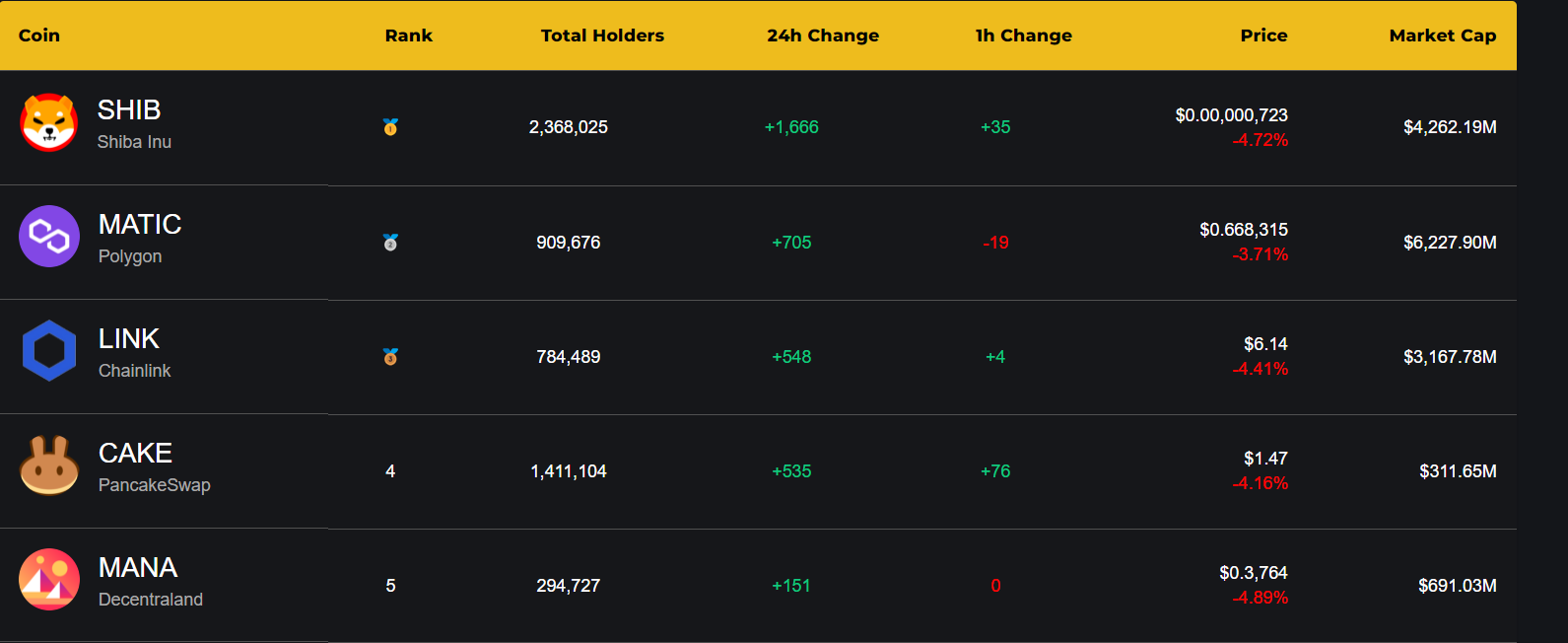 This is not the only metric that has risen, indicating increased SHIB utility. According Puppyscan, the overall number of transactions on the Shibarium testnet has reached 27,615,568, while the number of connected wallets is equal to 17,061,117.
SHIB burns turn green
Shibburn explorer data demonstrates that over the past 24 hours, SHIB burns have managed to enter the green zone, although the rise is marginal – merely 7.76% compared to what was burned yesterday. A total of 7,966,120 SHIB has been removed from the circulating supply since yesterday morning.
So far, there have been only three transactions of 2,726,653 SHIB; 4,165,357 SHIB and 1,074,109 SHIB, sending these meme tokens to unspendable wallets.
Per the Shibburn website, by now, a total of 410,650,486,211,291 Shiba Inu meme coins have been burned (moved to dead-end wallets), with the circulating supply standing at 579,109,631,311,495 SHIB. A total of 10,239,882,477,213 Shiba Inu coins are currently staked, which means they are out of circulation for the time being as well.
Big rise in SHIB daily wallets observed
As reported by on-chain data vendor Santiment, its analytics team has noticed a massive uptick in new Shiba Inu wallets created on a daily basis.
During the last two weeks, this metric has jumped to 2,500 of new daily SHIB wallets created on the network. This has been happening despite the staggering price underperformance of the second largest meme cryptocurrency.
😺 #ShibaInu has seen a big rise in new daily addresses created, consistently over 2,500 per day in the past couple weeks. Despite the underwhelming price performance, our latest insight covers why there's promise behind one of 2021's favorite #memecoins. https://t.co/Lzrpd3o06v pic.twitter.com/8jOt0weIyE

— Santiment (@santimentfeed) July 6, 2023