According to data posted by Etherscan, over the past 15 minutes, bankrupt crypto broker Voyager made three transactions carrying a total of 90 billion Shiba Inu.
Voyager moving half a trillion SHIB
In general, over the past week, it transferred nearly six times SHIB more than that. Eight transactions have been made from Voyager 1 wallet, moving tens of billions of Shiba Inu each. Two transfers contained 70 billion SHIB each, while the largest of all eight moved 80 billion meme coins. The rest of them carried between 16 billion and 30 billion SHIB.
The overall amount of SHIB moved from Voyager is the equivalent to $3,832,500 in fiat. The Voyager 1 wallet still contains 2,350,881,606,627 Shiba Inu at the time of this writing.
The aforementioned transactions were made to anonymous addresses that were not marked by Etherscan as belonging to any crypto exchanges; however, there is still a chance that those could have been sales or preparation for sales.
Another option here is that Voyager has been sending crypto back to its customers – earlier, U.Today reported that the company planned to reopen between June 20 and July 5 in order to let its clients withdraw around 35% of their funds back to their wallets. This would be the first time that Voyager would open withdrawals since the moment of their closer last year, when business operations were suspended.
Voyager crypto lending platform chose to shut down its business in July of last year. Back then, the company held a great stash of Shiba Inu. According to a report by U.Today, in April this year, Voyager owned 3.1 trillion SHIB tokens.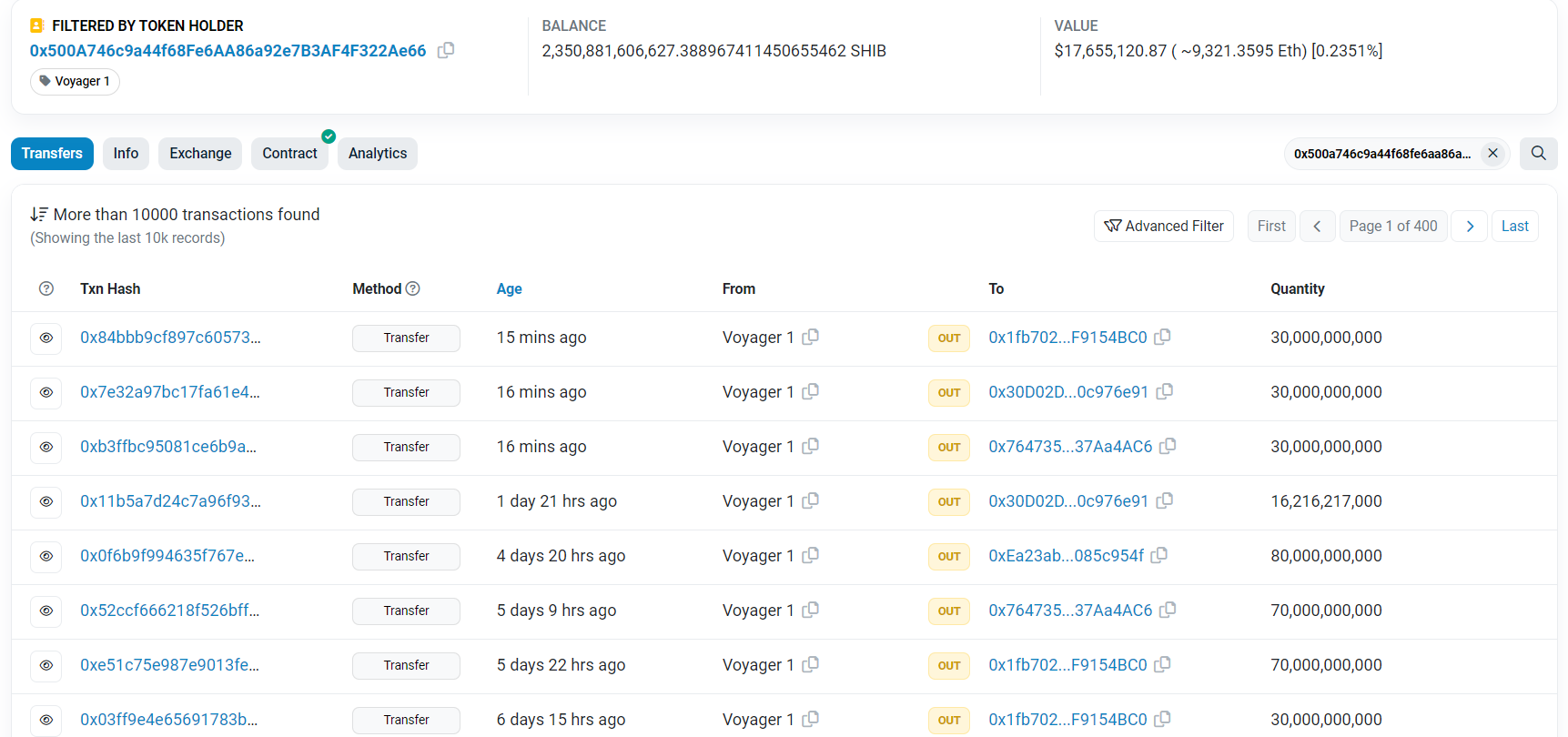 Shiba Inu to sponsor Toronto blockchain futuristic conference
Earlier today, the lead developer of Shiba Inu, known as Shytoshi Nakamoto, released the first blog post in a series of articles planned this summer about the future of SHIB and its Layer 2 solution, Shibarium. The launch of the latter has been expected by the SHIB army for many months before and after the testnet Puppynet was rolled out on March 11.
In the post, Shytoshi made it clear that SHIB will be a sponsor of the Eth Toronto and Eth Women conferences that are to take place in Toronto in the middle of August this year.
The "Worldpaper" of SHIB will be exhibited, and all SHIB-branded projects are going to be published, including TREAT token, which will be used on Shibarium, along with LEASH, SHIB and BONE.
Kusama also stated that the launch of Shibarium will be discussed in detail.
So far, Puppynet continues to gain traction, as the total transaction count has reached a milestone of 27,371,358, and the number of connected wallet addresses surged to 17,061,040.
The Shiba Inu token itself, at the time of writing, is changing hands at $0.000007441, according to data provided by the CoinMarketCap website.