Shiba Inu (SHIB) has recorded a bullish surge in one of its core performance metrics, its burn rate. According to data from Shibburn, the meme coin's burn rate is now up by 26,446.84%, the highest it has grown this week and an indication that there are a lot of transactions going on in the Shiba Inu ecosystem.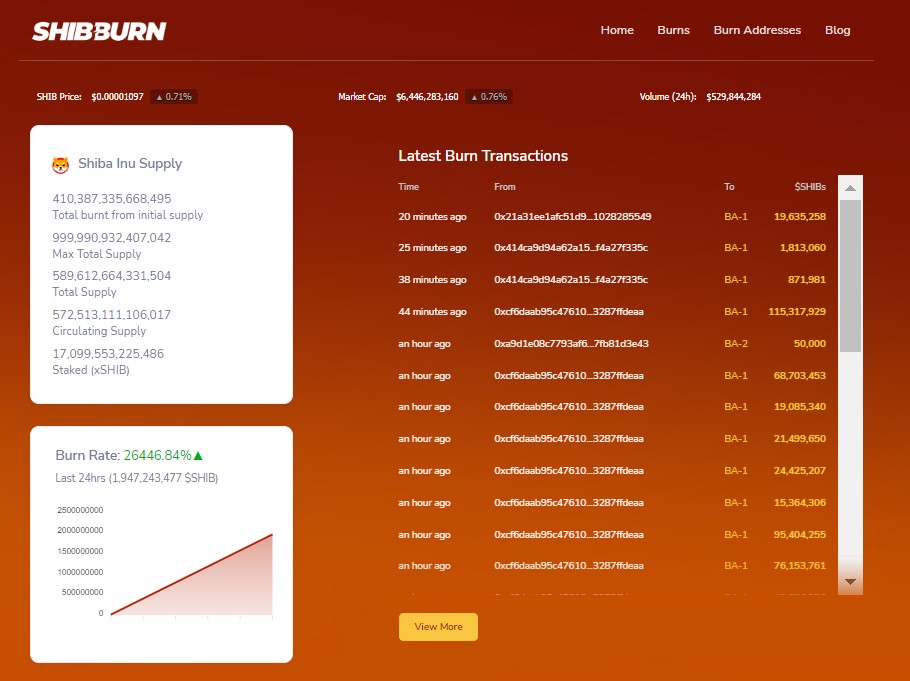 As a meme coin with a lot of totals and circulating supplies, Shiba Inu has pivoted into a deflationary token through which a portion of the asset is burnt when transactions are made within the system. The past week has seen a lot of positive fundamentals recorded within the Shiba Inu world following the anticipation of the beta launch of the Shibarium Layer 2 protocol.
Shiba Inu, which started as a joke, has now grown to become one of the most important protocols that are helping to advance the scope of today's emerging Web3.0 ecosystem. The Shibarium protocol has received a lot of support from developers numbering in the thousands. With the growing anticipation, the buy-up of the Shiba Inu token has grown remarkably.
The Shibarium beta launch will finally help showcase how versatile SHIB is and how users can find additional use cases for the tokens within the ecosystem.
SHIB price outlook
Shiba Inu has been trading down for the better part of the past week, where it has slumped to $0.00001095 and is down by 8.44% within the time frame. However, the growing transaction rates on the network have fueled a mild turnaround in the token's price.
At the time of writing, the token is now up by 2.31% over the past 24 hours. While it has not been proven that the burn rate directly impacts the price growth in SHIB, it is a metric that buyers can lean on to gain confidence in acquiring the token.