As reported by U.Today before, the pseudonymous leader of the Shiba Inu developer team, Shytoshi Kusama, bewildered the SHIB community with a cryptic tweet that showed a video about SHIB "going somewhere."
Numerous questions immediately rose from the SHIB army both on Twitter and in the official Shibarium chat on Telegram. Therefore, later, Kusama dropped a hint as to "where" SHIB will be "going."
"SHIB is going outside the USA"
Earlier today, Kusama tweeted: "#wen is so last year. The real question is... #WHERE." The video that he shared showed pictures of a megapolis and skies, then SHIB, changing from one to the other quickly, with a line of text running throughout the video that says, "Something is coming. Actually we are going somewhere."
As questions started falling on the SHIB leader and people began making guesses as to "where" SHIB is "going," the main one was Miami, in the United States. Shytoshi stated that this was the wrong one answer.
Then, as if tired from the SHIB army guessing it wrong, Kusama decided to drop a hint in the "Shibarium Tech" Telegram channel, saying "Shib is going somewhere outside the USA". He did not say anything else, leaving the community to continue making guesses.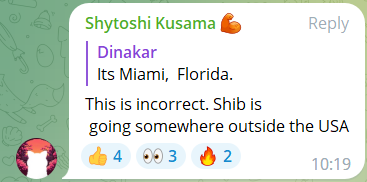 He also wrote that he can't wait for Shibarium to finally launch, but nothing else was said about the upcoming and much-anticipated launch of the Layer-2 protocol mainnet for SHIB, no further hints made.
Shytoshi makes SHIB price rebound
After Kusama's tweet came out, the price of the second-largest meme coin made a U-turn after showing a 5% drop on Wednesday. Today so far, SHIB has put up a small rise of slightly more than 2%, trading against USDT on the Binance exchange.
At the time of this writing, SHIB is changing hands at $0.00000732 after falling to $0.00000702 yesterday.
As for the Shibarium mainnet release, no precise date has been announced yet. Initially, according to a top member of the SHIB team called Lucie, Shytoshi named July-August as a possible timing. However, more realistically, Lucie expects Shibarium to launch later but still within quarter 2 this year.
The launch of the Shibarium beta Puppynet on March 11 did not have a major impact on the SHIB price. However, the hopes of the Shiba Inu community lie with the release of the mainnet as they expect SHIB to skyrocket once it is rolled out.