The Shiba Inu burn rate continues to fall, mirroring the recent price decline. According to data shared by the Shibburn platform that traces Shiba Inu burn transactions on Etherscan and accumulates them on its website, over the past 24 hours, the SHIB burn rate has plunged by over 50% compared to that spotted the day before. Earlier today, it was minus 90%.
As of now, 17,742,512 Shiba Inu in all have been moved out of circulation and into dead wallets on the Ethereum chain.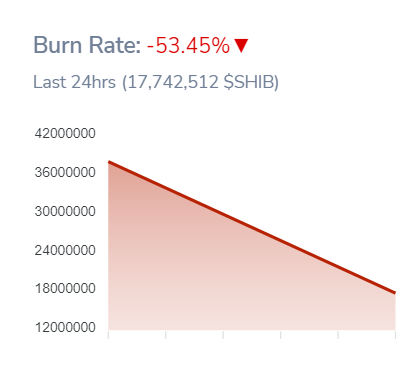 Shib army keeps burning tokens, price still in red
As of late, the burn rate of Shiba Inu has been down, often falling into the red zone. When it does make jumps, even of more than 1,000%, it turns out that those increases are tiny and constitute merely a few million burned SHIB.
Over the past week, well over 102 million Shiba Inu coins were transferred to "inferno" wallets. A high burn rate of coins is believed to signify that a cryptocurrency and its ecosystem feel "healthy" on the market. The pace at which SHIB is getting burned is often correlated with the price of the meme coin.
However, judging by the rate of getting Shiba Inu removed from the circulating supply, things are not so good at the moment, especially taking into account the price of the asset, which has lost more than 13% over the past week and dropped nearly 2% in the past 24 hours.
New approximate date of Shibarium launch announced
As reported by U.Today earlier, the major developer of the Shiba Inu token, known under the alias Shytoshi Kusama on social media platforms, has hinted that the release of the much-anticipated Layer-2 solution Shibarium may happen this year before May.
This became clear from screenshots shared on Twitter by some major SHIB fan accounts. Kusama stated that "things are coming well before May," giving the community hope that the launch of Shibarium may indeed happen pretty soon.
Currently, the developers are busy conducting various checks of the code and running tests. This may take longer than expected, according to one of those Shiba Inu-themed handles.